Before being an equal opportunity gamer, I was a diehard Nintendo fan. It began with being entranced by the Nintendo Entertainment System. My fanboyism carried onto the Super Nintendo. Obviously, during the fourth generation when Super Nintendo versus Sega Genesis debates were in every school hallway, I was always on the side of the big N. But, a part of me wondered what I was missing. Sure, I dabbled in classics like Sonic when visiting a friend's house. But, I was clueless when it came to really  understanding the Genesis' vast library. Thanks to the release of the Genesis Mini in 2019, I've been slowly but surely playing catch-up. The first game I finished was Castlevania: Bloodlines. I won't write a review for it because everything that needs to be said about was said already. It's a great game; play it. The next game I finished was Earthworm Jim. Don't play it. It's a good game, but the creator behind Earthworm Jim is a bigoted homophobe. Finally, I took a dive into Phantasy Star IV. How has this cherished title held up over the years?
Overall? Pretty well. But, let's break it down a bit. That's the point of a review, am I right? Phantasy Star IV puts you in the shoes of a hunter named Chaz Ashley. Under the tutelage of an expert hunter named Alys Brangwin, Chaz heads to the town of Piata to investigate strange happenings in the town's academy. It starts off as a simple monster exterminating mission, but things escalate quickly. Chaz, Alys and a large cast of characters don't realize that they are up against an entity that threatens the existence of the Algo Star System. I found Phantasy Star IV's story excellent. Every character, hero or villain, was well written and believable. The plot picked up steam from the start and retained that momentum until the end. There were some unexpected twists and tragedies that really caught me off guard. One thing I especially appreciated was a handy party-chat feature. Your party would discuss the goings-on while informing me, the player, where to go next.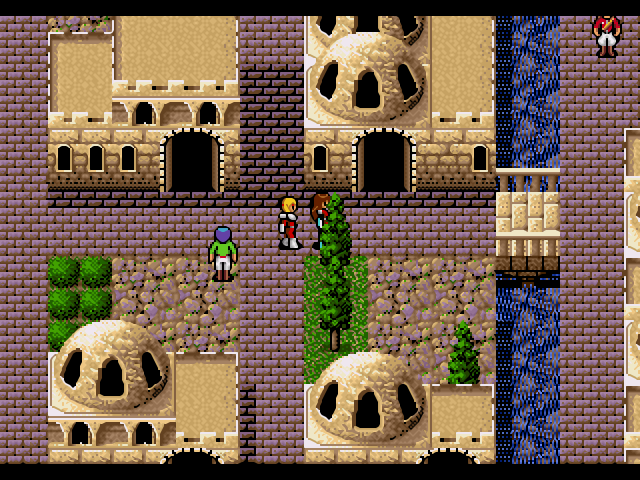 But, what does all this mean to someone that barely touched the Phantasy Star series? This was the first time I finished a game in the series to completion. While Phantasy Star through Phantasy Star III are connected to IV, you can jump right in with IV. I saw a few references to previous games, but it didn't impact my enjoyment. If anything, it made me more curious about the series' origins.
The problem with going back to the start of Phantasy Star would be dealing with the slow, archaic game play. If my experience with the first game is any indication, then I can imagine that Phantasy Stars II and III haven't aged well. Phantasy Star IV, on the other hand, played like a classic 16-bit RPG. Chaz and his party travel a world map, explore towns with lots of chatty townsfolk, and traverse maze-like dungeons filled with enemies. All while discovering the truth behind the darkness that threatens their solar system. It's a classic formula that I have appreciated throughout the years. In many ways, it works. There's a fun sense of discovery of going from one place to the next. There's that joy when a new character joins your party. There's that excitement of acquiring a new spell or technique after a character gains a certain level. These are things only RPGs of this bygone area are able to capture and Phantasy Star IV delivers. The icing on the cake is the ability to save in any non-dungeon.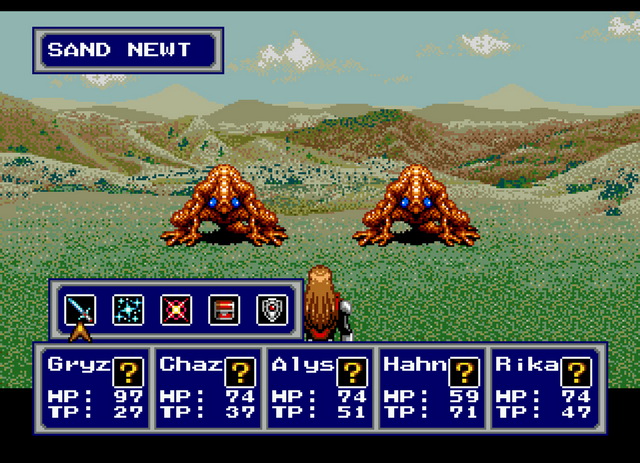 Unfortunately, some characteristics of the 16-bit era made me yearn for some modern touches. My biggest issue was the encounter rate. In a word, it's high. My party would take a few steps, and enter a battle. They'd take another few steps, and then enter another battle. And again. And again. It got tedious. A few of the dungeons were filled with twists and turns. If you have poor sense of direction like me, then you'll end up getting lost easily. This meant extra back-tracking, which meant more battles. The good news was that Phantasy Star IV's combat system is a familiar turn-based formula that moved at a brisk pace. Chaz and his team had multiple methods of enemy disposal and ways to ensure that they're safe from harm. The ability to adjust battle speed and to set up pre-selected commands for each character using Macros made them move even faster. Still, even with these options, the volume of encounters was a lot to deal with. The extra experience was nice since there were some tough boss battles awaiting Chaz and his comrades, of course. Phantasy Star IV's other issues were minor. Spell names should have had a description attached to them. Money would vanish in a blink due to high equipment costs. Inventory management was a hassle. Things like that.
But, none of it was enough to stop me from proceeding. Since I enjoyed the story so much, I put up with the issues so I could see what happened next. This not only meant learning more about the narrative, but also getting to see the narrative in action. Confused? Phantasy Star IV's story events play out in a unique, manga presentation. Instead of watching the sprites (which, look great) stand around as talking heads, you'll see colorful manga-like cut outs of the events going on. It makes each story event more unique. The presentation in the battles and the fields is fine – it's the 16-bit look that I know and love. However, the manga events steal the show. In terms of music, Phantasy Star IV was a letdown. None of the tunes were memorable.
Something I really appreciated about Phantasy Star IV was that it moved a nice, brisk clip. There was no filler. Fetch quests were optional. Extra content was easy to find. When all was said and done, I was around the 20 hour mark. This even included some necessary level building. (Pro tip – remember to gain a level or two before venturing into the Air Castle.) Once the credits rolled, I understood why this game continues to get such high praise. It has held up remarkably well despite some annoyances. RPG fans that may have missed out on the Genesis' library should take the time to explore the Algo Star System in Phantasy Star IV. Looking back, I would have still sided with Nintendo. But, I'm realizing that Sega had more in its library worth exploring. Phantasy Star IV is proof.
Overall, 8/10 – A sci-fi adventure with a classic formula, Phantasy Star IV is a great example of what it means to be an RPG during a bygone area. Just get ready to deal with the good and the bad that comes with said era.