My only regret about playing Death Mark was that I did so on the PlayStation Vita. I love the Vita, but looking back on it, I feel like I would have had an even better experience if the game was displayed on a television. Yes, I know that there's PlayStation TV or whatever, but that's beside the point. The level of fear that Death Mark was able to seep into my being was already pretty high. I can only imagine how much better it would have been on a bigger screen. I learned my lesson. This is why I made sure to purchase Death Mark's follow-up on a console that could be played on the TV. Spirit Hunter: NG has more terror, more frights, and more narrative. I recommend it to everyone. Just be sure to play Death Mark first since the two have some connectivity.
NG takes place in the year 1999 in Tokyo. It's the middle of summer break for high-schooler Akira Kijima. An underground fighter with an impeccable streak, Akira goes about his days taking care of his adoptive sister Ami, helping his aunt at her bar, riding his motorcycle, and otherwise keeping to himself. Akira has a gruff demeanor, but don't let that fool you. He's very protective of his family and few friends. During what seems like a normal evening, Ami mysteriously vanishes. This strangeness is followed by Akira hearing a haunting melody. He follows the music to find a being calling herself Kakuya. She demands that Akira play a game with her, otherwise Ami will never return and Akira will disappear. Reading this synopsis makes NG sound less like a horror game and more like something from high fantasy. It's not. Akira might live a regular life in a regular city, but things are eerie even before Ami gets kidnapped. Of course, things get more and more frightening the further you get. There are twists. There are turns. There are frights when you least expect them. Getting to the bottom of Ami's disappearance is one of the game's highlights. Akira being such a likable guy doesn't hurt matters, either.
Just like Death Mark, NG's story gets presented as a visual novel. Sometimes, Akira will be offered with a series of choices that don't have any impact on the story; usually they're for gathering information. Other times, choices come in the form of the Judge System. You get to choose Akira's reaction represented by on one of five facial expressions. Again, these don't impact the story. They're just a fun way to see how others respond. Most importantly, some choices will determine whether or not Akira lives. The wrong decision during crucial moments will creep up on you when you least expect it. A generous save system lets you experiment until you find the correct answer.
When you're not reading, then you're investigating in a classic point-and-click adventure setup. Akira will receive a task from Kakuya which entails interacting with an evil spirit that has been haunting Tokyo. With the assistance of some of his friends, he will wait until the sun goes down before heading to a new location to start his investigation. He'll be sleuthing in parks, train stations, office buildings and more. With a flashlight in his hand and the assistance of a partner, Akira can interact with a variety of different objects. Some of them are there just to be examined. Others can be gathered; often used for solving puzzles. Entering a new area is another highlight of the game because you never know what you'll find. The truth behind each spirit is always filled with intrigue and horror.
Eventually, the spirit will show itself. This means that you'll need to use the items and clues gathered to vanquish it. Depending on your choices, the spirit will be either peacefully spirited away or destroyed. The latter means that it will leave behind a curse. This will ultimately impact which ending you receive – be sure to pay attention if you're attempting to get a favorable ending. The way the story and the investigations weave within one another is just as excellent here as it was in Death Mark. But, this time, the terror feels more close to home since said terror is happening within Akira's stomping grounds.
Going back to what I said in the introduction, I regretted not experiencing Death Mark on a bigger screen. I'm glad I learned my lesson and went with the Switch version. Be sure to play NG on a television. This is because the game graphics are gorgeous. They deserve to be displayed as largely as possible. Every static area you explore is highly detailed. Take the time to admire your surroundings. That same level of care to detail is shown when the spirits show themselves. It's a bizarre mixture of beautiful and terrifying. NG's music is situational in that it plays during a story event. When you're investigating, the only thing you'll hear is your surroundings. While the game features Japanese voice acting, it's just short quips or bloody howls from the spirits.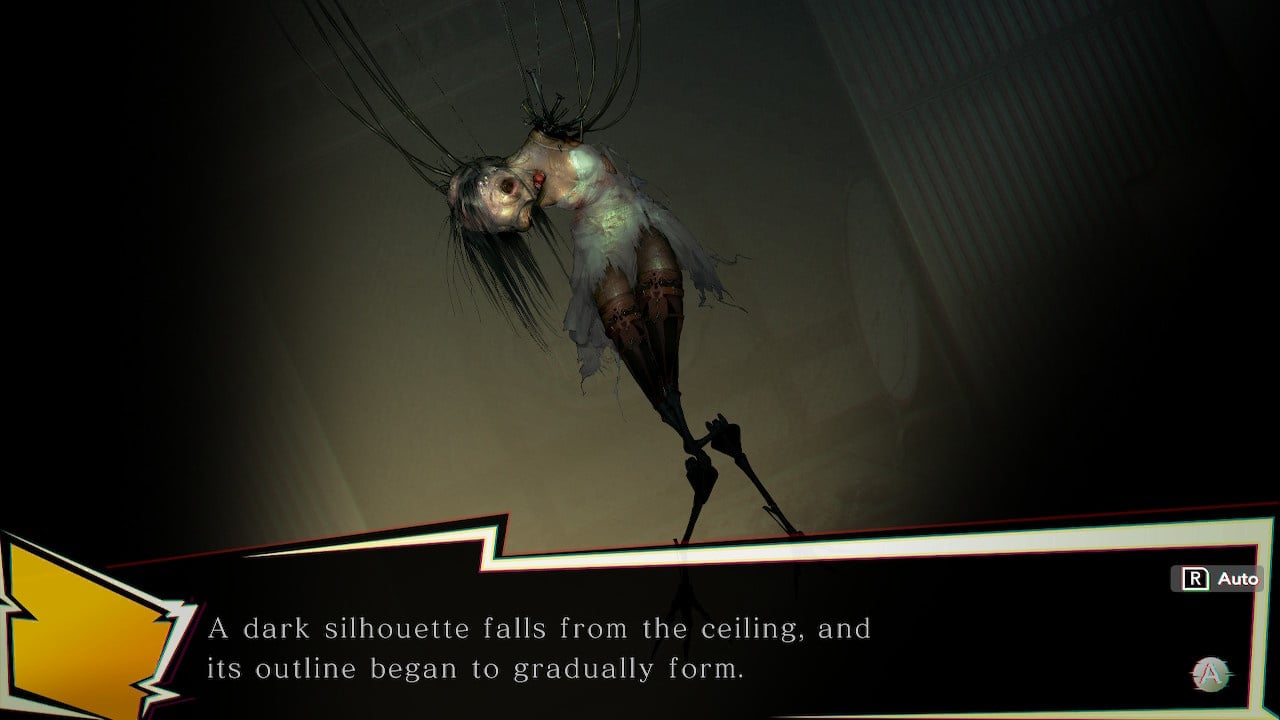 As your spiritual journey continues, you'll unlock character bios, memos on the spirits, concept art, and more. While NG is a linear game that feels like it ends too quickly, there is some incentive to play more than once. Spirit Hunter: NG is a fantastic experience. I recommend it to everyone that enjoyed Death Mark. If you've been reading up to this point, you might be wondering what exactly "NG" stands for. You'll just have to play it and find out. I promise you that you'll be happy that you did. Terrified, but happy.
Overall, 10/10: I'm sure I could find something wrong with Spirit Hunter: NG if I really tried, but I don't feel like it. This is a masterpiece of a game that all fans of horror will enjoy.