Violence in video games is nothing new. I remember being a young kid and watching all of the controversy surrounding the animated violence in games like Doom, Mortal Kombat, and Lethal Enforcer. My gaming peers and I very much enjoyed watching the screens fill with blood and body parts. In comparison to those games, Manhunt is exponentially more violent. It takes blood and gore to a new level. And, it's great because of it. Not only is violence prevalent, but it's rewarded. Just remember: it's only a game.
Manhunt puts you in the shoes of a convict named James Earl Cash. The game begins with you witnessing Cash's execution by lethal injection. But, moments later, Cash reawakens. He's alive. As he gathers himself, Cash hears the voice of a man named calling himself The Director. Cash equips an earpiece so only he can hear his voice. The Director promises Cash's escape from jail as long as he follows his directions. His orders are simple: kill anyone in the most outlandish way possible. Cash doesn't realize that The Director is recording all of the killings. It's not clear why Cash was the one chosen to participate in The Director's snuff film, but the promise of freedom is too sweet to pass up.
The M for Mature ESRB rating is warranted based off the synopsis alone. Manhunt moves at a steady clip. Players learn bits and pieces about The Director, his motives, the man behind the voice and his goals as things progress. Copious swearing, derogatory terms and profane dialogue exchanges help move things along. No matter how you feel about this plot or the developers at Rockstar Games, credit needs to be given. It's rare to see a game relish in violence.
The goal in Manhunt is straightforward: Cash needs to travel through various areas set up by The Director whilst killing. Each level has an overly stereotypical gang that will need to get disposed of. For instance, one group calls themselves the Wardogs, war-veterans turned mercenaries. Their manner of speaking is exactly what you'd expect from the stereotype. It sounds like this would be offensive, but it works. Each gang makes you hate them the moment their members open their mouths. That's why its so satisfying to watch them die horrifically after Cash gets his hands on them.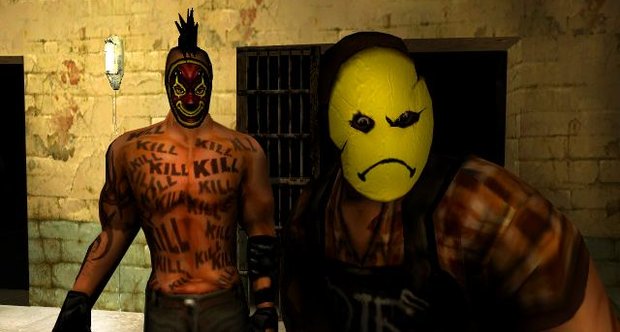 Manhunt combines action, stealth and a bit of survival-horror to make a unique experience. Throughout his travels, there will be objects that can be used to create distractions and/or lure foes close to Cash. These objects can also be used for killing off his enemies. There are glass shards, plastic bags, wires, bats, crowbars and more. When Cash sneaks up on a unsuspecting victim, a target will appear over their head. The longer you have them in your sights, the more gruesome the kill. You want to hold the target until it turns red. In doing so, you'll receive the best kill, which means you will earn a higher score when the level ends.
Sadly, the non-stealth game play of Manhunt is clunky. Gun fights and fist fights are button mashing messes. Cash is a sturdy guy, but sometimes the enemies can overwhelm him. Check points and health refills can be a problem. It's clear that this game is a Rockstar product from 2003. But, chances are you'll adapt. The promise of the satisfaction that comes with cracking open a gang member's skull with a baseball bat and watching their brains stain the walls cannot be overstated. In other words, struggling through a few gun fights will reward you with the chance to perform the best part of Manhunt: a stealth kill.
Manhunt is a lengthy campaign filled with content. Earning high ranks means you get to unlock more stuff. Alongside multiple difficulty levels, there are cheat codes and bonuses. It can take anywhere from 10 to 20 hours to complete. A couple of years after Manhunt's release, a book was published by David Buss called The Murderer Next Door: Why the Mind Is Designed to Kill. It was an interesting read that showed that there is a potential killer in all of us. Manhunt takes that same desire and explores it in the video game world. When I played Manhunt, I personalized some of the gang members. Obviously, violence in the real world is unacceptable. That's why we have video games like Manhunt that let us get it out of our system.
Overall, 8/10 – An interesting premise and a whole lotta' killings make Manhunt an easy game to recommend despite some control issues.