Once again, I find myself reviewing a game that grabbed my interest thanks to Project X Zone. This time, it's a fighting game that was released when Capcom was on top of their game. Rival Schools is a 3D fighting game with aggressive enemy AI and a crazy cast of characters to match. It's best feature, however, is its staying power. Rival Schools might be over 20 years old, but it still delivers a solid experience.
Rival Schools was originally released into arcades in 1997. This home edition for the PlayStation comes with two versions across two discs. On the first disc is the original arcade version. On the second disc is the Evolution version, which is an enhanced port of the arcade version. No matter which you play, you're in for a wild ride. The game is about a group of students from various schools across Japan stepping up to solve the mysterious disappearance of their fellow students. Something sinister is going on, and only these dedicated students have the guts to get to the bottom of things. The story is campy, but it has heart. From the moment you watch the opening movie to the end of the credits, its clear that Capcom wanted to make something that wasn't as serious as other fighting games.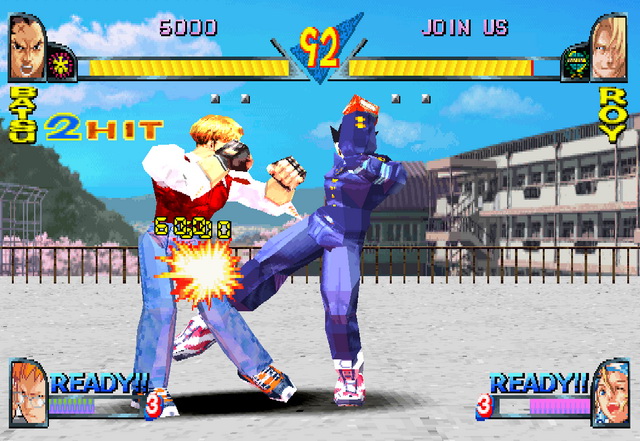 Rival Schools features a variety of modes available. But, most of them feature the same premise: pick a team of two and face off against another team of two. After one round, you can switch to your second character if you like. Every character can perform a light and heavy punch, a light and heavy kick, a throw, a pivot, and a variety of special moves. Unique to Rival Schools are Tardy Counters, which are special counterattacks, and Burning Vigor Attacks, which are special moves that use up the Burning Vigor Meter. This meter grows as you land attacks and guard against your foe. Finally, you and your teammate can perform a Team Up Technique that uses two meters of the gauge. There is a hefty cast of characters, which means that there is a hefty amount of possible teams to play around with.
So, how does Rival Schools actually function as a fighting game? It's been a minute since 1997; many fighters have come and gone since then. Fortunately, Rival Schools plays as smooth as silk and has a classic "pick up and play" style. This is a game where you'll want to learn to chain your punches and kicks, combine them with special attacks, and unleash either a Burning Vigor Attack or a Team Up Technique. Your opponents are relentless. Even on a lower difficulty, they enjoy bum rushing you full throttle and doing all they can so you don't get a hit. It can be a bit intimidating at first. Thanks to a variety of modes for practice and a large roster, it's easy to to find someone with a set of moves that clicks with you. Ultimately, this means that you'll be able to deliver the same level of insane punishment right back.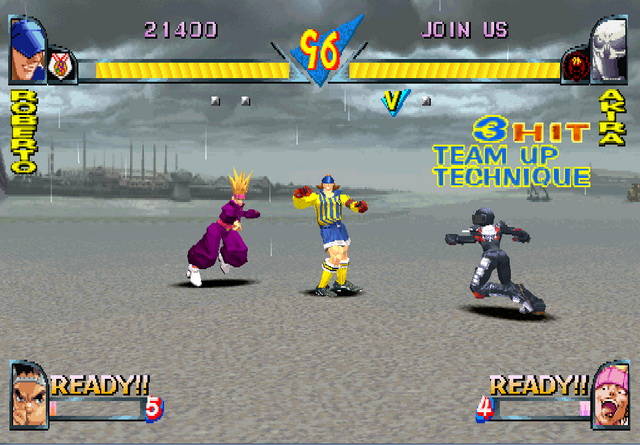 Rival School plays well, but how does it look? The late 90s saw a surge of games that tried to take advantage of 3D technology. Rival Shcools is no different, and yet it manages to maintain a good presentation. Since the game primarily takes place on a 2D field, you don't have to worry about awkward 3D controls or camera angels. Using the dodge mechanic will cause you to shift to the 3D plane for a split second. As for the character models, their special attacks, and the environments, they all look wonderful. Finally, the game is a musical masterpiece with catchy and toe-tapping tunes. The characters are voiced in Japanese. Their shouts and battle cries are as extra as you'd expect.
I'm glad that Batsu was a character in Project X Zone. If he wasn't, then I wouldn't have bothered seeking out Rival Schools. At a glance, it looked like another fighting game from a company that is known for mass producing them. Rival Schools is more than just another fighting game. The opponent AI can be unrelenting, but that's a minor nitpick. Sadly, many of the game's secrets are locked behind finishing the game on its hardest difficulty. It can be a frustrating endeavor. But, for those that are up for the challenge or just want to play a different fighting game with their friends, then I highly recommend Rival Schools. If anything, it'll remind you of a time when Capcom used to be one of the cool kids.
Overall, 8/10: Rival Schools combines frantic action with a massive roster to create a fun and frenzied fighting experience.