In December of 2004, a PlayStation 2 survival-horror game sneakily made its way to game stores. I never noticed it on game shelves. I never saw coverage of it in magazines or online. I didn't even hear of Kuon until nearly a decade after its launch. I was doing research on strong female leads in the survival-horror genre. Kuon was mentioned to me because it featured female protagonists. Reading more about it, I could kick myself for not learning about Kuon sooner. There's a lot to like about it. It has some issues commonly found in the genre, but it's biggest issue is the price tag.
Kuon takes place in Japan during the Heian era, which is a period I wish more games would utilize. After a chilling opening, you get to select one of two characters. The first is Utsuki, a timid girl who left her isolated mountain cottage alongside her sister in order to search for their father. The other is Sakuya Kamo, an exorcist that is trying to prove herself to her tutor and her disciples. Both have traveled to the Fujiwara manor. Once a magnificent structure filled with a smiling family and dedicated servants, it has become infested with demons and dark sorcery. Two young ladies with two different missions, neither of which will be pleasant. Something sinister went down in this manor.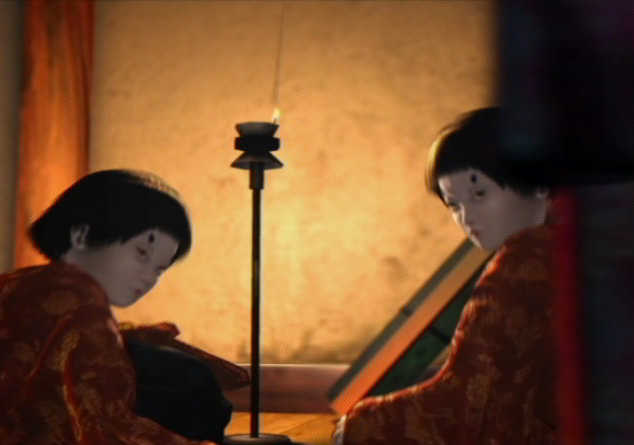 Whether you select Utsuki or Sakuya, the game begins with a brief introduction before setting you off. Kuon is linear in structure. Most of the time, you'll know where to go in order to advance. You will explore the manor and its surroundings to discover what happened. As you continue your search, you'll find various items, writings and tools that allow you to proceed. Many of the doors in Kuon are locked by seals representing various planets of the Solar System. Keys are in the form of bloodstained cloths that correspond to the planets. Your maps will mark all blocked paths for your reference. Tools you find are used to solve puzzles or break structures. Finally, documentation will be scattered throughout. You'll read journals, reports, and more that offer clues and insight about the manor. All of this combines to form an essential aspect that every survival-horror game needs: atmosphere. Kuon drips with atmosphere that makes exploring each new area equal parts frightening and exciting.
Of course, you won't be exploring without some interference. Demons from Japanese mythology wander about; hungry for flesh. They range from shambling Yamabito (pictured below) to powerful Mashira. Utsuki and Sakuya have melee weapons, but they're not very powerful. Luckily, Spell Cards and Summon Cards are found throughout the manor. Spell Cards let you attack from a distance with fire, ice and/or traps. Summon Cards, as the name suggests, will summon entities that assist you. While their durability is limited, they're extremely useful for providing support. Both types of cards are limited. You'll need to use your resources carefully. It sounds harrowing, but it adds to Kuon's tension. I never felt hindered by my decreasing card count.
There are other parts of Kuon that keep you on edge. Running isn't recommended since your characters tires easily and the sound attracts enemies. Speaking of attracting enemies, make sure you aren't bumping into objects. Any sort of noise will alert them. Some areas are filled with concentrated evil energy called tempests. Running into a tempest will cause you to become vulnerable. However, you meditate to recenter yourself. Meditation also heals damage. It's handy to use when you want to save your finite healing items.
As enjoyable as Kuon is, it's not without problems. Combat is where the game curiously shines and fades at the same time. Melee combat is clunky. Aiming your Spell Cards can be a tricky affair. Some enemies will always react quicker than your character can attack, which gets frustrating. Boss enemies are fun, but their arenas can be hard to navigate. Still, it adds to the atmosphere. Kuon just wouldn't be the same without combat.
Kuon looks and sounds fantastic. Utsuki and Sakuya wear beautiful garments that flow gracefully. The environments are filled with bloody horrors and eerie lightning. Subtle details such as shadows that sway in candlelight or images reflected in pools of water show that From Software took care in designing the game. The game has ambient sounds that coincide with the environments. It's rare for music to play, but when it does it'll be a haunting melody or a tense theme to supplement a boss fight. You can play the game with either English or Japanese voice acting.
When you complete both Utsuki's and Sakuya's scenario, you'll unlock a third scenario. If you get worn out from the main campaign, you can play a traditional Japanese board game with a friend or a computer player called Sugoroku. Sadly, finishing all of Kuon will only take eight hours. The game has a satisfying conclusion, but there could have been more narrative to get to it. Multiple difficulty levels offer extra incentive for replays. With all of this in mind you're probably wondering, "Is Kuon worth the price?" My answer is this: it depends. If you enjoy survival-horror games as much as I do, then yes. If you have a fascination with ancient Japan like I do, then yes. For me, it was a no-brainer. But, if you don't have the same level of appreciation for either of those aspects, then you'd better reconsider. Kuon's short length can make it hard to justify the cost. Ultimately, I hope future survival-horror games offer everything that Kuon offers with the exception of the high price.
Overall, 8/10 – Kuon's an expensive adventure that won't be worth it to most. But, the price will be an after thought to those that appreciate its timeless story that sticks with you.