Mega Man Zero through Mega Man Zero 4, Mega Man ZX, and Mega Man ZX Advent have Megamerged into one collection. Similar to the Collection of Mana from 2019, Zero's collection features mostly untouched versions of games with some modern conveniences. As a whole, the collection comes highly recommended to any fan of the Mega Man universe. But, some of the games haven't aged well, and some of the enhancements feel sloppy.
The Mega Man Zero universe takes place years after the events of the Mega Man X titles. X is now a diabolical ruler who wishes to make a future consisting only of Reploids. An underground resistance group is searching for a way to quash X's ambitions and learn of a Maverik Hunter named Zero who once fought alongside X. Ciel, their leader, learns of his location but gets chased by enemies. During her escape, Ciel successfully awakens Zero with the help of her Cyber Elf, and informs him of the situation. Zero is back and ready for action.
In Mega Man ZX, you play as either Vent, the energetic boy with a flare for adventure, or Aile, the young girl who is pragmatic and collected. No matter who you chose, the adventure is the same; your character and your supervisor, Giro, are sent to transport a biometal to an organization called the Guardians. When Maveriks attack, the biometal chooses you to save the day. Finally, in ZX Advent you chose one of two characters. The first is Grey, a young boy discovered in a cryogenic laboratory. Having no recollection of his past, he joins up with the Hunter's Guild to find his lost self. The other character is Ashe, a diva bounty hunter who fights against the Raiders. After a mission goes wrong, she finds herself at the Hunter's Guild camp. Regardless of who you chose, both characters will encounter a biometal known as Biometal A. Combined with the consciousness of Grey or Ashe, Biometal A allows one of these heroes to "Megamerge" into a powerful warrior and put a stop to all evil. The entire saga as a whole is surprisingly well written, despite some translation issues. I highly recommend playing the games in release order.
The main reason why the games should be played in order is because the game play gets progressively better. With each installment, abilities change. The subtle differences involve new combat capabilities and different types of armor. The variations in Zero's capabilities make each game different from the last, but still retains the blueprint that make Mega Man titles so much fun. In ZX, Vent or Aile get the abilities to Megamerge with new bio metals. This feature was brought over to ZX Advent, as well as a new feature in which you can morph into enemy bosses. The series is challenging. Not only do enemies and bosses hit hard, but the amount of death traps can frustrate even the most accomplished of Mega Man players. That said, a new feature to the collection called Casual Mode lets you enjoy the game's with ease. A generous collection of check points (Save Assist) can also be fully taken advantage of.
All of the games look (and sound, but no need to get into that) lovely in this collection, but there's a major issue with ZX and ZX Advent. Both games were ported from the Nintendo DS. In an attempt to keep the dual-screen options from the DS, you'll be forced to play with two screens. In other words, your screen will be required to display two mini-screens at once. There are options for positioning and sizing, but Capcom really fumbled the ball with this decision.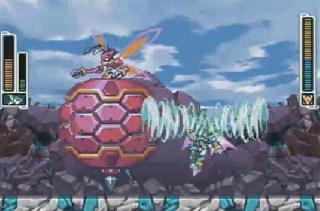 The struggle adjusting to the screen display in both ZX and ZX Advent really turned this collection from perfect ten material to slightly lower. Other features in the collection couldn't boost it back up. These include the timed stages of Z Chaser, and the massive gallery of art and music. Still, all fans of the Mega Man universe will enjoy this collection. For me, it was a fantastic reminder as to why I became a Mega Man fan in the first place. Mega Man Zero has a place in the Mega Man universe, but all of still retains an identity that is its own.
Overall, 8.5/10: The games included in the Mega Man Zero/ZX Legacy Collection were fun then, and they're fun now.