Bright colors are a surefire way to catch the eye of potential consumers for any product. I think the game developers at Whoopee Camp took that idea to the next level when designing Tomba. He's hard to miss. His tiny body is adorned with a beaming smile, yards of pink hair, and bright green shorts. With such a design, does Tomba's game debut match the level of fun captured in the aesthetics? For the most part, yes it does. Tomba! is recommended to anyone that enjoys platformers.
Tomba is a feral child that spends his days running through the wilderness, hunting for food and enjoying the great outdoors. One day, Tomba's favorite bracelet, an heirloom from his grandfather, is stolen after losing a fight with a group of Evil Pigs. Tomba gives chase and ends up meeting the 100 Year Old Man along the way. This wise being informs Tomba that he needs to use Evil Pig Bags to capture the Seven Evil Pig leaders. One of them surely has Tomba's bracelet. There's a surprising amount of narrative in Tomba! He'll encounter villagers and townsfolk with their own plights as he journeys through the world in search of his bracelet. The downside is that we don't get to learn much about Tomba himself.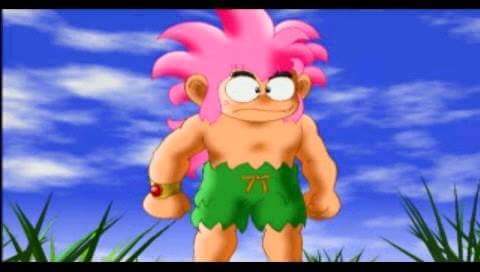 But, the main draw to Tomba! isn't the tale of Tomba's woe and strife. No, it's the gameplay. The game is a 2D (semi 2.5D) platformer with a massive world to explore. Tomba's weapon of choice is a mace that he can charge and swing. He'll acquire more weapons as he progresses. My personal favorite is the boomerang. Tomba can also swing, grapple, climb, swim and dash. Finally, he can perform a jump that doubles as an attack. Jumping on most enemies will let him launch the enemy as a weapon. This is the most amusing way to handle his enemies, and is the key to tackling the Seven Evil Pig bosses. Said boss battles are extra fun because they play a lot like puzzles. Aside from Tomba's jump being too floaty for my taste, the gameplay is spot on and easy to pick and play.
Tomba's journey is composed of Events that grant him Adventure Points. Defeating enemies gives him AP, but the majority of these points come from finishing Events. These let him access new areas and treasure chests. There are 130 Events. Just about everything Tomba does is considered an Event. Talking to someone the first time? An Event. Entering a village for the first time? An Event. Learning to swim? An Event. Many of these Events will be started and completed within seconds of each other. Other Events will take longer and are similar to fetch quests. Unlike traditional platformers, Tomba! isn't comprised of stages. Instead, it's a giant, connected world. In other words, completing some Events will have you traveling back and forth. An item called Charity Wings lets you warp around, but these are in short supply. You'll get an item that acts a permanent Charity Wing later in the game. Thankfully, finishing all 130 Events isn't necessary.
Circling back to my review's introduction discussing Tomba's color scheme, I have to talk about the game's presentation. The game is beautiful. Every color you can think of is on display in full 32-bit gloriousness. As you watch Tomba move from area to area, your eyes and your heart will melt with joy. Tomba! is more proof as to why I will always favor games in 2D instead of 3D. The visuals are topped off with some quality anime scenes. The music works. It's not as catchy as other platformers, but it serves as a nice supplement. There are jungle inspired tracks, tropical themes, and plenty of tunes that have fittingly silly undertones.
Whether you take the time to finish all 130 Events or just do the minimum, Tomba! feels over too soon. My first time through took about nine hours. That was with a fair amount of backtracking and trying to figure out where to go next. That said, this is a perfect game for replays. There's no doubt that I'll be back for a second run. I mean, how can anyone say no to a pink haired hero with the energy of the Tasmanian Devil? Just like Tomba's ability to chomp on his foes, this is a fantastic game that fans of 2D platformers will eat right up.
Overall, 9/10: Tomba! features a lovable hero in a beautiful world. An enjoyable platforming adventure awaits.