Author's Note: This review is for the Switch version.
On days I don't feel like saving the world in an epic RPG or reading about a heroine's plight in a visual novel, I turn to one of my favorite franchises: Mega Man. Whether it's a classic from the NES days or something I've played a million times like Mega Man X4, the tight gameplay and beautiful aesthetics always make the experience enjoyable. Mighty Gunvolt Burst, a crossover title featuring heroes from various Inti Creates franchises, takes the idea of an NES Mega Man and amplifies things with multiple features and a meaty campaign. Fans of Mega Man will undoubtedly enjoy all this game has to offer. However, it'll take a few stages to fully appreciate it.
You start the game by selecting one of nine characters. As a huge fan of Azure Striker Gunvolt, the first character I picked was Gunvolt (GV for short). Others include Beck from Mighty No. 9 and Ekoro from Gal*Gun. Your hero or heroine gets thrown into a strange virtual world comprised of 1s and 0s. Someone, or something, informs you that you need to duke it out in a robot tournament in order to survive. However, to escape, you have to be victorious. Each character has a slightly different narrative; this already gives a good reason to play the game more than once.
Of course, the real reason you'd go through the game multiple times is because of the gameplay. After the introductory level, you'll be able to select one of eight levels that have a boss waiting for you at the end. Your character can jump and shoot; basic stuff featured since the blue bomber's advent. Every stage is filled with enemies and tricky jumps. There are also food items that can be used for health recovery, secret items and collectable stickers behind breakable walls and hidden paths. You move from area to area in each stage while blasting anything you come across. Bosses are real brutes that don't pull punches, but pattern recognition and some patience will serve players well. In fact, there are no "lives" in Mighty Gunvolt Burst. You can retry as often as needed. However, the worse you do, the lower your overall evaluation will be when you do complete a stage. Ultimately, it doesn't matter what your score is unless you care about collecting all of the stickers. You can replay stages as many times as you like.
At this point you're probably thinking that this stuff sounds SOP. Why bother playing Mighty Gunvolt Burst when other games are similar? Mighty Gunvolt Burst features two unique features that separate it from other games that successfully recapture the retro feel of yesteryear. The first is the Burst Combo. Basically, you want to be as close to an enemy as possible when you blast them into submission. Pulling this off multiple times creates a combo that racks up the points. If you kill an enemy at a distance then the combo ends. The second feature, which is the one that will take some getting used to, utilizes both a currency called CP and weapon modifiers that you discover during stages and/or get rewarded with upon stage completion. Using Gunvolt as an example, you can customize his bullets. As long as you have enough CP, his bullets can grow, take a larger shape, ricochet, detonate, move at an angle, and much more. Each character has their own special attacks that they can use, but the real fun in Mighty Gunvolt Burst is customizing your heart out with the multitude of modifiers. Taking another cue from Mega Man, one of the things you can customize is your attack's element. This is useful for taking down bosses. Getting your perfect bullet takes some time and growing pains. Don't get discouraged by it; it's worth taking the extra time to explore the customization options.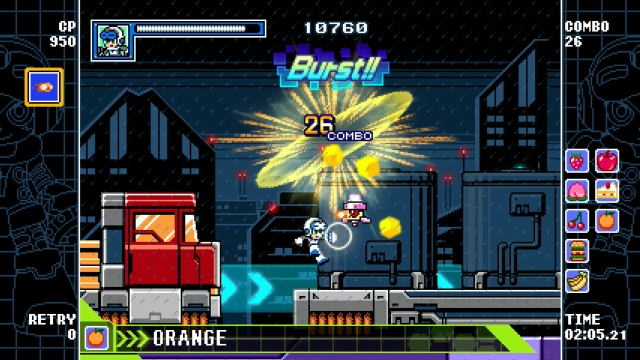 Mighty Gun Burst features a retro look and sound that never goes out of style. Enemy sprites are colorful, bite-sized and expressive. As far as I'm concerned, it's a look that will always be in vogue. One of the best parts is seeing your bullets hit your foes; exploding on impact and increasing your points. The music featured is catchy and memorable. There's not much else to say other than it fits perfectly with the rest of the game.
Going through as much as I could with GV took me longer than expected. After five hours of replaying stages and trying to create the perfect bullet options, I was glad to see his story come to a close. The exciting thing about Mighty Gunvolt Burst is that there are eight other characters for me to try. Replay ability is not lacking. With so many options to play with and a classic formula serving as a solid foundation, Mighty Gunvolt Burst will appeal to just about everyone. But, gamers like myself with an appreciation for the days of old will garner the most enjoyment.
Overall, 9/10: Mighty Gunvolt Burst combines a retro presentation with modern customization for an enjoyable and accessible experience.