The moment the first snippets of footage for Code Vein were shown, the majority of gamers (myself included) immediately started to call it "anime Dark Souls." I can confirm. Indeed, Code Vein is essentially Souls with an anime vibe. Thus, if you're familiar with the formula, then you'll be able to hop into Code Vein without much struggling. Still, Code Vein brings some new mechanics and features to players.
One thing that separates Code Vein from Souls is that there's a story that doesn't rely on lore and NPCs to tell. Humanity has succumbed to a disaster called the Great Collapse. Now, humans are kept alive to provide their blood to Revenants: reanimated human corpses that have gained uncanny strength thanks to a parasite called BOR. Without human blood, Revenants turn into hideous creatures called Lost. Revenants fight the Lost and the monsters that arose from Great Collapse. Your character is a Revenant, but your abilities go beyond being able to stand against the Lost. You're able to recall the memories of other Revenants and acquire their Blood Codes: unique specialties that normally can't be shared among Revenants. Obviously, there's more to your character than meets the eye. With some new friends, you begin a journey through a living Hell to learn why you have this power.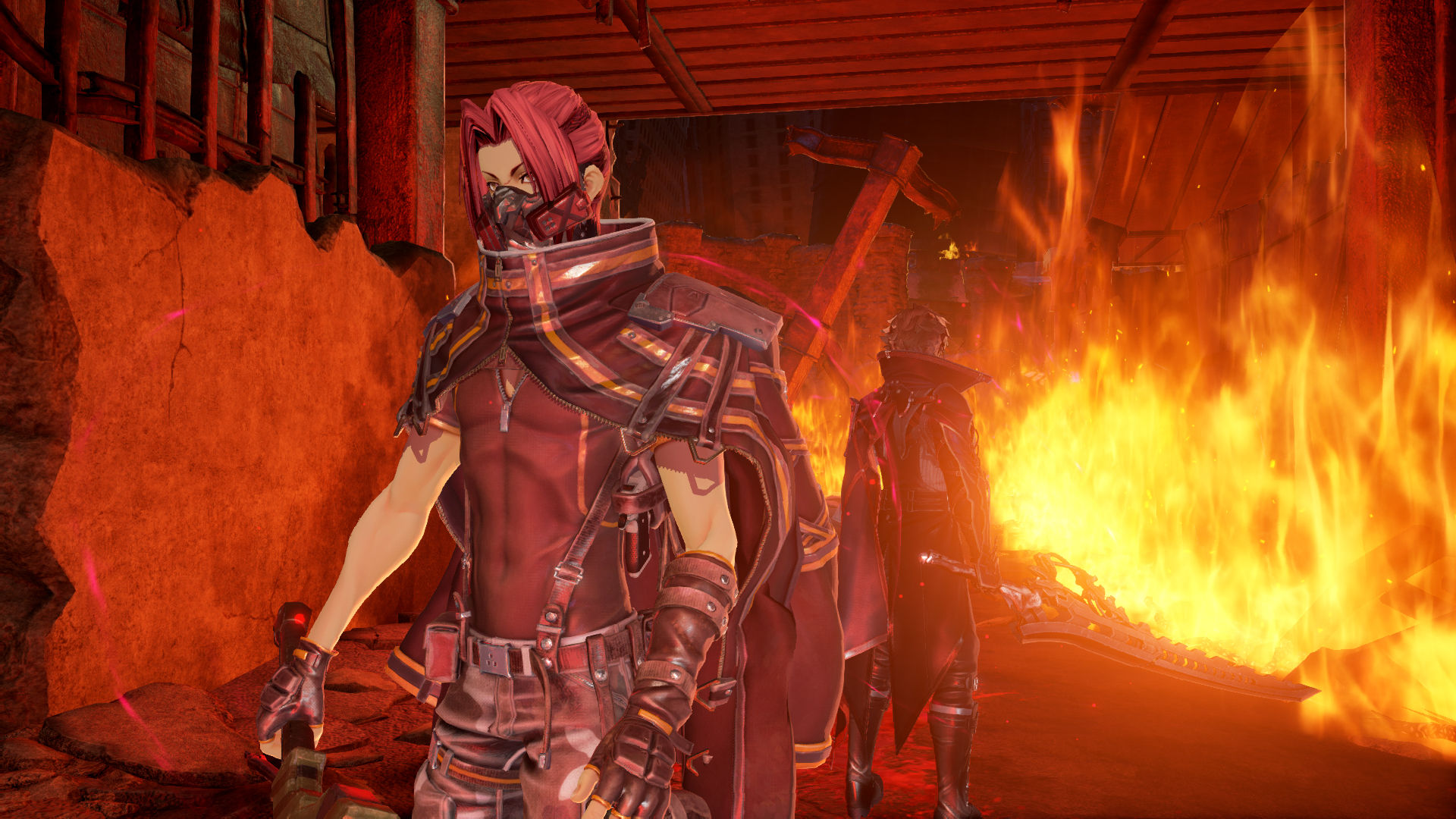 The tale is bloody and gruesome, and despite the apocalyptic setting, there's lots joy to be found thanks to the characters you meet on the journey. Not too different from Namco Bandai's Tales of series, Code Vein introduces you to a well-developed cast of characters that you'll enjoy getting to know. They make the journey through the nightmare more hopeful. The setting and story behind Code Vein is interesting, but really, it's your character and your comrades that make it memorable. It feels like you're all in this together despite the terrible odds.
Another aspect of Code Vein that separates it from Souls is the presentation. You won't be seeing realistically designed characters in your travels. Everyone looks like they came from anime with big eyes, big hair, big fashions, and for the females, big chests. Namco Bandai ensured that nearly every lady in Code Vein received massive endowments that defy physics and the way the human body functions. That distraction aside, Code Vein looks like a beautiful nightmare. Nothing in the world is bright or colorful, but the environments are still stunning. The soundtrack is solid, but most of the journey will be spent listening to silence or the sounds of your surroundings. Everyone, aside from your silent protagonist, has plenty to say. As expected, the voice acting is fantastic.
Code Vein begins with a bang the moment you start thanks to a fantastic character creator. After making your character, you'll be taken to a tutorial area where you'll learn the basics. You can equip a variety of weapons that can perform weak and strong attacks. For armor, you'll be wearing bizarre cloaks and shawls called Blood Veils. While they provide protection, they also allow your character to perform various Drain Attacks. Draining an enemy provides you with extra Ichor, which is used to activate skills. Skills are learned from the above mentioned Blood Codes. With a plethora of Blood Codes that can be swapped on the fly and endless skills to learn, molding your character to your liking is an enjoyable process. You can equip up to eight active skills and four passive skills.
Other abilities you can do include dodging, guarding, parrying and sprinting. Like the Souls series, performing most actions consumes stamina. Low stamina means lacking the ability to do anything except move. As expected, enemies hit hard and show no mercy. So, careful monitoring of your energy gauge and your stamina gauge is crucial for survival. Defeating enemies grants you Haze, which acts as currency and as a means to power up your character to build levels and unlock skills. As you journey through the world of Vein, you'll come across plants called mistle. Activating it will allow you to view a map of your surroundings. The bigger mistle plants serve as warp/rest points.
Code Vein is slightly easier than the Souls series thanks to a partner system. While you can travel solo, half of the fun in Code Vein's combat and exploration is going about it with a partner. The AI handles the partners exceptionally well. Another feature that will help you in your journey is Focus. When you achieve a focused status, you take less damage, consume less stamina, and hit harder. You'll gain Focus via dodging accurately or reaching critical health.
Sadly, Code Vein has some rough areas. The biggest issue is the camera. Whether it gets stuck in a tight corner, or simply can't keep up with the speed of your foes, the camera will be your biggest opponent. Another issue in Code Vein is that a few of the areas are terrible to navigate. Even with the mini-map, these areas are a nightmare to traverse and will cause you to spend hours trying to figure out where to go. One frustrating feature in Code Vein is that being higher leveled means taking longer to permanently acquire new skills.
Code Vein's issues don't take away from the whole package. It's just that they become more apparent the further you get. Things get repetitive after the 15 hour mark. There's lots to explore in the main game, and there's side-quests, bonus areas and some online features that add more content. By the time I achieved one of the endings at around 40 hours, I was more than ready for the game to be done. Finishing the game unlocks a bonus area and a New Game Plus feature. However, I don't see myself participating in either. Code Vein is a "one and done" type of game that has enough substance to see things through to the end, but enough issues to curtail any thoughts of a replay. Fans of Souls will easily find some enjoyment from Code Vein. It just wont' be as substantial as an actual Souls.
Overall, 7/10: Code Vein offers an enthusiastic but problematic spin on the Souls formula with an anime style and a captivating setting.