Like most fans of the pink puff ball, I found Kirby Star Allies on the Nintendo Switch to be underwhelming. The game was fun, but it was over way too soon. One could finish the entire game with all secrets uncovered in under four hours – basically an afternoon. Kirby games tend to be on the shorter side, but this one took that rule to the extreme. So, when Kirby and the Forgotten Land was announced, my biggest wish was for a meatier campaign. I got that, and then some. Kirby and the Forgotten Land is one of the best games I've played. It finally feels like Kirby is getting the same level of care as other Nintendo mascots.
Kirby's latest adventure starts on Popstar. While walking outside on a sunny day and minding his own business, a giant vortex appears in the sky. It sucks Kirby and a gaggle of Waddle-Dees into a strange new world not too different from our own. As he explores further, he sees some nasty critters capturing the Waddle-Dees and putting them in cages. Once again, Kirby needs to do what he does best: stop the meanies from being mean and figure out what's going on. With the help of his adorable new friend Elfilin, Kirby will travel this bizarre new land and rescue the Waddle-Dees. Surprisingly, the end of the game has an info dump regarding what happened to the world and the reason for kidnapping the Waddle-Dees. Otherwise, it's a standard Kirby tale filled with adorable characters and adorable moments.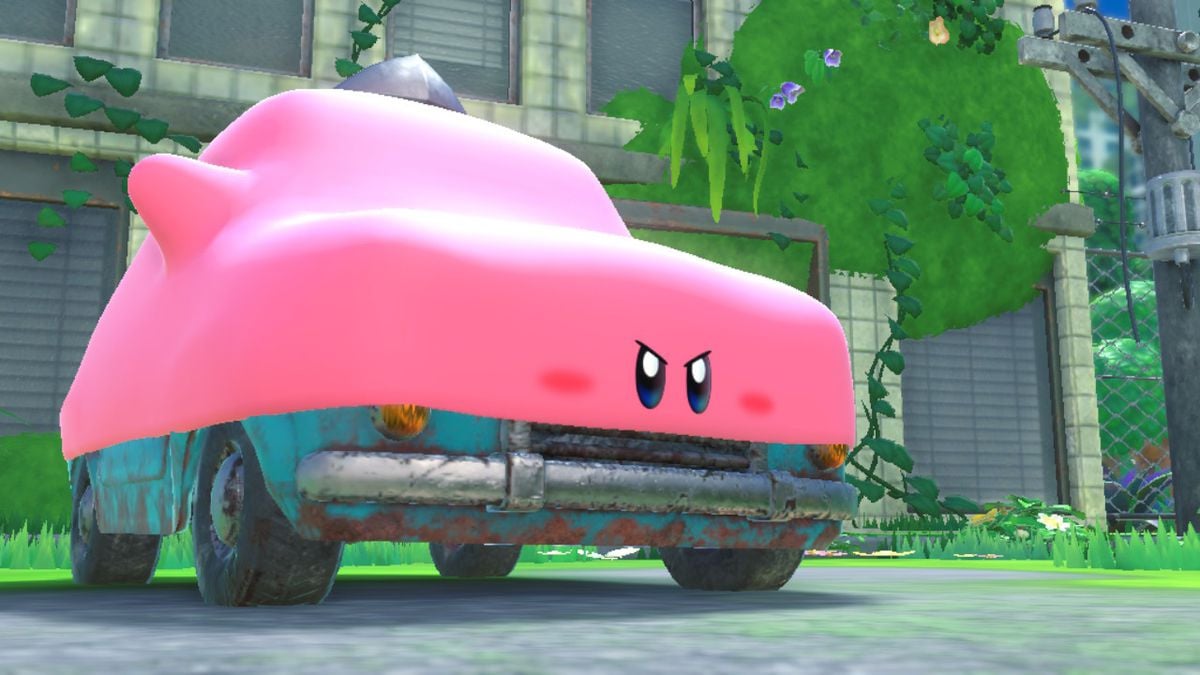 Kirby's new adventure takes him across green fields, snowy plains, abandoned malls, and more. This should go without saying, but Kirby and the Forgotten Land is a gorgeously fluffy game. Kirby and all the creatures encountered are polished and perfect. Every area is detailed, lovely, and vibrant. The amount of care put into the game's presentation cannot be understated. The music is great, and the voices are adorable, but they'll fade into the background because you'll be too busy ogling as much presentation as possible. Unlike most games, he doesn't traverse the multitude of stages in 2D. Kirby and the Forgotten Land is a full, 3D adventure that has you controlling Kirby (and Bandana Waddle-Dee if you have a buddy to play with) in every direction. Every stage is fun to explore because there are secrets everywhere. These can be collectible figurines, coins, food, or some of the captured Waddle-Dees. Fulfilling hidden objectives results in additional Waddle-Dees getting rescued. The Waddle-Dees that get rescued gather in an abandoned area of this new world and work together to build a town. So, the more Waddle-Dees you rescue, the more features you unlock in the town. Ultimately, the town will be filled with mini-games, an arena, a movie theater, and more fun distractions.
One of the Waddle-Dees in town can evolve Kirby's copy abilities. Kirby comes with his usual arsenal: running, floating, jumping, sliding, guarding, and of course, swallowing enemies to gain their powers. Classic abilities such as sword and cutter have returned, and there are new ones such as ranger and drill. But, thanks to the ability to evolve his abilities, it's accurate to say that there are dozens of brand-new abilities in this adventure. Evolve cutter to throw sawblades that ricochet off walls. Evolve ice for the ability to generate snowman that can sled towards enemies. To evolve an ability, you'll need to find a blueprint and special stones. Remember: explore each stage thoroughly! To add, Kirby can morph into a car, a vending machine, a scissor lift, and more real-world objects with his new Mouthful Mode. Having more oomph behind his attacks is helpful because, by Kirby standards, this can be a challenging game. In fact, all the rewards from the epic boss showdowns will require you to emerge victorious without sustaining any damage. The entire game is filled with variety, action, and non-stop enjoyment whether you're in a new stage or chilling in the Waddle-Dee town.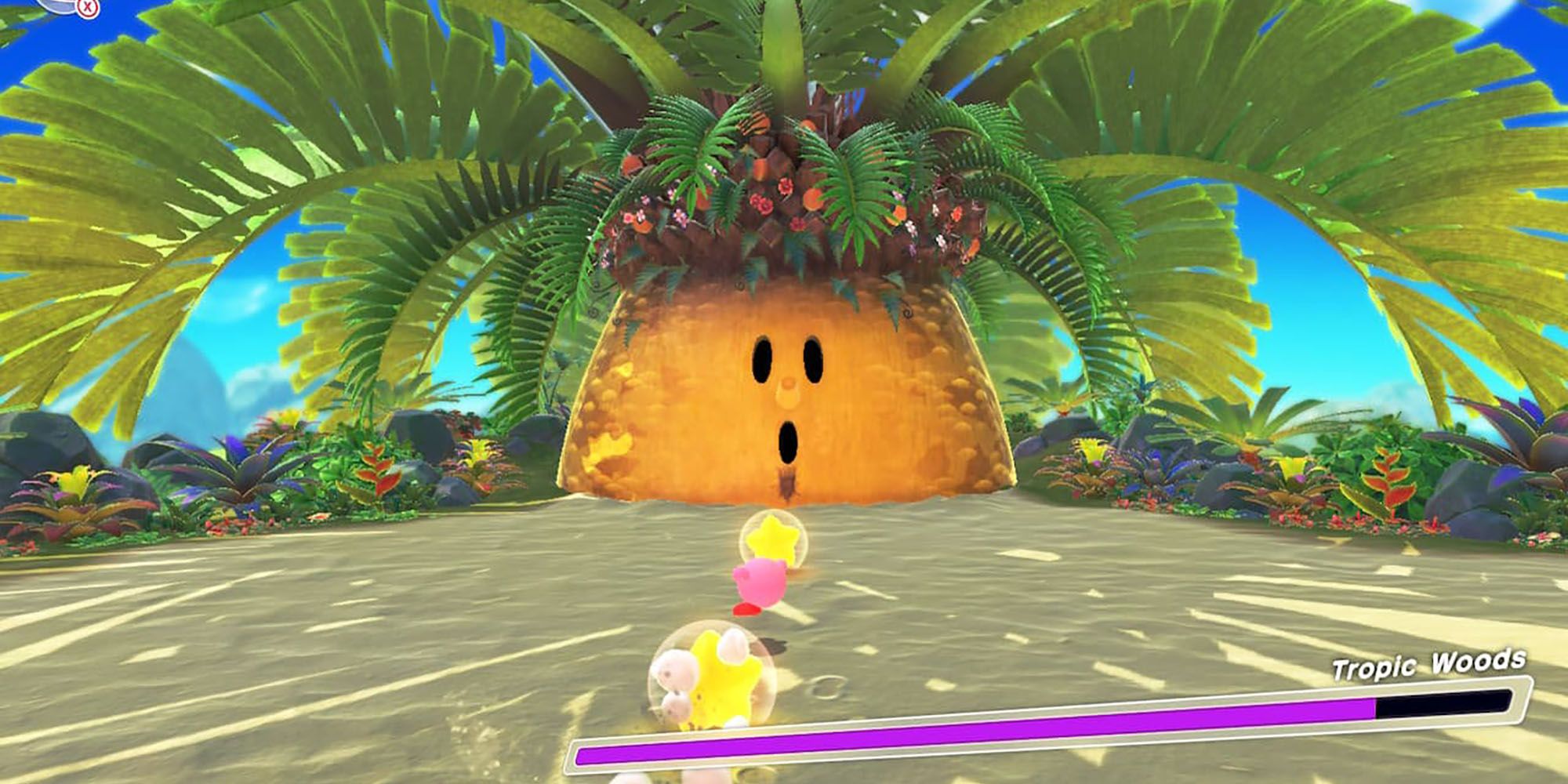 So, the million-dollar question: is the game as short as other Kirby titles? The answer is no. I was able to finish it with 100% completion in a little over a week. It's worth noting that it was my primary game during this time. Of course, I would have been happier if it lasted longer. But, it was 180 degrees from the length of Kirby Star Allies. And of course, I'll be replaying the game again and again. It's hard for me to find any fault in Forgotten Land. Sure, I could think on what could have been improved but, you know what? I don't want to do that. The bottom line is that this is the perfect Kirby game. As of this writing, it's the best game of the year, too. It doesn't matter if you're new to the world of Kirby or a longtime fan. Kirby and the Forgotten Land is an amazing and adorable adventure.
Overall, 10/10: Finally. Kirby gets a quality title. Kirby and the Forgotten Land is the epic title fans deserve.