Like many gamers that consumed Chrono Trigger, the idea of a sequel for the PlayStation seemed like an amazing idea. Chrono Cross was released with a lot of hype; possibly the most I've ever seen for an RPG during the era. Not surprisingly, not everyone was onboard. Chrono Cross was very different than Chrono Trigger. There was a lot of venom spewed in Square's directions due to its vast differences. Personally, I had a good time with Chrono Cross. I played it multiple times, with each New Game Plus being more enjoyable than the last. Take away the "Chrono" aspect of it, and you have another solid RPG from Square. It's no surprise that it got the remaster treatment. The Radical Dreamers Edition of Chrono Cross is a great way for old fans to revisit this gem. The best part about it is that it contains the Radical Dreamers, a text-based adventure that sets the stage for Chrono Cross.
The game begins with you taking the role of Serge and two of his friends in a mysterious dungeon. When you get to the end, you encounter some mysterious being, witness bizarre events, and…wake up. The dungeon was nothing more than a dream. Serge is awakened by his mother and asked to run an errand on a nearby beach. After leaving his village, he ventures to the beach. He finds himself instantly transported through a tear in space-time; finding himself in a parallel universe. The world looks the same, but the people are entirely different. Serge's tale is different than Crono's, despite the latter's getting referenced from time to time. I enjoyed the new adventure. What I didn't enjoy was the massive roster of characters that joined Serge's adventure. You're only allowed a party of three, but the game gives you over 40 to select. As expected, more than half of them receive any character development.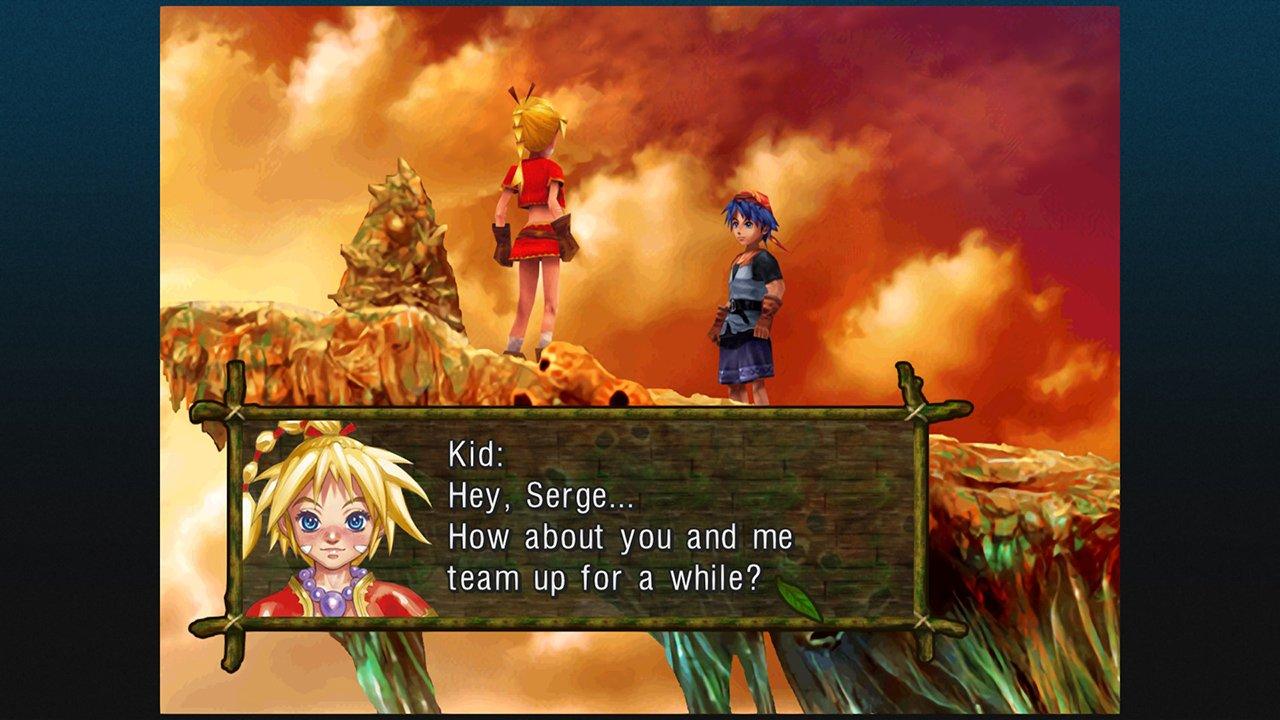 Serge's adventure might be different, but the ins and outs are familiar. In villages, there are people you can talk to, opportunities to recruit party members, and shops. Weapons and armor are no longer purchased with money alone. Instead, you need raw materials to make them, and then you pay a fee. There are magic shops, too. While the characters learn three skills unique to them, there are hundreds of spells you can purchase. Finally, there are key items in this game used for puzzles. By hitting a button, you will bring up the key items menu. You select your item near the location and see if something happens.
In the main menu, besides the typical character management, we have a magic system that appears complex on the surface. Truthfully, it's needlessly cumbersome for those who like fully customize their party of three. Basically, every character has slots that can hold a magic spell. Slots range in level from one to eight. Each spell has a certain level. Thus, you set a spell in a slot, and you are able to use that spell. Obviously, high level spells cannot be placed in low level slots, but by placing low level spells in high level slots, the spell gets a bonus. Those who love to customize their characters can place magic spells one slot at a time, but for the rest of us, you can hit a button to have an "optimized" spell set placed in the characters' slots. Because each character is associated with an element (white, black, red, blue, green, and yellow) it is recommended that you place spells associated with their element. Nowadays, I appreciate the magic system and how much flexibility you have with setting up your favorite party members' spells.
Combat is another part of Chrono Cross that initially had everyone scratching their heads. When you run into a foe, you will enter a battle. The best thing about these, boss battles included, is that you have a 100 percent success rate of running away. Chrono Cross uses a system similar to the SaGa series in which various stats go up after a battle, little by little. If you beat a boss, you gain a star level. This increase all of your stats. Stars are also used to cast powerful magic. Instead of the Active-Time Battle system, you have a turn-based system. Your three characters can attack and use magic. However, the attacks are separated by weak, strong, and fierce. Weak attacks deal less damage, but they have higher accuracy. Obviously, fierce attacks hit harder but are less accurate. Each attack takes away a character's action meter. When that meter is drained, the turn is over. Magic takes away part of the action meter, too. A bit of strategy comes in with the magic system because all magic can only be used once per battle. The fun thing about the meter is that you can maximize damage by going over the limit of the meter. However, this means that character's turn will arrive later than usual. Another cool mechanic is that you can switch character turns on the fly.
On the top, left-hand corner, is an oval with three sections called the Elemental Field. This represents the elements used. So, if the three sections from left to right are green, black, and red, it means that a black spell, then a red spell, and finally a green spell were used in that order. Thus, the oval fills from right to left. While this field has little relevance in most battles, you can use powerful magic attacks if all three sections are the same color. Speaking of the colors, each character is weak to the opposite color, so it is important to switch characters regularly in order to be safe from powerful magic damage.
The Radical Dreamers Edition features Battle Boosts. You can nullify all damage, fill up the Elemental Field, or set the Auto-Battle to make encounters end without any button input. Or, take it one step further and turn regular battles off completely. Perhaps the most immediate difference from the PlayStation version you'll see is the upgraded, HD character models and backgrounds. Chrono Cross was already one of the best looking PlayStation games. Now, it's been scaled up a few notches to look better for current consoles. There are new character portraits from Nobuteru Yuuki to spice things up further. The music was revamped, too. Finally, there's an option to speed up or slow down gameplay. In the original version, you had to finish the game once before you could do this so this was a nice perk.
Using the speed up option with the best Battle Boosts could allow you finish the game in 10 hours. Normally, Chrono Cross takes 30 hours. However, there are multiple scenarios, characters, and endings that you will be unable to get in the first run. Like Chrono Trigger, there is a New Game Plus option. When everything has been seen, there will be over 100 hours of game time. Playing the included copy of Radical Dreamers adds even more game time. This was another wonderful (and radical) remaster from Square. It's the best way to experience Chrono Cross; a game that was destined to fall short in every way when compared to its predecessor. As I mentioned, I've always liked Chrono Cross. The Radical Dreamer Edition gives me more reasons to like it, and hopefully, it'll give new and old fans just as many reasons.
Overall, 8/10: Even if it didn't come with Radical Dreamers, the new features in Chrono Cross: The Radical Dreamers Edition make this the definitive way to enjoy a game that was already great in its own right.