When it comes to action-oriented gaming, Spike Chunsoft is nowhere near the forefront. They can deliver a compelling story. They'll have you meet interesting personalities. But if actually playing the game requires more than selecting crucial choices or gathering clues, then that's when things get hairy. Made in Abyss: Binary Star Falling into Darkness is a prime example of this. The sad thing is I knew that it wouldn't be fun even before popping it in. Maybe, I was secretly hoping that it would at least be serviceable. The Made in Abyss world is fascinating; I wanted more of it. A game would fill that void. But, here we are. No matter how much of a fan you are, you're going to want to avoid this.
For those that are new to Made in Abyss but have some interest in it, I recommend you stop reading this review now. Or at least, I recommend skipping this paragraph. The story and setting are so captivating that it's worth watching at least the first eight or so episodes of the anime before considering playing the game. (This is also partially due to the way the game forces you to finish a "tutorial" before beginning the game in earnest. I'll describe what I mean in a later section.) Now, if you're not too concerned about any of that, then feel free to read on. The Made in Abyss world takes place in the city of Orth. At the center of Orth is the Abyss. Spanning 1,000 meters in diameter and an unknown number of meters deep, the Abyss houses untold perils and treasures. People of Orth, as well as across the world, make their living by traveling into the Abyss, unearthing Relics from ancient times, and selling them for profit. It's not an easy job; bizarre creatures of all shapes, sizes, and diets inhabit the abyss. There's also the Curse of the Abyss. Going downward is one thing, but moving upwards will invoke a curse on the body. Initially, this could be something like dizziness or a tummy ache. Ascending from lower depths means more severe curses: vomiting, bleeding from every orifice, loss of senses. It gets worse and worse the lower you get, but the discoveries are that much more enticing.
The whole premise of Made in Abyss is as enticing as the idea of discovering what's within. This is where Binary Star Falling into Darkness shines the most. And at the same time, it's where the game starts to deteriorate. The game consists of two game modes: Hello Abyss and Deep In Abyss. Hello Abyss covers the anime. You take control of Riko and go through what constitutes the first six or so episodes. It acts as a tutorial of what to expect in the other game mode. If you've watched the anime, then chances are you aren't going to want to go through this. On the flipside, if you want to watch the anime then you'll want to avoid this mode for the sake of spoilers or repetition. Here's the kicker: you need to complete Hello Abyss if you want to access the original story in Deep In Abyss. So either way, you're stuck.gh this mode.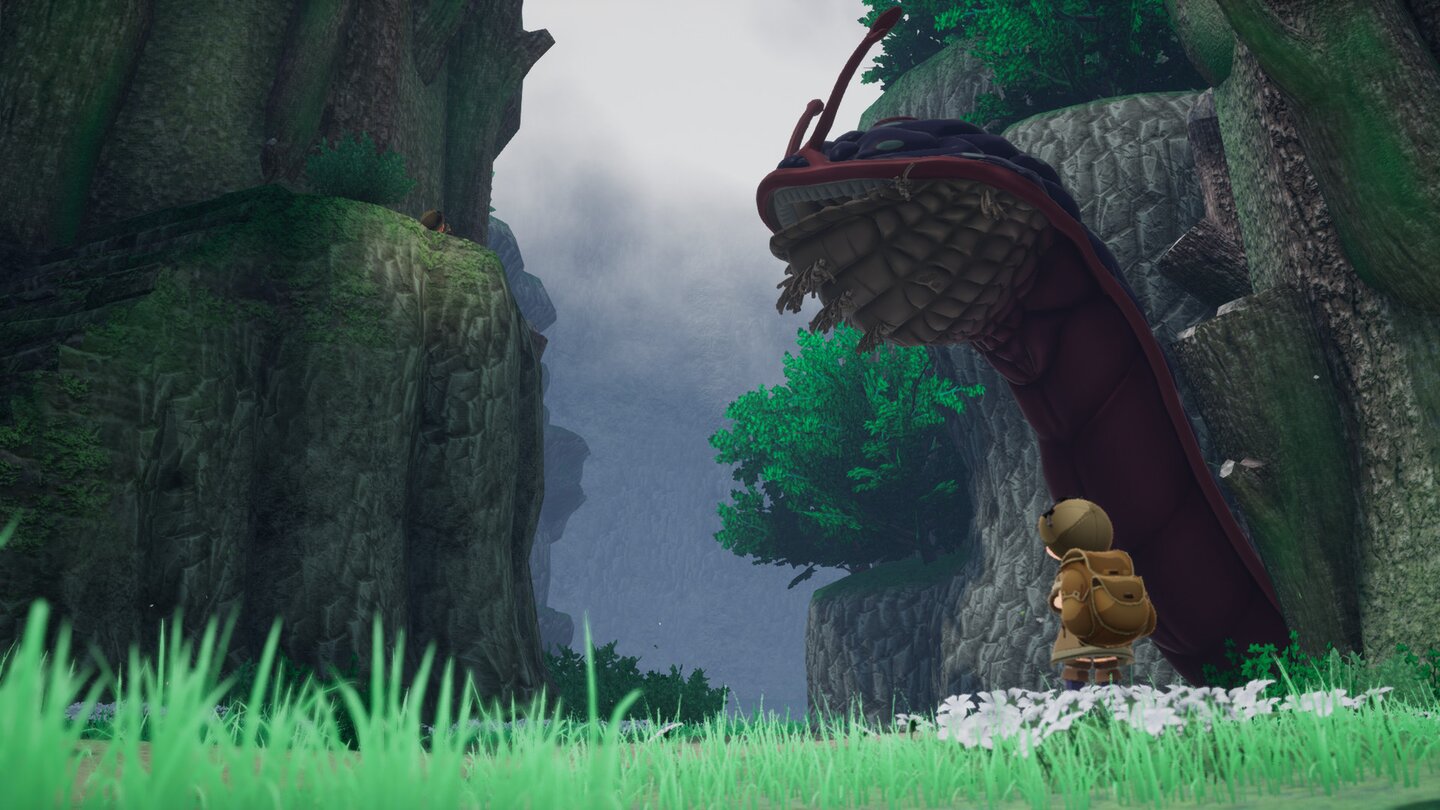 Sadly, both modes play the same. Hello Abyss is passable; serviceable. Riko and Reg make a good team despite Riko being at the mercy of Spike Chunsoft. She'll give you an idea of the overall gameplay loop. You'll travel down the Abyss from one goal to the next. Along the way, you'll uncover Relics, traps, and all sorts of enemies. You'll have to watch your stamina, your energy, and your hunger. You also need to monitor how deep you are in the Abyss. Remember the Curse? If you try to make a hasty retreat upwards, then the screen will distort and Riko will be impacted by the Curse. You need to slowly ascend, pause, wait for things to calm down, and continue. It's a long process. Riko comes equipped with a pick axe and can use it to defend herself. Taking a cue from the Souls series, you can lock onto an enemy at the cost of the camera going haywire. It's basic and clunky. Obviously, combat is not good. I won't mention taking item crafting, cumbersome real-time menus, or weight capacity. Riko's journey isn't easy in the anime, and her journey in the game isn't, either.
But, finishing Hello Abyss can be done with some patience. Then…we get to Deep In Abyss, an original story that lets you you create your own Cave Raider (hair color, skin color, etc.) and embark on a unique journey. This sounds exciting on paper, but it'll become immediately apparent that this mode is the worse of the two. For context, Riko starts the game at level 5, is assisted by Reg (he has an infinite supply of rappels and can assist in combat) and has a weapon that has infinite durability. Your Cave Raider avatar, on the other hand, starts at level 1, has no assistant, and will run through weapons fast. Pile all of this stuff on top of the other issues with the game (the Curse, item management, the combat, weight capacity, etc.) and, by now, you likely realized just how much of a chore it is to get through this game. You do earn experience to unlock new abilities, but it's a slow burn. The same applies to selling relics and restocking your supplies. It takes hours before having enough power to make it to the next story moment because the odds are constantly against you.
I played Made in Abyss on Switch. Both modes look fine. The character graphics are crisp and smooth. Seeing familiar locations both in and out of the Abyss in pretty 3D style is nice. Those new to the entire franchise will be shocked by the juxtaposition of the game's innocent looking style and the gruesomeness of the Abyss. The characters (who are about twelve years-old) have big, expressive eyes and tiny little bodies. It's easy to mistake Made in Abyss for a children's series. A lot of the music is pulled from the anime; a solid choice since it's great. Voice acting is spot-on whether you select Japanese or English. The only issue with the voice acting is in Hello Abyss Mode – Reg and Riko never stop talking to each other while exploring. Turning off voice acting rectifies this, but then you miss out on the voice acting during the story moments.
Hello Abyss can be finished in about four hours. I'm not sure how long it takes to finish Deep In Abyss because I got too frustrated with it. Truthfully, I had a feeling that this was going to be a bad game before I decided to purchase it. The footage I watched was one indicator, the developer was the second. But, the biggest indicator was that series itself. Made in Abyss is a phenomenal series that is beautifully animated and filled with exciting lore. I'm not a game designer, but I can't think of any method of seamlessly transposing all that exciting lore into game format. It's clear that Binary Star was meant to capitalize on the series' success. A game feels like the most natural way to do that, but the game should at least be enjoyable.
Overall, 3.5/10: It's hard to give something in this series a low score. But, there's no denying it: Made in Abyss: Binary Star Falling into Darkness is not a good game.