During a random outing to a favorite game store, I was surprised to see the original PlayStation version of Klonoa behind the glass display case. The surprised turned to astonishment when I saw its price tag. Years later, I played the Wii port of the original Klonoa, and while it was fun, there is no justifying its current price on either the Wii or the PlayStation. The same applies to Klonoa 2: Lunatea's Veil; it's price isn't too far behind. So, I'm beyond thrilled that Klonoa gets a chance to shine without an obnoxious price of admission thanks to the Klonoa Phantasy Reverie Series. This collection of Klonoa: Door to Phantomile and Klonoa 2: Lunatea's Veil is the perfect way to showcase Klonoa to new and old gamers.
The Phantasy Reverie Series puts the floppy-eared hero on modern consoles and he's never looked better. The games were already gorgeous on the PlayStation, PlayStation 2, and Wii. Now everything looks even more lovely. The game runs at a silky smooth 60 frames-per-second and offers 4K resolution. Other additional features include two-player support (more on that later) and different levels of difficulty. Seeing Klonoa and his world look so stylish feels correct. Other, more popular video game characters have continued to move through the console generations. Klonoa is finally getting his turn. The music is still catchy. Those new to Klonoa will get a kick out of hearing him go "wahoo!" as he traverses each area.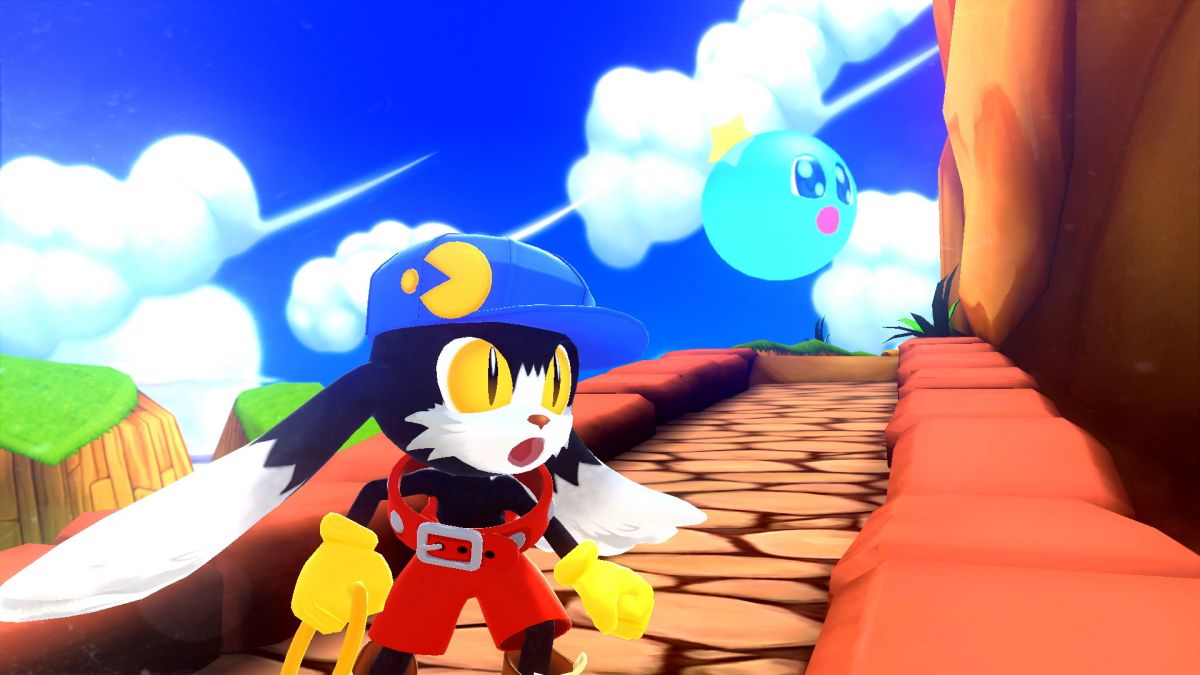 I won't get into the weeds regarding the stories of both games. Door to Phantomile introduces Klonoa and the whimsical world he inhabits. Said world is under the threat of being plunged into eternal nightmares. Only Klonoa and his friend Huepow can stop it. In Lunatea's Veil, Klonoa gets transported to Lunatea. He's joined by new friends Lolo and Popka on a new quest to stabilize the emotional energy of the world. Both stories deliver high fantasy and heartwarming stories that have a surprising amount of dialogue (complete with twists and turns) for platforming action games. The dialogue sequences can be skipped if you want to get into the action.
The gameplay, while sometimes repetitive and/or frustrating, is what makes both games so enjoyable. Both titles feature unique 2.5D platforming and level progression. Klonoa's special feature is his ability to fire Wind Bullets from his ring. When a Wind Bullet hits an enemy, he will hold it over his head. He can throw the enemy to break objects or take out another enemy. Or, he can use it to perform a double-jump. This is important because, by himself, Klonoa gets horrible altitude. He can extend his regular jump a bit by flapping his ears but it's not by much. It's a simple yet enjoyable formula that works from start to finish. Each level is littered with things to collect, too. When players get to Lunatea's Veil, new enemies are introduced. He'll have the ability to glide, shoot upwards like a rocket, perform a special jump, and more depending on the enemy he holds. Lunatea's Veil takes the same formula as the first game and gussies it up with lots of new extras. To add to the variety, some levels will have Klonoa snowboarding through on-rails levels. The neat thing about both games is that the levels (and boss fights) use Klonoa's simple formula in the best ways possible. So, those that wish to reach 100% on everything will have their work cut out for them.
This brings me to another important new feature for The Phantasy Reverie Series: two-player support. If you're already familiar with Klonoa, then you might remember some of the more challenging levels. The challenge could be in completing the level itself or gathering all the collectibles. With two-player support, a second player can give Klonoa a powerful jump-burst. This is perfect for those that have trouble getting certain items, those that struggle with some of the platforming, or for those that just wish to play with a buddy on the couch. It's not a true-blue cooperative game, but it's a nice feature. I'm glad that it's included in both games.
Finishing both games doesn't take long. However, like other platforming titles, Klonoa features excellent replay ability. I replayed a lot of the stages just so I could get all of the collectible secrets. Collecting everything in both games unlocks more fun. Really, the best thing about this collection is that we get to see Klonoa take the spotlight again and gamers don't have to pay a lot of money for it. As always, it makes me optimistic that new Klonoa titles will get developed. The formula can be tedious at times. Some of the levels cause aggravation. But, it's a small price to pay for a fairly priced collection that a lot of fun overall.
Overall, 8/10: Whether you're a longtime fan or unfamiliar with Klonoa, the Phantasy Reverie Series features two great games in one nice package that everyone can enjoy.