Even after finishing the new and improved version of it on the 3DS, and even after finishing other titles that came after the original, a part of me has always been curious about the PlayStation version of Dragon Quest VII. Localized as Dragon Warrior VII, I remember reading multiple reviews about it being a gargantuan game where a normal playthrough could take up to 200 hours. I also remember complaints about it taking three hours to get to the first battle, and nearly 30 hours to get to the ability to change classes. A lot of that was exaggerated but one thing remains true: this version took its sweet time from start to finish. My playthrough ended at 67 hours, but it felt longer. Both versions have their pros and cons, but I ultimately give favor to the 3DS version.
Dragon Warrior VII begins in the village of Fishbel on the tiny and peaceful Estard Island. Allegedly, it's the only land in the world. Your hero, a silent protagonist with a charming green hat and homely haircut, is supposed to become a fisherman like his dad. But you, Prince Kiefer of Estard, and your childhood friend Maribel have a desire for more than just a simple existence of fishing and being. Surely, there is more to this world than one solitary island. One day, the three of you discover the entrance to a temple filled with ancient pedestals. After fitting shards upon them, the three of you are transported back in time and experience the way world once was. The three of you must solve the mysteries of the past to reveal the truth about your world's current era.
The story is fascinating and grand in scope. By discovering ancient shards and placing them in the temple, you get transported to a new land in the past. Solving the problems of the past will not only unveil new shards, but also restore a new piece of land to the current era. You continue this process for 90% of the game while encountering new friends, new enemies, and new truths about the state of the world. Other than some different names and localization liberties, the narrative is the same in this version as it is in the 3DS version. The good news is that there are no forced accents. On the other hand, you'll see a lot of typos in this version. One thing remains true: this game is long. There's a boatload of story content, dialogue sequences are bloated, and more times than not you're given little guidance on how to advance to the next area. Tack on some necessary experience and money grinding, side-quests, and post-game dungeons and it's easy to see why the game can span 200+ hours.
So, is it time well spent? Overall, I would say yes. Entering each new land and learning of the denizen's troubles is a constant source of excitement. It's nice to see your hard work pay off in the current era as slowly but surely new lands get restored. But, it does get tedious. I started to let the game's little things get to me the closer I got to the end. You need a lot of patience and a lot of RPG experience to get the most of Dragon Warrior VII. That said, I do want to shed some light on a couple of things. For one, it didn't take me three hours to get to my first battle. My experience from the 3DS version trickled into this playthrough and I was able to "unlock combat" after about one hour. Second, it didn't take 30 hours to unlock Dharma Temple: the point in the game where you can start changing your character's classes. I was able to get to that point after 15 hours.
The story and characters might be unique in this installment, but the Dragon Quest gameplay remains largely untouched. Your hero and his crew will travel through towns, castles, islands, and more fantastical locations. Non-combat areas are filled with chatty NPCs, breakable objects that sometimes hold prizes, and shops. One of my issues with any RPG is having to grind an extra hour or two for money. This issue is in full force in Dragon Warrior VII. Having the latest and greatest gear is both expensive and necessary. Areas such as caves and dungeons have their share of secrets to discover, too. Of course, the most noteworthy thing about these sorts of areas is combat.
Random encounters have a surprisingly infrequent rate. If you've played any game in the series, then you know what you're in for. The turn-based combat is back in full swing, but battles move at a nice, brisk pace and don't outstay their welcome. At the start of the game your party's options are limited. You'll gain new abilities upon leveling up, but the real fun of customizing your team comes with changing their classes. Changing your teammates into a variety of classes grants new abilities after finishing enough battles. Mastering the right combination of classes unlocks more powerful ones with more powerful abilities. As simple as combat as, the promise of acquiring new talents thanks to the large pool of classes makes combat rewarding. Some downsides include bosses that attack out of turn and more than once, and the enemy's ability to constantly land status ailment attacks. Little yet unfair things like this can turn a regular encounter into an uphill battle. Reviving dead comrades is such an expensive endeavor at the start of the game; yet another reason why extra grinding is necessary.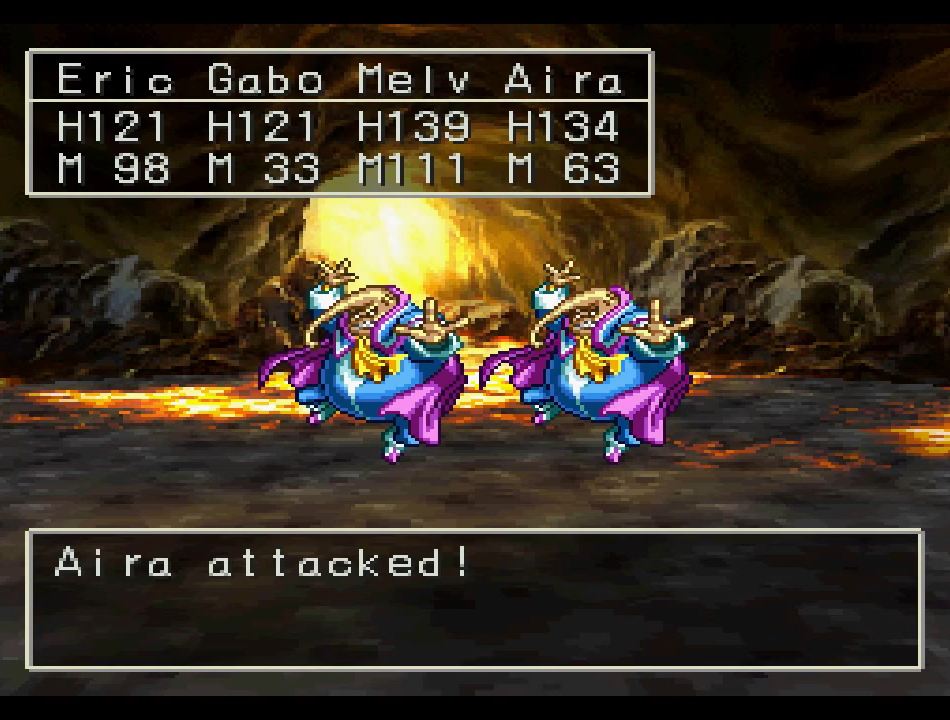 As mentioned earlier, I prefer the 3DS version to this one. However, one area where the PlayStation version comes out on top is the presentation. The beautiful, vibrant 3D worlds are inhabited by lovely 2D sprites. Akira Toriyama returned as the leading artist. His animations are impressive, but since I'm not a fan of his style I could take them or leave them. Enemies were just there to get blasted by my party's spells or slashed by their weapons. While exploring, Dragon Warrior VII's rotatable camera lets you explore most of your surroundings. The operative word there is, "most." In towns, you can rotate 360 degrees. In non-towns, for some reason, the camera rotates only a few degrees. I'm not sure why; a poor choice. The music is catchy – not much else to say about it.
Fun fact about Dragon Warrior VII: the back cover of the game's box reads, "The Best Selling Japanese PlayStation game console Title of All Time!" I had a hard time believing that as I watched the credits roll. Other PlayStation games, RPG and otherwise, did a lot of things better. Dragon Warrior VII has the look of a somewhat cutesy and endearing RPG, but everyone knows looks can be deceiving. The quest is epic, and it has a playtime to match. The game does not hold you by the hand despite a linear narrative. Enemies will spike in difficulty without warning. If you're torn on which version of this game to play, then consider going with the 3DS version. This version is for true fans of old-school RPGs.
Overall, 6.5/10: The start isn't as slow as advertised, but that doesn't mean Dragon Warrior VII is for those looking for a quick RPG to pass the time. This is a game that requires concentration, dedication, and determination to complete.