Author's Note: The Nintendo Switch version of Ys Origin was played for this review. There are some differences between versions that may not be covered below.
Ys Origin has been around for a while. It was released in Japan in 2006 for the PC and localized for Steam in 2012. In 2017, it was ported to both the PlayStation 4 and the PlayStation Vita. Xbox One owners were able to play it in 2018. By the year 2020, a Nintendo Switch version was added to its long list of available consoles. No matter your gaming medium of choice, Ys Origin is recommended to anyone that enjoys action RPGs. Longtime fans of Ys will appreciate it the most. Conversely, those new to the series couldn't ask for a better place to jump right in.
Ys is a beautiful and lush world filled with magic. It's ruled by Twin Goddesses Reah and Feena, and six priests that represent different houses. The residents of Ys can use magic thanks to an artifact guarded by the goddesses called the Black Pearl. One day, demons began to invade Ys. As the demons ravaged the land, the citizens of Ys fled to a shelter on top of a mountain. Feena and Reah invoked a spell that took the shelter high into the heavens. This last-ditch effort only provided temporary safety for the people of Ys; the demons created a massive tower that stretched high enough to reach the floating shelter. During the clash in the skies, Feena and Reah vanished. Believed to be somewhere in the aptly named Devil's Tower, a party of warriors and sorcerers enter in search of their goddesses.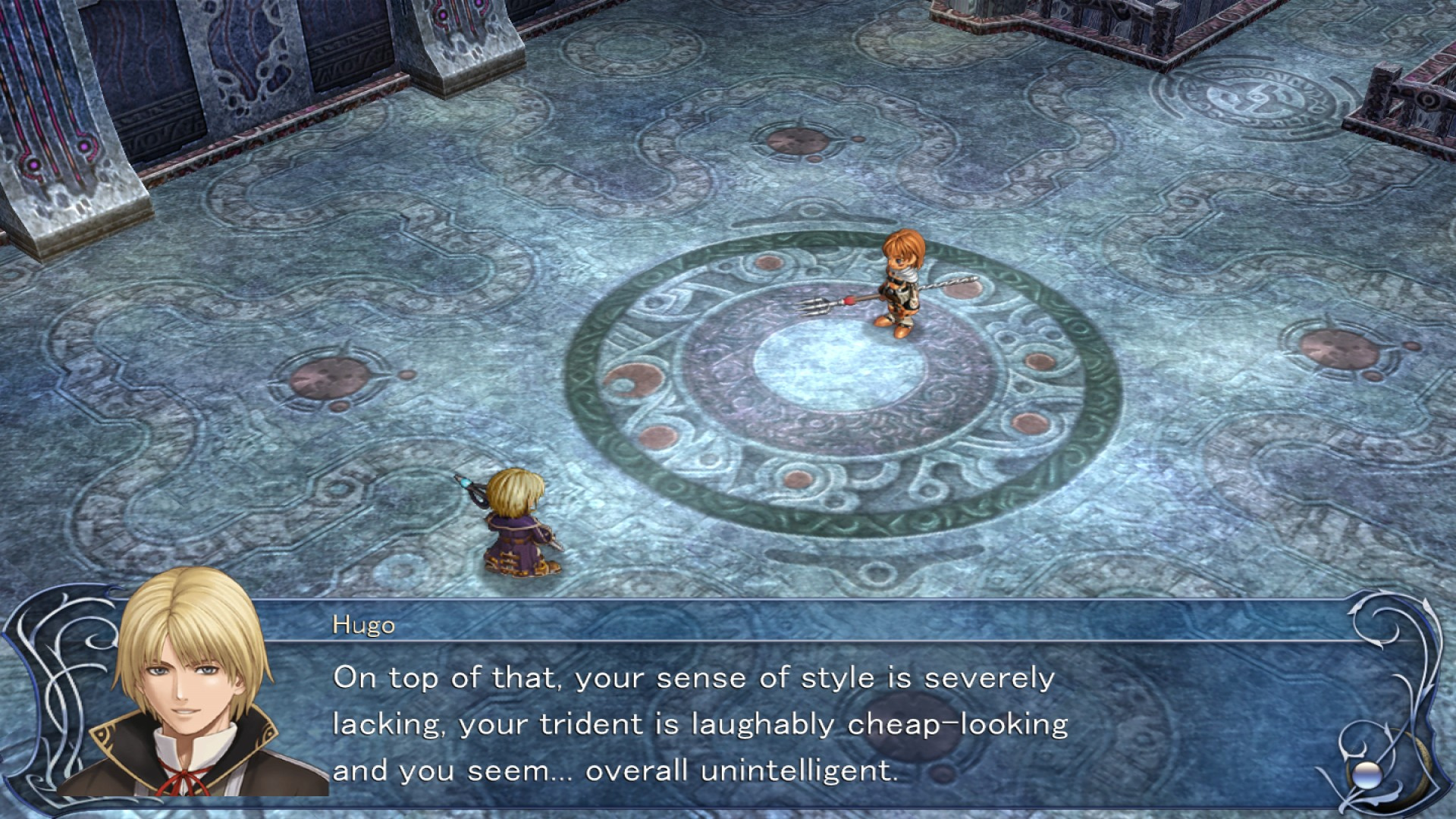 If you haven't guessed, Ys Origin takes place years and years before Adol Christin's era of adventure. Instead of taking control of the red-haired hero, you go through the tower as either Hugo Fact or Yunica Tovah. Hugo is a magic prodigy with a calculating intellect and an acerbic personality. He comes from a long lineage of sorcerers and feels he has a lot to prove in the tower. Yunica is a knight apprentice without any magical ability. However, her love for the Twin Goddesses causes her to join the party of warriors. Both characters have unique stories. Despite the game taking place in one location, the story is well told and moves at a solid pace. Whether you play as Yunica or Hugo, you'll meet a great cast of supporting characters and villains.
From the moment the game starts, one thing is for certain: this game is beautiful for all the appropriate senses. It's no surprise that the soundtrack is a masterpiece, but I wasn't expecting it to be as good as it was. The music in the Ys series has this amazing quality that enhances the overall enjoyment of the adventure; Origin is no exception. The game also looks beautiful. It utilizes a similar graphic engine that was featured in my favorite Ys: The Ark of Napishtim. This time, the graphics are enhanced for modern consoles. This means character sprites are exceptionally detailed while moving fluidly and freely. The environments are crisp and clean. Despite taking place in one giant tower, each section of it is unique. There's an underwater prison, a desert filled with quicksand, and a lava field filled with traps. Reaching new areas is exciting because it means advancing the story and encountering new dangers, but also means getting to gaze upon new, lovely locations.
No matter where you are in the tower, you can rely on one thing: airtight controls and gameplay. Ys Origin is an action RPG with frantic combat. Your character moves at a brisk pace, can perform an impressive jump, and gains new abilities like a dash and double jump over the course of the adventure. Those familiar with the series will feel at home when playing as Yunica. She's a melee fighter that can perform quick slashes on the ground and in the air with her ax. She'll acquire the ability to create a whirlwind around, shoot scorching flames, and crush enemies with a column of lightning. Hugo uses an artifact called the Eyes of Fact to pepper enemies from afar with magical energy. While not as strong as Yunica, his range and ability to form a temporary, impenetrable shield make him new-user friendly. He'll also gain the ability to surround himself with flames and the ability to set landmines. Both characters will acquire various armors and accessories. Finally, using crystals dropped from enemies, characters can gain additional abilities from Goddess Statues. Said statues also serve as save and recovery points. Other than a few areas where the platforming is tricky and a certain boss that has too much activity, the action in Ys Origin is silky smooth and never grows old.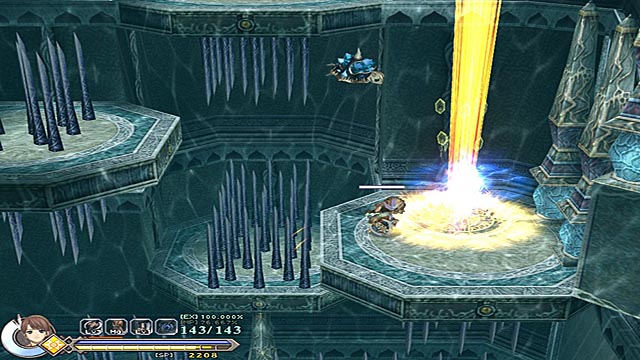 With multiple difficulty levels and modes to try, Ys Origin has high replay ability. Going through one character's quest will take about ten hours. But, chances are you'll want to try the second character immediately afterward. Throw in some secret unlockable content, and you have a game that can run between 30 to 40 hours. Ys Origin is a wonderful game. As a fan of the series, I regret waiting this long to play it. Learn the origins of the world of Ys, and while you're at it, learn from my mistake and play this sooner than later. If you have a console that can play it, then do so.
Overall, 9/10: Effortless action, a killer soundtrack, and a great narrative come together in Ys Origin. Scale the Devil's Tower in an epic adventure.