If you ask a group of gamers of a certain age how they feel about Working Designs, you'll get mixed replies. Working Designs localized obscure games that we likely wouldn't have seen if not for their stepping in. But, their translations tended to take extra liberties outside the original source material. They'd adjust a game's difficulty for no reason at all. Due to those two issues, their projects took far longer than expected to release. An example of this is Vanguard Bandits. Released in Japan in 1998 (as Epica Stella) for the PlayStation, Working Designs wouldn't get it stateside until 2000. Today, it sells for a high price. For a game that only has a 15 to 20-hour playthrough on a first run, is it worth it? The answer isn't so black and white. Vanguard Bandits isn't just fun; it's addictive. But, it's also another game that showcases classic Working Designs behavior.
This is immediately witnessed from the moment you begin. Vanguard Bandits takes place on the continent of Eptina. Despite being a beautiful continent with resources-a-plenty, wars have been a common occurrence. However, a discovery in the Pharastia Kingdom centuries ago changed the tactics of warfare forever: massive, metallic giants that are piloted by warriors' thoughts called All Terrain Armor Combatants, or ATACs. Today, an ATAC pilot named Bastion has been on the lam with his father Kamorge. Training to fight against Junaris Kingdom, Bastion and his comrades hope to put a stop to the current war for good.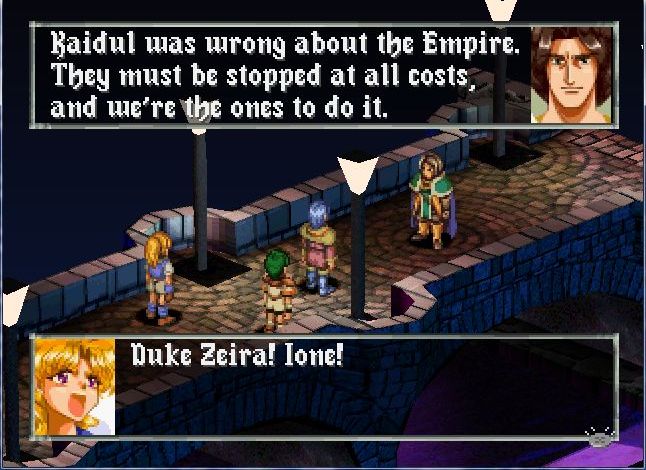 The neat thing about Vanguard Bandits' story is that it can lead to one of three possible narratives. Each narrative that I've played has been filled with plenty of drama, history, and characterization. Bastion and his crew have lots to say, which is expected from Working Designs. But, with that loquaciousness comes a fair amount of humor that not everyone will appreciate or understand. Once again, more than a few liberties were taken with the script. Your mileage may vary.
At a glance, Vanguard Bandits appears as a straightforward strategy RPG. During a story event, there might be times when you can make choices that effect an ending. Once conversation ends, you'll be taken to a screen where you can prepare your team for battle. Your characters pilot ATACs, which can be equipped with weapons, accessories, and elemental stones that determine which types of magic they can cast. Some characters can switch between ATACs. Certain areas will have shops where you can purchase new gear. One of the more interesting options is that Bastion can interview his friends. Interviewing causes their morale to increase, but he can only interview three times. It adds a lot of replay ability since each character always has something new to say.
After all of the preparations are complete, it's time to battle. This is another area where Vanguard Bandits shines. When most gamers think of a strategy RPG, they think of long, drawn out bouts of warfare. Nearly each battle in Vanguard Bandits took much less time than you would think. There's even a handy feature that lets you save mid-battle in case you need to quit. A unit's turn is determined by their agility. When one of your units is up, then you can move your character, have him or her attack, and/or perform a support spell. The amount you can do is determined by the AP (Action Points) gauge. The more you do, the more FP (Fatigue Points) you accrue. If you reach 100 FP, then you miss a turn. It's a classic formula with just enough spice to make it stand apart from other strategy titles.
As your teammates level up, they acquire a variety of attacks and spells. As expected, attacking from the side or behind will deal more damage. When targeted, units can perform a defensive maneuver (at the cost of FP) to avoid or mitigate damage. Your units and the enemy units clash until victory or defeat. There's no chance to grind, nor are there any ways to go back to a previous battlefield.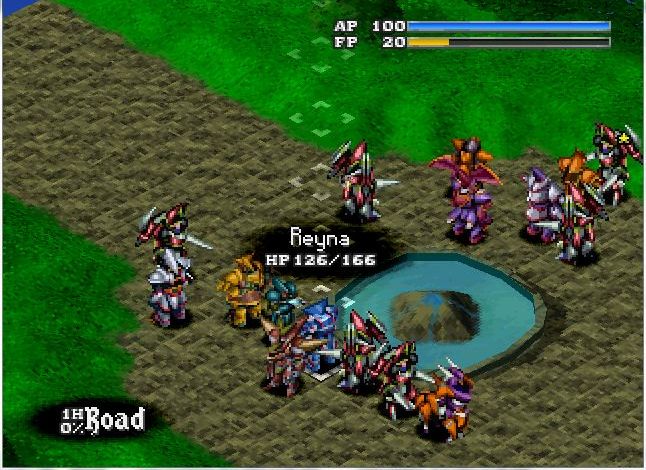 But, most of the time, Vanguard Bandits is light on the difficulty. Of course, just when you think things are too easy, a curve ball can get thrown at you and make you rethinking your tactics. Combat is fun, but I suspect Working Designs meddled with the programming; something they enjoyed doing because reasons. There were a few times when it felt like the AI flipped a switch and swarmed my most vulnerable unit. Or, an enemy would continue to dodge my attacks despite a 99% chance of hitting.
Vanguard Bandits has a lovely presentation. The 2D sprites are sizable and colorful, and they get accompanied by a multitude of portraits that express various moods. Environments aren't as varied, but they're pleasant enough. The game really shines with its 3D brawls between ATACs. Watching these metallic monstrosities execute powerful attacks with plenty of oomph is satisfying to watch. For those that wish to skip them, these can be turned off to make battles more streamlined. The music is excellent; I'm able to listen to the entire soundtrack from start to finish without the need to skip a track. Filled with upbeat, anime-inspired late 90s nostalgia and instrumentation, the soundtrack will have you humming along.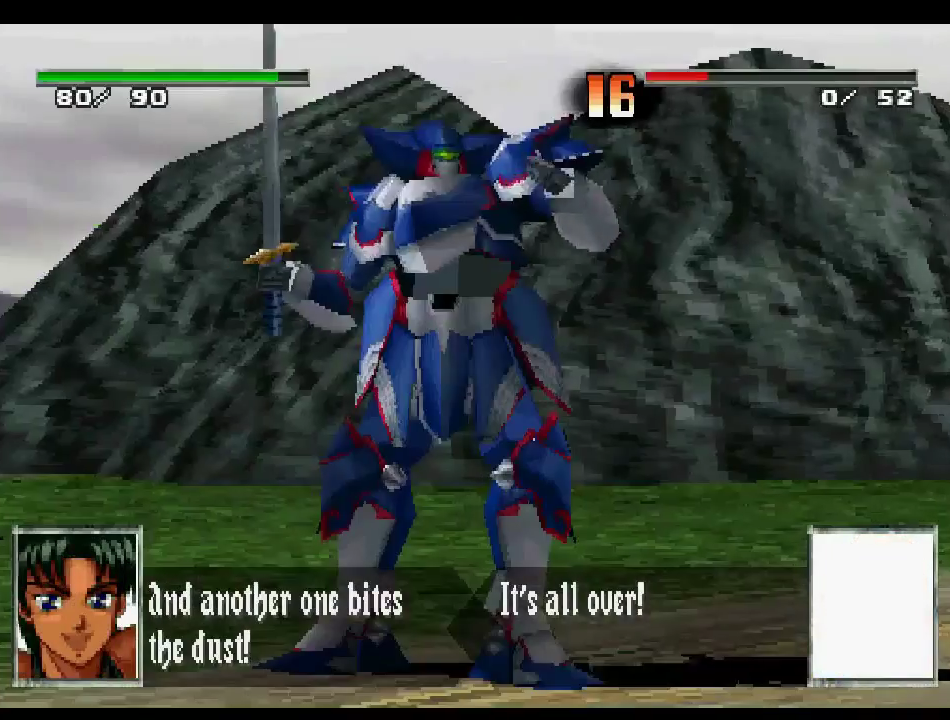 The first time I went through Vanguard Bandits, it took me about 25 hours. This was on the Empire branch. Which, by the way, might have the best story. Finishing the game at least once will let you access the Ruin branch. Those that don't fulfill a certain condition will remain on the Kingdom branch. Each one offers a unique perspective and is worth seeing. So, is it worth it? If you plan to play the game more than once, enjoy Working Designs' translations, and enjoy strategy RPGs, then the answer is yes. However, if you're just looking for another strategy RPG, then you may want to look elsewhere. A Working Designs publication is an acquired taste, no matter the genre.
Overall, 8/10 – Vanguard Bandits is an addictive strategy game worth playing multiple times, but be on guard for some Working Designs tweaks.