The Nintendo DS has some neat features that can make developers flex their creative muscles. I think the most important feature is the dynamic duo of the stylus and the touch screen. Proper use of these can create a unique gaming experience that involves more than just button mashing. But, improper use causes insurmountable frustration. In my experience, the stylus functionality usually ends up getting used improperly. It becomes a gimmick. In Trauma Center: Under the Knife, a game in which the stylus is primarily used, the fun level ranges from "here's another annoying gimmick" to "this is actually kind of clever."
Something I really like about Trauma Center is that  you're actually saving lives instead of trying to end them. The game puts you in the scrubs of Dr. Derek Stiles, a surgeon fresh from medical school. Now working at Hope Hospital, Derek's schooling will be put to use. He'll have to deal with nasty wounds, punctured lungs, and pulsating polyps. And, those are the least of his concern.  A terrorist organization called Delphi has cultivated a parasitic disease called GUILT that is slowly finding its way towards Derek's new workplace. However, Derek soon discovers that he's capable of the Healing Touch, a technique that grants him uncanny concentration. With his assistant Angie Thompson and the backing of a medical organization called Caduceus, Derek will need to put a stop to GUILT and expose Delphi. Trauma Center can be described as part visual novel and part medical adventure. Much of the game plays out in talking head, visual novel format. You'll get to know Derek and his coworkers as you get closer to the truth behind GUILT and Delphi. The story gets melodramatic more often than not. If something is supposed to be serious, then the execution causes it to be anything but. Still, it's a good story where you'll route for the good guys and want to do everything in your power to make sure Derek saves every patient's life.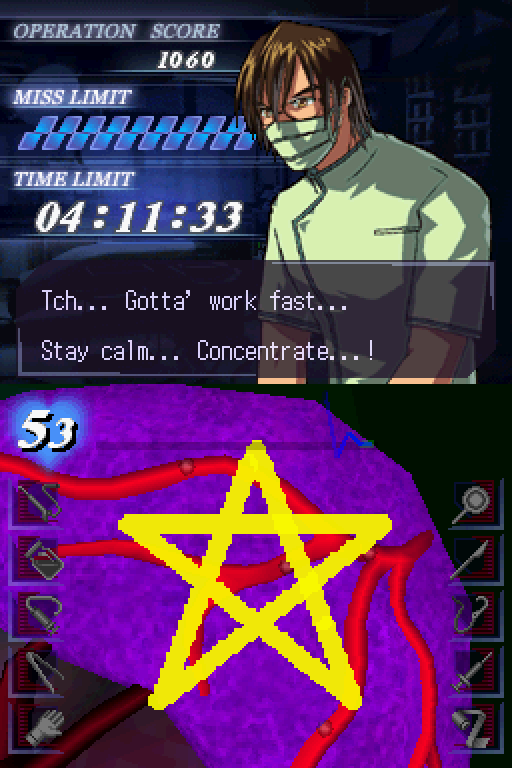 Between dialogue scenes, you'll be take control of Derek as he operates on a patient. Trauma Center's operations are played entirely with the stylus. The screens will display the patient's area of operation, the patient's vitals, a time limit, and the number of errors you're able to make before getting a game over. Using the stylus, you will select your various surgical tools and go through the process as indicated by your assistant. There's a scalpel, a bandage, a drain, a syringe and other tools that you need to use to cut, slice, suture, and heal your patient. Performing each maneuver well will grant you bonuses. If you manage to finish the operation while the patient still has vitals, then you earn a score and move on. Operations can be repeated for higher scores in Challenge Mode. To be blunt, I'll just say it: this game is hard. Part of the difficulty comes with having seemingly impossible tasks. You need a focused yet swift hand to ensure the patient survives. Sadly, another part of the difficulty comes with the gimmicky stylus and touch screen. Some of the tools, specifically the forceps and the ultrasound, won't respond the way you need them to. It makes the game stressful when you're swiping furiously on the touch screen and watching both the clock and vitals drop. While Derek can use his Healing Touch once per operation, even that is sometimes not enough to lessen the struggle. Those looking for a challenge will definitely enjoy what Trauma Center offers. It's just a shame that the touch screen's functionality makes the game even more difficult.
The graphics in Trauma Center are an interesting mixture of 2D, anime portraits combined with 3D, semi-realistic body parts. Your view during a conversation will be familiar to anyone that has played a video game. However, when it's time to operate, things will be more visceral. You'll see a simple operation that involves removing glass from a patient's arm and a more involved operation in which GUILT is causing internal bleeding. The game might be rated T, but it's not for the squeamish. The music in the game is fine. It's there and serves its purpose. You'll likely be too busy focusing on the operation to notice it.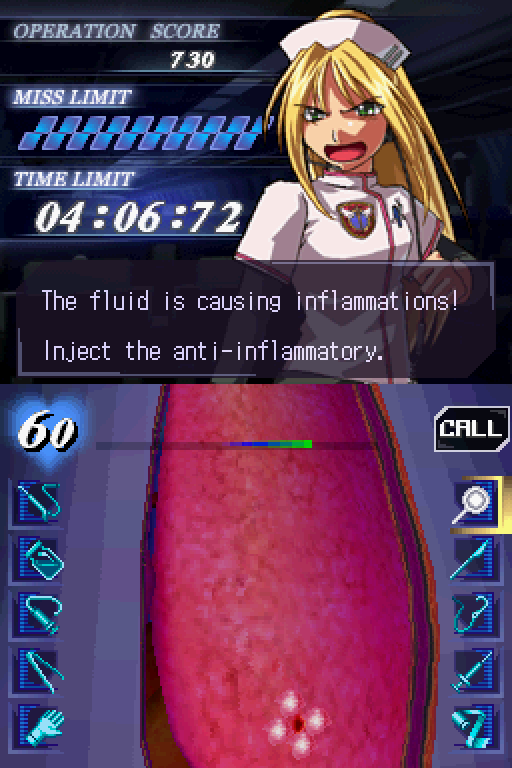 I received far more game overs than I care to admit while playing Trauma Center. In fact, there were times I wanted to just call it quits and read a story synopsis. But, I persevered. There's something about saving lives (even in the virtual world) that will keep you hooked to the DS. I was able to finish the game in about eight hours. The story moves at a nice pace even when the melodrama is in full force. If you want to keep the game going after the credits, then you can participate in Challenge Mode and some extra missions. The Nintendo DS has its share of gimmicky games. But, trying to make the world a better place via saving the lives of patients makes Trauma Center: Under the Knife more than just another gimmick. There are hiccups with the touch screen, but the struggle is worth it when you see a patient on his or her way to a full recovery.
Overall, 7/10 – Trauma Center: Under the Knife uses the Nintendo DS' stylus in a manner that lets you heal instead of hurt. The technical struggles make it worth seeing.