The Misadventures of Tron Bonne was released in the states in the year 2000. During this time, I considered myself to be equal parts gamer and anime watcher. The types of anime I enjoyed (and still re-watch from time to time) always had a female lead. The story's tone could range from whacky to serious, but the common denominator was a heroine calling the shots. The Misadventure of Tron Bonne feels like it was catered for someone like me. Featuring the popular Tron Bonne, her siblings, and her Servbots, the game has a Saturday morning cartoon feel to it tantamount to an anime my younger self would have gobbled right up. I never played it up until this writing it, and yet it gave me a sense of nostalgia. The game has a few misfires – mainly due to game's home console/age – but it's still very enjoyable.
Presentation is one area that highlights the game's cartoon vibe. On one side there are lush, 3D environments that took the blueprint from Mega Man Legends and updated it. There are smoother edges, more vibrant colors, and more expressive character models. On the flipside, the menu screens and dialogues feature stunning 2D artwork of Tron and the fun cast of characters. Topping this all off is a fully voiced game that, again, sounds like it was ripped straight from your Saturday morning cartoon lineup. Throw in some snazzy, upbeat music and it's easy to see that Capcom went the extra mile in making this game look and sound as polished as possible.
Tron Bonne's misadventures take place before the events of Mega Man Legends. The game opens with Teisel Bonne and Bon Bonne gearing up to explore the ancient Nakkai Ruins. Before they're able to start exploring, they're surrounded and captured by the air pirate Glyde and his cronies. Glyde is working for the loan shark Mr. Loath. Later on the Gesellschaft, the Bonne's airship, Tron learns that Teisel borrowed one million zenny from Mr. Loath. Tron has to quickly come up with the money so she can save her brothers. It's a zany yet heartwarming story where Tron rallies her Servbots so she can save the day, but also partake in one of her favorite activities: making money. Every character is enjoyable, fully formed, and feels right at home. There are even a few expected but well-intentioned twists along the way.
Tron Bonne's goal to rake in the zenny requires her to participate in a variety of missions. Instead of a linear adventure, the game features sandbox style gameplay where the player can choose any mission in any order. Some of the missions require you to solve logic puzzles. Others have Tron controlling one of her battle robots through ruins or caverns. There's even a mission to steal as much livestock as possible so they can be sold for profit. The variety and creativity is impressive. On the other hand, some missions can be an exercise in frustration. It quickly becomes apparent that The Misadventures of Tron Bonne is another 3D adventure with great ideas that didn't get fully realized in the finished product. Fast enemies, slow turning, aiming, and other aspects can make some of the more action-heavy missions frustrating.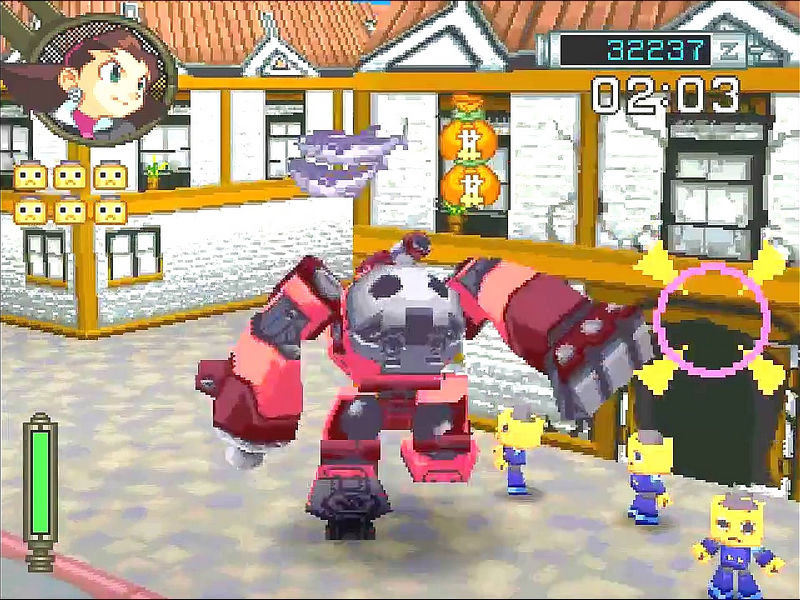 Prior to starting a mission, Tron can chat with her Servbots. Each Servbot has a unique personality and trait. Grooming the Servbots will unlock their potential. This can be done by giving them specific gifts, having them partake in training, or punishing them in a torture room. Training and torturing features tricky yet addictive mini-games. They're equal parts fun and important because having a reliable gaggle of Servbots makes the more action intensive missions more manageable. During most missions, Tron will be riding the Gustaff. This ride armor can throw heavy objects and shoot bullets, but its most unique feature is the the Beacon Bomb. Sending out one of these will have her Servbots shoot, tackle, grapple and blast an enemy; or uncover a secret stash of zenny. Once a mission is over, Tron and her Servbots will go over all of their findings and profits.
To advance the story, Tron needs to acquire a certain amount of cash. However, before trying to pay up, it's important to use some of the profits to upgrade the Gustaff. You'll be able to develop new weapons, increase its energy, and purchase highly necessary restorative tanks. It doesn't take long to drain Tron's bank account. The good news is that certain areas can be explored an infinite number of times until you have enough cash to satisfy Mr. Loath. Eventually, you'll be able to unlock a casino where you can further fill Tron's pockets. With all of this variety, it's somewhat of a bummer that the game can be finished just shy of 10 hours. I had a lot of retries in some of the later missions but I still saw the (hilarious) ending and credits sooner than I thought it would. Which, leads me to one of the game's more infamous features: rarity. Tron's misadventures has become one of the most sought after and expensive games over the years. It's value is only going to increase as the years continue. So, is it worth the price for a physical copy? The answer is no. I say that as a fan of all things Mega Man, too. Go the digital download route so you can dive into this diversified reminder of how ambitious the Mega Man Legends universe once was.
Overall, 7.5/10: Yes, Miss Tron! The Misadventures of Tron Bonne offers anime hijinks and miscellany missions for one of Mega Man's most unique rivals.