Visual novels with a theme of romance aren't anything new. Whether you're playing as a high schooler navigating their way through the ups and downs of student life, or a starry-eyed lass that finds herself invariable surrounded by handsome gentlemen, you can safely bet that you'll witness some sort of romance at the story's end. In The House in Fata Morgana, a visual novel from Novectacle, romance is a central focus. So is gender identity, incest, witchcraft, suicide, and right-winged religiosity. The choices you make are few and far between, too. There is a lot to digest in The House in Fata Morgana. Those that take the time to do so are treated to a lengthy but fascinating visual novel that has a lot of tragedy. Perhaps more important is how it narrates the tenacity of the human spirit.
Your character begins the story in a decrepit old mansion said to be cursed. A woman dressed in a traditional maid's outfit with long black hair, jade eyes, and a stunning figure welcomes you as you wake up from a long slumber. The maid claims that you are the master of this dusty mansion. You take her word for it because you have no memories and no sense of self. Her hand in yours, you're lead through the mansion. Behind various doors are different time periods portraying different tragedies of previous mansion residents. The first door shows what happened to the Rhodes Family and how their two children quickly lost their innocence. The second door tells of a beast man that terrorizes a small town. The third door shows an era of advanced technology where money and power are everything. The mansion's resident was an ambitious and abusive businessman. The final door tells the story of a man cursed by a witch. What do these stories have to do with you? Why must you witness them? If this mansion is cursed, is there a way to break it?
Obviously, the story in The House in Fata Morgana is its selling point. But before diving deeper, I need to take a second to praise the game's presentation and atmosphere. The character art is so gorgeous and stylish. The same can be said for the set pieces and backgrounds. As tragic as the game's story can get, the game never stops looking beautiful. This applies even during the game's more graphic scenes; there's a certain beauty that can only be captured during tragedy. The way the artists captured it is phenomenal. Voice acting is minimal, but the background music makes up for it. The mansion might be a place of tragedy and sadness, but it certainly looks and sounds great.
But, yes. The story in The House in Fata Morgana is its selling point. From the start, you'll be slowly uncovering the tragedies from each era and seeing how they tie together. The operative word there is "slowly." It would be an understatement to say that this visual novel has a slow start. Each chapter takes a while to get going, with some outstaying their welcome even after things start rolling. Some might say it's attention to detail. Others might say it's world building. It's a bit of both, but there's a bit too much of it. It's like knowing there is an amazing reveal waiting for you, but you must wait for hours until it shows itself. That's the bad news. The good news is that the story is one worth witnessing to the end. If you're patient, then you'll hang on every word. If you're more impatient, try to stick with it because each twist and turn makes the filler worth it.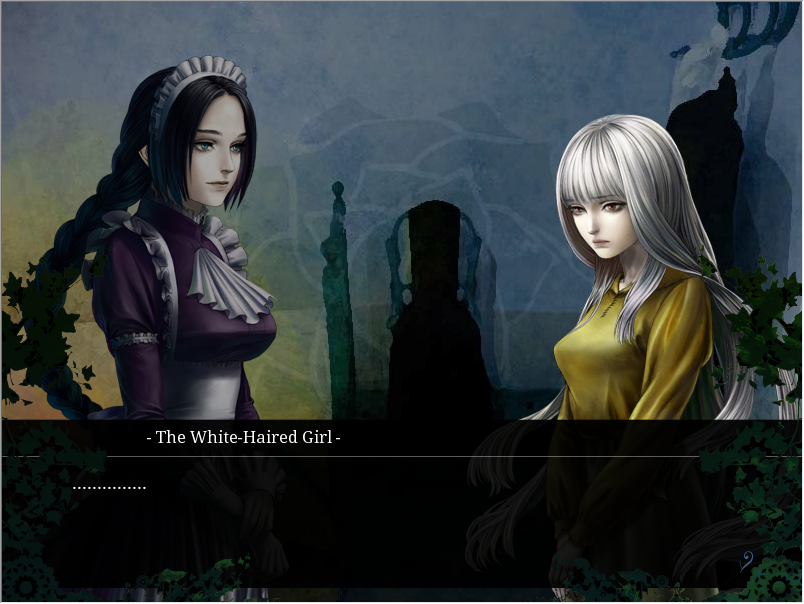 Otherwise, The House in Fata Morgana is a standard visual novel. Gameplay is hands off other than making a few choices when the prompts show up. The game is linear, but some of the choices you make can lead to an undesirable ending that cuts the journey short. Handy features like quick saving and chapter selection make it easy to stop mid-play and pick up later. Finishing the game unlocks more extras. Going through the game a second time will feature new choices that offer more outcomes. They weren't enough for me to bother, but those that can't get enough might find something new to enjoy.
It takes a good 30 to 40 hours to see/read everything in The House in Fata Morgana. When the story is moving, that time will go by in an instant. When things are moving slower, it'll feel longer. I think the same, excellent tale with the same, excellent messages and themes could have been told with some fat trimming. If you're looking for a new visual novel but aren't interested in the usual slice of life or romcom vibes, then The House in Fata Morgana is a great choice. Just be warned that it's a heavy game in terms of content and length; make sure you're mentally prepared for the undertaking.
Overall, 8/10: A dark, gothic, and slightly verbose visual novel are behind the doors of The House in Fata Morgana.