I'm in the minority, but I liked Star Ocean: Integrity and Faithlessness. I liked the hogwild, seven person battles. I liked the story of an underdeveloped planet getting suddenly swept up in a space-wide conflict. I liked Fidel and his friends. Except Miki. I hated Miki. Miki needed to be slapped one good time across the face. But, I think you get the point. Integrity and Faithlessness was a fun game, but not everyone thought the same way as me. In fact, many thought that it would mark the end of the series. And in some ways, I could understand that. The game was far from perfect. Fortunately, that wasn't the case and Star Ocean: The Divine Force was announced in late 2021. Having finished the game once already and getting ready to go through it again to get all of the trophies, I can confidently say that might be the best entry in the series. It's not my favorite, and purists will always give favor to Star Ocean: The Second Story. But, in terms of gameplay, plot, character development, and accessibility The Divine Force is top of the line.
In fact, The Divine Force has a lot in common with The Second Story. You start the game by selecting one of the two protagonists: Raymond Lawrence or Laeticia Aucerius. Raymond (he goes by Ray) is on a routine transport mission with his crew on the Ydas when they're suddenly attacked by a Federation ship. He crash lands on Aster IV, an underdeveloped planet that looks like it stepped out of a European vacation catalogue. Laeticia, the princess of the Kingdom of Aucerius, sees Ray's escape pod fall near by her and her attendant's campsite. Laeitica and her attendant Albaird are gob smacked by Ray: he emerges from a metallic structure, uses a communicator that transmits a voice from who-knows-where, and he's even able to locate other transport pods using a device that's the size of his palm. Raymond and Laeticia decide to work together for their own purposes. Their encounter feels believable. The premise has been done before but in The Divine Force it feels more organic.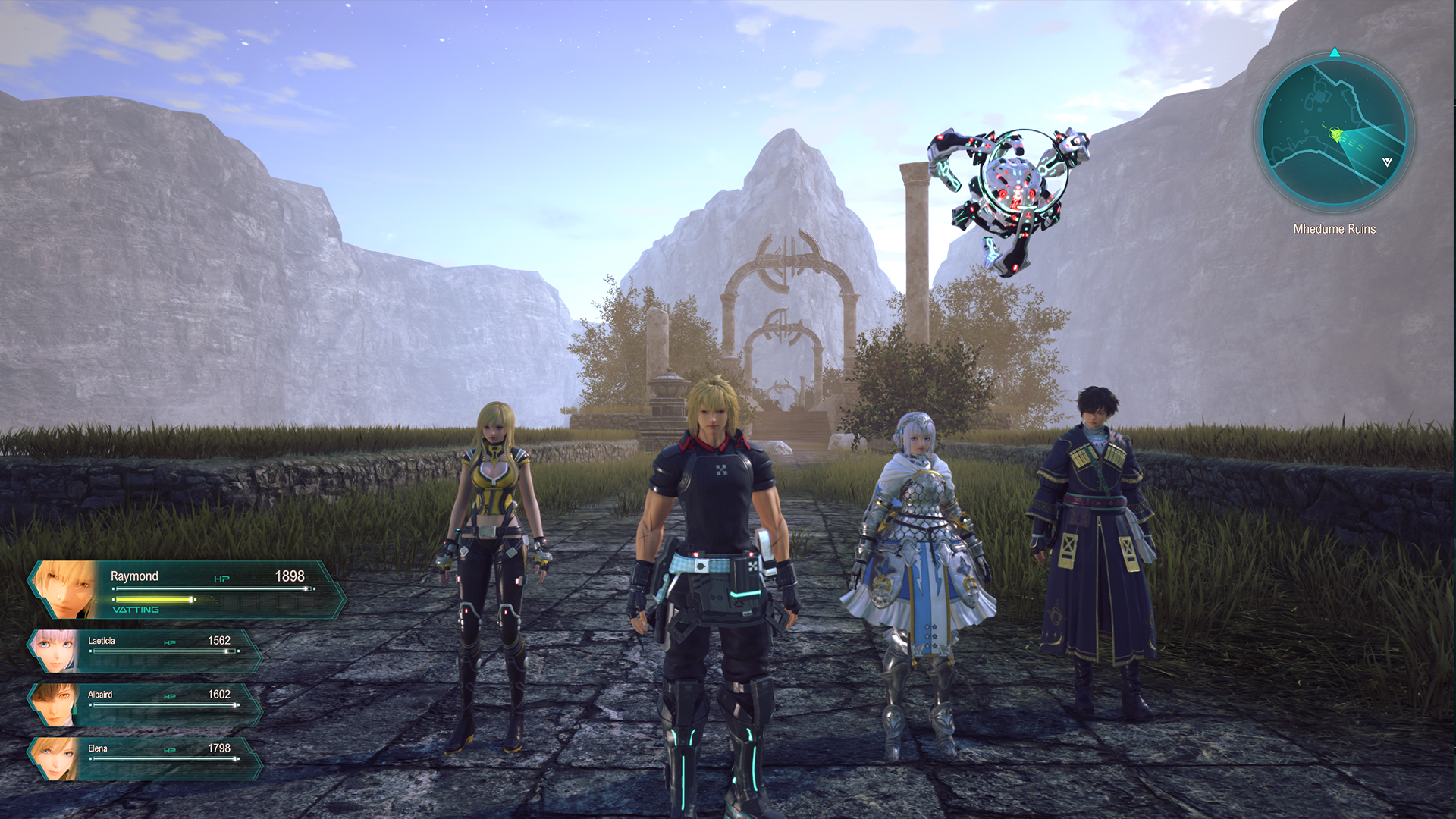 The story is the same no matter which character you start with. However, there are moments when they separate, and certain characters are only obtainable depending on who your MC. This adds solid replay value – scene skipping allows you to get past the stuff you've seen before. The story is well done and moves at a brisk pace. It's the characters that really make the game feel more alive. Ray and Laeticia are joined by a diverse group of friends. One of my favorites is Midas Felgreed. He's a silver-fox engineer that loathes royalty and its tradition but is fascinated by Ray's origins. His thirst for knowledge overtakes his stubbornness, leading him to join the party. Private Actions have returned and allow you to build relationships with the cast and learn more about them.
The introduction to The Divine Force gives a good idea of how the gameplay will be from start to end. Exploration is standard stuff. You and your team will explore forests, snowscapes, ruins, and of course, literal out-of-this-world architecture. Littered throughout these areas are items, treasure chests, and enemies. Initial encounters do a good job of displaying the basics of the highspeed combat. Your character can assign Chain Combos by setting moves to the square, triangle, and circle buttons. The x button is used for jumping. Everyone has a set of unique combat moves that can be chained together as to make combos that fit your playstyle. The only catch are ability points, or AP. Each move costs a certain amount of AP so you can't go in mashing buttons. It's all about balancing when to attack, when to retreat, and when to dodge. After battle, you're rewarded with experience points, money, and items. Leveling up increases your characters' stats, but more importantly and fun, it grants you Skill Points. SP is used to acquire extra bonuses on a character's unique Skill Tree. These points can also be used to power up existing skills.
Not long after the introduction scenes, you'll unlock a unique feature of The Divine Force: DUMA. This metallic orb adds new levels of exploration and combat. With the DUMA, you can soar through the skies to reach hidden areas, glide down from high ledges to land safely, and speed through the world when you just don't feel like traveling on foot. DUMA is also capable of scanning the area for hidden items. DUMA really shines in combat. While controls can sometimes be fickle, DUMA lets you erect barriers, ram into enemies at high speed, and perform blindsides in order to temporarily stun enemies. DUMA has its own energy meter, so when it runs out, you're left without its abilities for a few seconds. Refilling the DUMA's gauge requires you to successfully land attacks on enemies. DUMA can be powered up with gems scattered throughout the world and will reveal its own secrets as the party carries on. The Divine Force's combat is similar to other games in the series in that it starts tame but becomes explosive. The combo count reaching the hundreds isn't unheard of, and other than a few difficulty spikes (I played on Galaxy mode but you can switch this anytime) the combat is always enjoyable.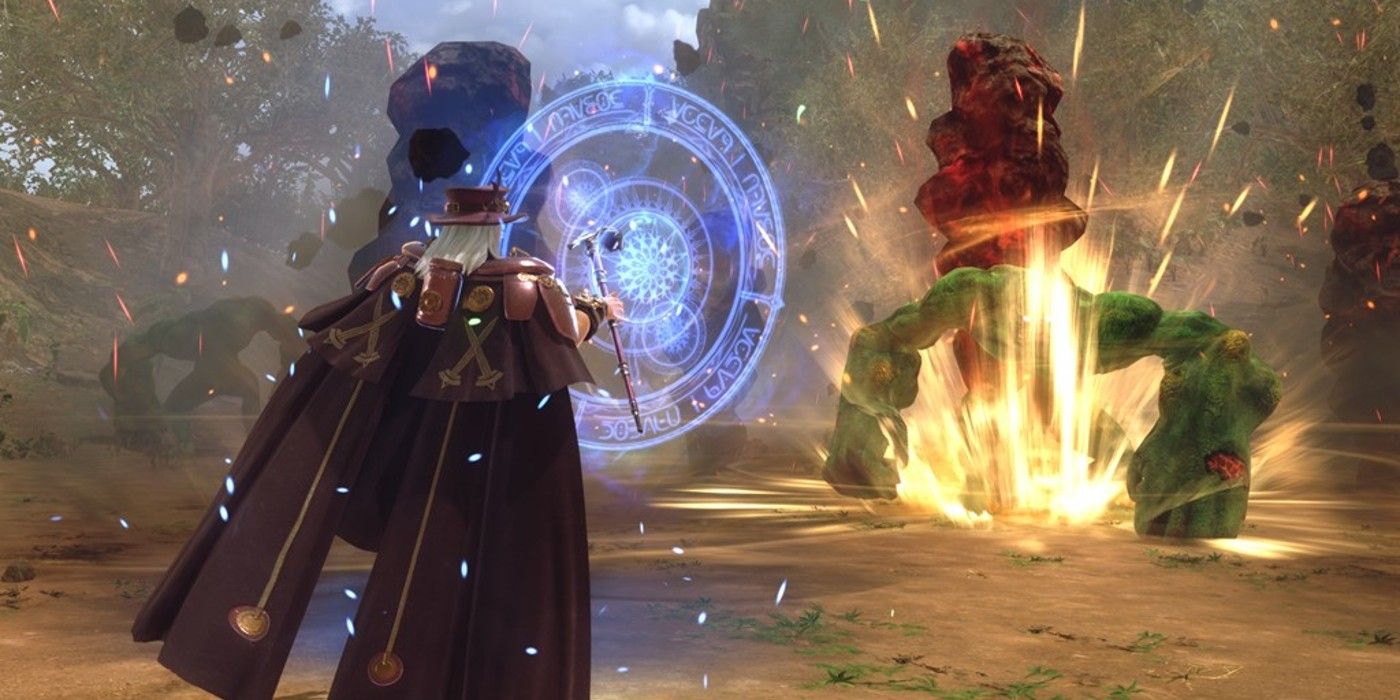 Great combat isn't anything new for Star Ocean. Neither is Item Creation. Welch Vineyard is (unfortunately) back again to impart her knowledge on the team with the ways of crafting, engineering, authoring and more. Sadly, Item Creation is a costly endeavor. It's also ridiculously random. There are plenty of items to make; nothing new here. But the randomness feels even more random this go-around. If you want to take full advantage of Item Creation, then you'll have to have a lot of patience and get ready to perform a lot of save scums. It's a shame because the best equipment and items (and some of the more rare trophies/achievements) are tied to Item Creation. There is an awesome sense of accomplishment when you craft an item that you've been trying to get for a while, so I guess that's something.
Towns are another area of The Divine Force that deserve its own section because they really feel alive in this installment. They're filled with people going about their day-to-day tasks, chitchatting among themselves. Some will give you side-quests that yield nice rewards. Others will ask if you want to play Es'owa, the token mini-game of The Divine Force. This game is a blast. The playing pieces are characters from previous Star Ocean games, and the actual game is super easy to get into. Matches don't take very long, either. Es'owa is a great distraction from the campaign. Finally, each town is filled with shops and an inn. At the inn, you can opt to dine on some food. This will grant you bonuses for at least five battles. The menu at each inn is different so there's always some variety.
The graphics in The Divine Force are gorgeous and detailed. I know some folks will be put off by the design choices for some of the cast, but I found them wonderful. Really, the biggest issue with the graphics is with the in-game font. It's way, way too small. I've seen tons of other gamers agree with me on this and yet tri-Ace STILL hasn't done a damn thing to address it. I never bother to read the bevy of information provided in the in-game glossary because of the stupidly small font. Other than that, this is another beautiful looking game. Motoi Sakuraba returned to make another killer soundtrack. It mixes his upbeat tempos with the setting that combines fantasy and sci-fi. The voice acting is excellent and can be either in English or Japanese.
A typical file on the standard difficulty will last about 40 to 50 hours. Finishing the game will grant you a special ending depending on your starting character and who that character shares the more affinity with. Naturally, there is a hefty amount of post-game content such as bonus dungeons and new enemies. A second file is required if gamers want to unlock all of the trophies/achievements. Thanks to scene-skipping, going through the game again won't take nearly as much time. Also, a lack of battle trophies means full completion takes significantly less time than before. This will come as a relief to those that played The Last Hope. It should be obvious, but I had a lot of fun with Star Ocean: The Divine Force. I was sure tri-Ace had given up on the series but that's not the case. Here's hoping things continue to progress upwards for the series.
Overall, 9/10: Tiny font and some jumbled moments in combat aren't enough to take away from all of the things Star Ocean: The Divine Force does right. This is a great game, and a great way for fans new and old to venture into the stars.