In 16th century Japan, sparks are flying as steel blades clash. A lone shinobi swiftly parries a samurai's katana as it swings with massive impact. The samurai grows weary after a final deflection and leaves a tiny opportunity of opening for the shinobi. His sword plunges into the samurai in one, clean hit. Scenarios like this are the norm in Sekiro: Shadows Die Twice. From Software has created an epic adventure that feels 180 degrees from their usual Soulsborne formula.
Sekiro takes place in a fictional version of Japan during the Sengoku period in the region of Ashina. The hero of this story is Wolf, a master shinobi who serves a young boy of the Dragon Heritage named Kuro. Kuro has dragon's blood running through his veins that grants him immortality. He has given that same power to Wolf. Ashina's rulers wish to use Kuro's blood for their own purposes, but Wolf has sworn an oath to protect young Kuro. With Kuro's blood coursing through Wolf's body, Sekiro will die time and time again for his master. But, the price of immortality is heavy. There's a lot more focus on story in this when compared to previous From Software titles. The narrative is easy to follow and doesn't rely on the player to fill in the blanks. Wolf will encounter a variety of characters during his journey that have their own backstories and history.
The story is grim, but Ashina is gorgeous. Lush scenery. Towering pagodas. Beautiful vistas with autumn leaves everywhere. Even a zombie infested village has its share of beauty. When you're not fighting for your life, try to take the time to admire your surroundings. Sekiro features an ambient soundtrack that fits with the Sengoku period setting. The game is entirely voiced and features multiple language options. All sound great, but I prefer the Japanese voice option since it feels more true to the setting.
Wolf's journey through Ashina and it's surrounding areas is filled with danger. From disgruntled soldiers to temple monks to mountain apes, nearly everything that breathes in Sekiro is out to kill Wolf as quickly as possible. To overcome this, players need to efficiently utilize a mixture of stealth, swordplay, ninja tools, and vertical travel. Sekiro is a high speed action game that is very different from the methodical and defensive combat that Souls veterans are used to. Wolf doesn't have a stamina bar, but similar to Souls, relentless attacks are a surefire way to get killed. Everything about the game's difficulty is true; Sekiro is brutal.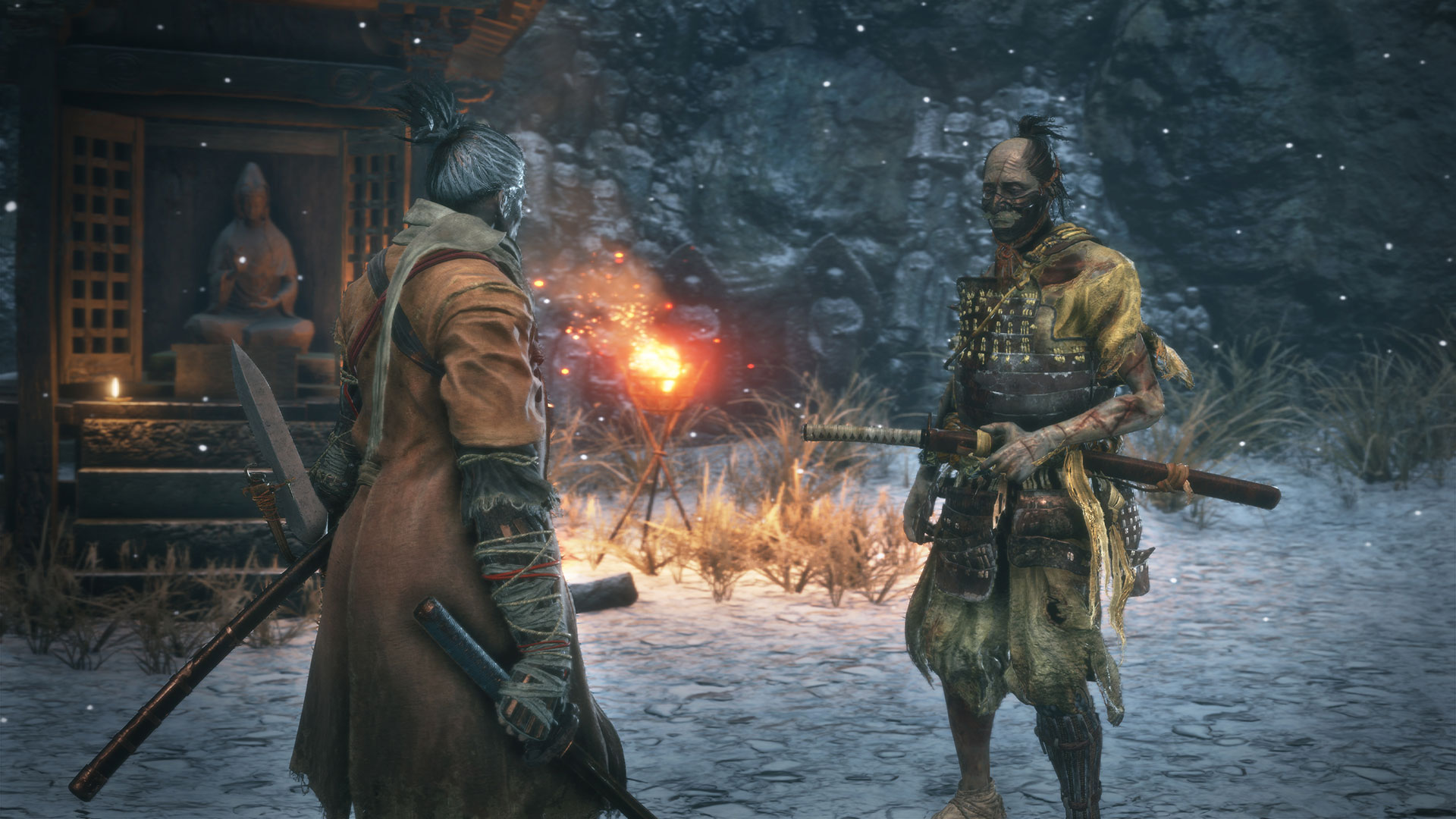 But, it's that same brutality that makes the game feel even more rewarding when things go your way. The palpable sensation of reaching a rest point (known as Sculptor Idol's) in a new area or toppling a boss is grander than it was in a Souls title. Wolf is a capable shinobi in a world where enemies hit heavy with frustrating speed. He can jump, dodge, sprint and climb. He has some impressive sword skills, and he'll unlock more maneuvers for the sword as the game progresses. He'll also get latent abilities and passive abilities that further aid him in combat. He has a prosthetic arm that can equip a variety of useful tools such as an ax, a spear, a flamethrower and more. These can be upgraded with various raw materials. Perhaps his most important ability is his ability to deflect and counter enemy attacks. Doing this lets you break an enemy's posture and land an instant kill. Sure, every enemy has a health bar. But, the key to victory (and the biggest hurdle) is understanding posture damage.
When an enemy attacks Wolf, you'll need to deflect, counter or dodge at just the right moment to build an enemy's posture damage. When their posture damage meter is full, Wolf can land a killing hit. Bosses usually require a couple of rounds of posture breaking before getting killed, but the same idea applies: break an enemy's posture to deliver a fatal blow. On paper, it sounds easy. In practice, it's an endeavor that is infuriating and invigorating. Breaking posture damage takes patience, which will come with dying time and time again. Wolf gets the option to resurrect after falling once, but make no mistake: you'll die a lot in this game.
Dying causes you to lose half of your money and experience. If you continue to fail, you'll invoke Dragon Rot. This curse prevents certain side quests from progressing and lowers your chance at Unseen Aid. Unseen Aid is the chance of you retaining your money and experience after death. It should go without saying that you need to learn every enemy's attack and understand when to go in for a slash or ready a counter. Sekiro features relentless, visceral combat that rewards those that use the tools at their disposal properly. As much as I want to praise it with tens across the board, I can't due to another From Software trademark: the camera. It's awful, and that awfulness gets amplified more in Sekiro due to the combat's speed. It'll shake, rattle, roll and rumble during lock-on and it'll be too much to keep up with if you're not locked on.
With plentiful deaths, a few hours of grinding materials, and some general exploration off the beaten path, I was able to obtain one of the endings in about 40 hours. There are multiple endings and some extras that can only be obtained on future runs. Replaying the game means increased enemy strength. While the thought of making the game harder might seem intimidating, there's no doubt that I'll be replaying Sekiro again and again. Even with all of the struggles, Sekiro: Shadows Die Twice is a remarkable game that I recommend to everyone looking for a challenge.
Overall, 9/10: Every death in Sekiro: Shadows Die Twice is an opportunity to learn. The reward for doing so makes the struggle worth it.