My favorite game of all time is SaGa Frontier. It's rough around some edges and has a steep learning curve. It's easy to get turned around or permanently stuck in an impossible situation. The game was not well-received by the North American audience back in 1998, especially when games like Final Fantasy VII and Wild Arms were still fresh. However, its fanbase slowly but surely amassed over time. Now over 20 years later, the game has a tight collective that continues to explore the game's depth. Recently, Square released SaGa Frontier Remastered for modern consoles. Did the game need a remaster? No. Is the game still as amazing as ever with its remastered perks? Yes. It'll be hard to not sound like an overzealous fanboy in this review because this remaster is everything I could have hoped for.
SaGa Frontier lets players experience a world made up of areas called Regions as one of eight protagonists. The Regions are home to Humans, robotic beings called Mecs, an array of Monsters, and mysterious beings with the ability to utilize otherworldly powers called Mystics. The hero you select gets to explore the Regions as they try to accomplish a goal. There's Red, a brash Human that was saved from death by the superhero Alkarl. Now with superhuman powers, Red is on a quest to avenge his family from the vile organization Black X. There's Riki, a young Monster from Margmel that needs to gather seven magical rings to save his home from destruction. New to this remaster is everyone's favorite IRPO agent: Fuse. Originally intended to be the eighth scenario in the original version, Fuse is now a playable hero with his own mission. The cast is diverse, and each hero can recruit a variety of individuals as they set a course through the Regions.
Once you select your leading character, most of the game will be spent exploring the world at your own pace. SaGa Frontier stays true to the SaGa name in that the quests are non-linear and allow players to go to most areas of the world from the start. Some stories have more structure than others (Red and Emilia are perfect characters for beginners) but most of the game is spent walking through the Regions. This remaster has a story log that will allow you to keep track of your progress and give you hints about where to go next in case wandering gets too overwhelming. During exploration, you'll uncover endless treasure, meet new party members, acquire magical gifts, and battle a slew of enemies. The exploration might be a shock to RPG fans used to more direction. Like other games in the series, there is a learning curve that needs to be considered before finding your groove.
I adore everything about SaGa Frontier, but the game's turn-based combat is my favorite aspect. The game allows you to recruit a sizeable roster of characters. However, only five can participate in a battle. Battles start after touching an enemy icon in one of the game's many enemy infested areas. You select commands for your character to perform and watch the chaotic fun unfold. The right selection of moves could create a combo which amplifies damage. Each race has a unique aspect that makes it fun to build a diverse party. This means that no two playthroughs will be the same. Humans, my favorite race, can perform martial arts, sword arts, gun arts and magic. Consistent use of martial arts and/or sword arts allows them to glimmer new techniques midbattle. Humans gain boosts to their individual stats after battle allowing for incredible variety. New gun arts and magics can also be acquired after battle. Mystics can absorb any monster-type enemy into three pieces of Mystic equipment: the Fae Sword, the Mystic Boots, and the Mystic Gloves. While they don't get as many post-battle stat upgrades like Humans, they are a unique and fun race to play with. Mecs gain stat boosts by equipping gear. It's an expensive endeavor but giving your Mecs the best stuff money can buy means an unstoppable fortress of a unit. To add, they can learn unique Mec abilities after defeating enemy robots. Finally, Monsters are the most difficult race to grasp. This review is already getting wordy, but the long and short of it is that Monsters can morph into different forms depending on their skills, where the skills are places, and their base HP. With enough finagling, you mold a Monster in the early parts of the game that can carry the team until end game. Again, incredible variety is available. What this means in its entirety is that no two battles will ever be the same. The combat pace is swift (and newly added fast forward options make them even quicker) and watching your party slowly grow over time is infinitely rewarding. And yes, you can finally run from any non-story fight.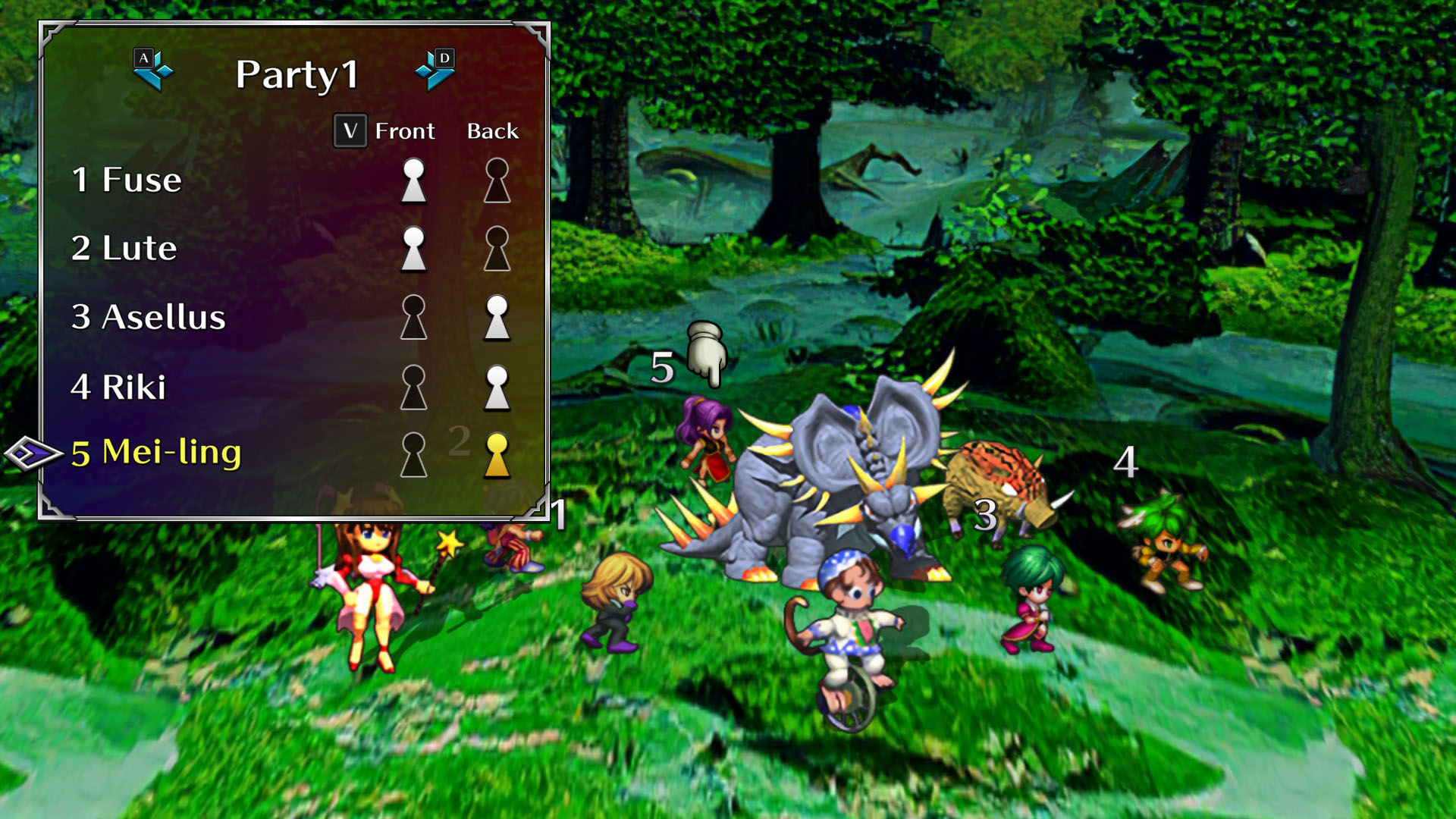 Topping off this exceptional package is a sharp and crisp HD presentation accompanied by one of my favorite soundtracks composed by Kenji Ito. The game looks better than ever. I've always admired the game's look: the character sprites were colorful, the prerendered backgrounds were highly detailed, battle effects were over the top, etc. In other words, I never grew tired of looking at the game. With this remaster, everything got a facelift. The same graphic engine is used, but now things are enhanced to look the way the Square intended on the PlayStation. While playing on the Switch, I didn't notice any difference in quality whether I was playing docked or handheld.
I've played through SaGa Frontier multiple times and never grow tired of it. At this point, the number of hours I've spent with it is in the hundreds. But, for first time players that don't have the same fanaticism, you can get through one of the hero's quests in about 10 to 15 hours. New Game Plus lets you carry over a variety of bonuses for each new scenario you play. I'm advocating for SaGa Frontier Remastered for multiple reasons. If you never had a chance to play the PlayStation version, then I highly recommend this version. I also look at this game as a solid entry point to the world of SaGa. If you're interested in dipping your toe into the series but unsure where to begin, then this will give a great first impression for what to expect. I'm still in disbelief that SaGa Frontier received a remaster in the first place. But, I'm glad it did. Not only does it mean getting to enjoy the game all over again for me, but it means introducing a new generation of gamers to it.
Overall, 10/10: My favorite game from back then is my favorite game now with new bells and whistles. SaGa Frontier's remaster continues to inspire and will do so always and forever.