The day I finished Panzer Dragoon Saga was one of mixed emotion. I was glad that I was able to complete such a monumental game, but I was bummed that the journey ended as quickly as it began. As the credits rolled, I thought to myself, "Now what?" I wanted more of the Panzer Dragoon universe. Unfortunately, just like PDS, other entries in this series have a high price of admission. Who would have thought that Megapixel Studio would release a remade version of the Sega Saturn launch title? Certainly not me. But, here we are. Is this the renaissance of the Panzer Dragoon series gamers have been yearning for?
That's a difficult question to answer because Panzer Dragoon is, for lack of a better time, fine. Going through its stages was fun at times, frustrating during others. Overall, it was just a fine experience. But, let's break it down a bit. Panzer Dragoon's story is relatively barebones; players aren't given much background on setting or characters. The game takes place thousands of years into the future where bioweapons and massive insect monsters run the world. During a hunting mission, an unnamed hunter (your character) gets separated from his team and winds up in a cavern. His salvation comes with another unnamed person riding a Prototype Dragon. The rider is killed in action, but your hunter takes their gun and hops aboard the dragon. It's unclear what his new journey has in store, but something is calling him to finish what the previous rider started. That's about it. There's no additional backstory beyond the introduction, and there's very little dialogue. Most dialogue comes from enemy transmissions commanding their troops to capture your new dragon companion.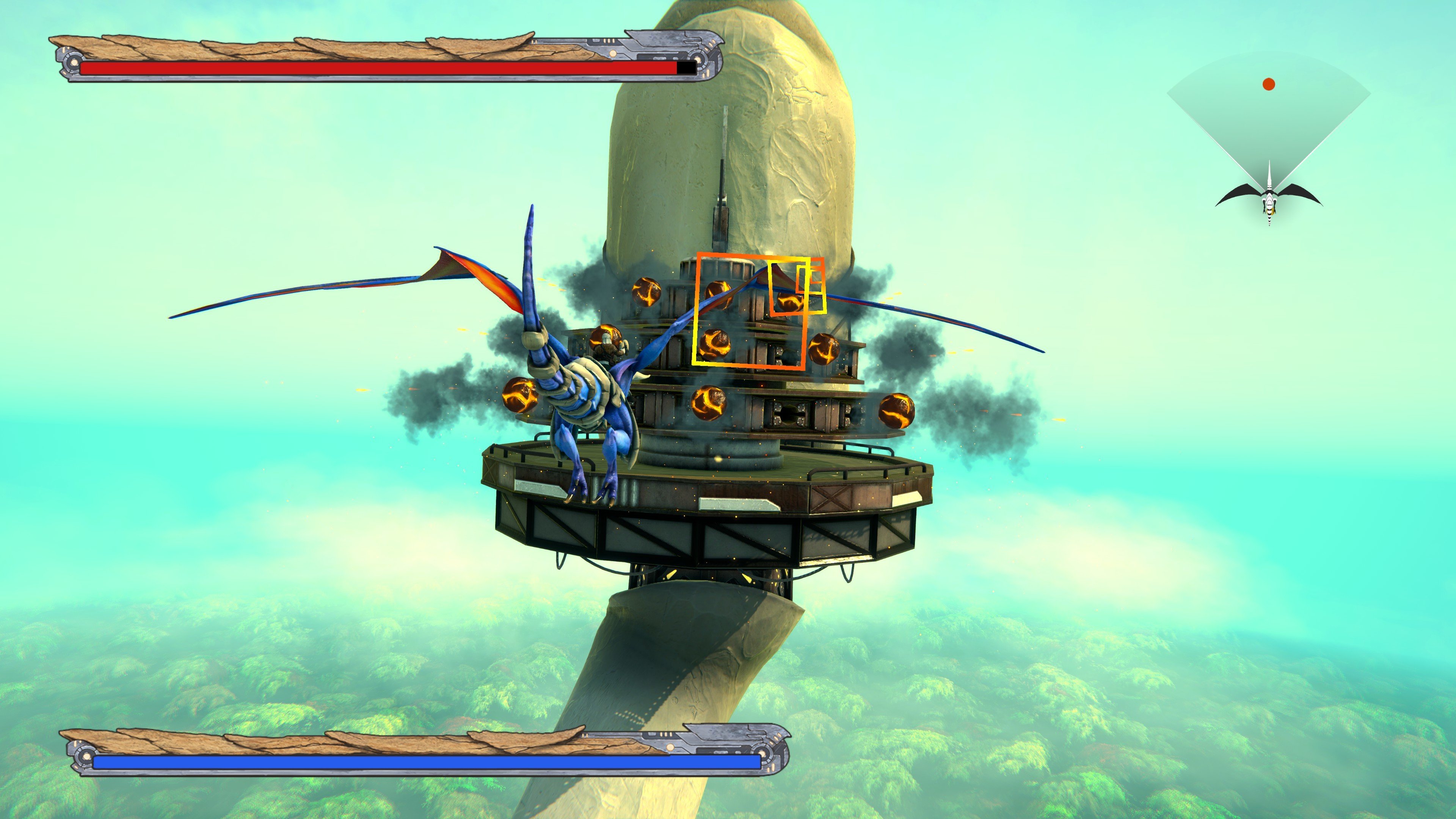 I was secretly hoping that there would be a narrative worth paying attention to in Panzer Dragoon, but it's easy to forgive its lack of one since the game is a rail shooter first and foremost. As your dragon trucks through each level, you're tasked with shooting down anything that may damage it. At the end of most levels is a boss that needs to be blown out of the sky. You control both the dragon and a reticle. Pressing the fire button fires a regular bullet. By holding this button, you can charge up a powerful, lock-on attack. Finally, you can rotate your field of vision to view your front, back, left and right. At the end of a level, you're graded on how many enemies you kill. Performing well grants you an extra life.
Panzer Dragoon looks and sounds beautiful. Every stage is filled with unique and detailed enemies and scenery. Flying through the air as the exciting music plays in the background adds a sense of thrill to the adventure. This gets further amplified when you watch your enemies (especially the titanic sized bosses) plummet out of the sky. If there's one area where the term "remake" applies, then it's in the presentation.
The first few levels give a general idea of what to expect and eases players into the rail shooting. Afterwards, things start to get more and more difficult. Some of the difficulty comes from the enemies themselves. Giant bugs and massive battleships have all sorts of nasty methods of attempting to take down both you and your dragon. Blasting them out of the sky is enjoyable. Most of the difficulty, however, comes from the game having not aged well. Megapixel Studio claims they improved the 360-degree controls and lock-on targeting. If that's true, then I can't picture how difficult it would have been to play the original. Panzer Dragoon might perform smoothly graphically, but playing it is another matter. This is most apparent when enemies are coming at you from all sides. Attempting to dodge and/or retaliate is a cumbersome affair. When you run out of health you need to start the level over. During my time with Panzer Dragoon, I never feared getting a game over. However, having to restart a stage over and over because of clunky controls was a frustrating endeavor. Victory was sweet yet empty when all was said and done.
Panzer Dragoon has three levels of difficulty. I played through the game on Normal mode and finished it in about two to three hours. Finishing the game (with a ranking of "Sharpshooter") unlocked a bunch of bonuses such as new modes of play and concept art. Unlike Panzer Dragoon Saga, I don't see any reason to go back for more in Panzer Dragoon. Again, the game is fine. It can be frustrating or fun depending on the situation, but overall it's inoffensive and just there. Perhaps the best thing about it is that it gives gamers hope. If Panzer Dragoon could be remade, then maybe there's a chance other entries in the series will get the same treatment.
Overall, 6/10: The flawed and friendly skies have returned 20 years later to modern consoles. Panzer Dragoon is worth a cautious look.