I Am Setsuna was cleverly marketed as an RPG that was "similar to Chrono Trigger." When this turned out to be a big fat lie, myself and other gamers looked at developer Tokyo RPG Factory with caution and skepticism. I carried those feelings with me as soon as I popped in Lost Sphear. After about two hours in, Lost Sphear removed any bitter taste from my experience with I Am Setsuna. Tokyo RPG Factory isn't quite there yet, but Lost Sphear showed that they're starting to find their step.
Lost Sphear begins in a small village called Elgarthe. Here, we meet our hero Kanata and his two best friends, Lumina and Locke. The three friends decide to gather food for the village's elder in a nearby forest. After the errand, things take a weird turn. Elgarthe is gone. In its place is its silhouette filled with white, ethereal mist. Kanata and his friends meet a traveler named Van who informs them that this phenomenon is happening worldwide. Things get even stranger when Kanata taps into a unknown, hidden power that allows him to gather the physical form of memories from the villagers. With this new power, Kanata is able to restore Elgarthe. This strange power, and this stranger phenomenon, set the groundwork for a tale of mystery and tragedy for Kanata and his comrades. Why does Kanata have this power? Who is Van? What is causing towns and people to vanish?
All those questions eventually got answered. The journey towards said answers was enjoyable. The characters really helped move things forward. Kanata was the poster child of a goody two-shoes. He's as saccharine as could be. In fact, his friends would give him grief for his do-gooder personality. Watching Van really lay into him for being so nice was especially enjoyable. The rest of the characters and their interactions were fun, albeit a bit wordy. If anything, everyone was far more memorable than the cast from Setsuna. I can actually remember the characters from Lost Sphear.
It's clear that the style from I Am Setsuna served as a foundation in Lost Sphear. Character designs were awkward and monster designs were bland. There were a few outliers (some bosses look great) and some flashy special effects, but overall the graphical presentation remained unchanged. But, here's some good news: the world wasn't fully covered in snow. The worst aspect from Setsuna that returned was the skill customization. Giving your team new skills meant relying entirely on items from enemy drops or discoveries throughout the towns and dungeons. Mountains of tutorials got thrown at me all at once in hopes of making these cumbersome systems easier to understand. They didn't help. Luckily, I could read them again if needed. It just got overbearing trying to outfit my favorite party members with new skills when I was lacking materials. Buying weapons and armor? Straightforward. Upgrading weapons and armor? Straightforward. Learning and customizing skills? Hassle. I suggest playing the game on Easy mode: you'll get more drops and not have to too much about fine tuning your squad of eight.
Now for some extra good news. The music in Lost Sphear was great. Like the snow from Setsuna, the piano only soundtrack was nixed. There's a pleasing collection of music. The Japanese voice acting has returned, too. I enjoyed this, but your mileage may vary. Characters have a lot to say in battle and not everyone will understand their shouts, victory quotes, and expressions.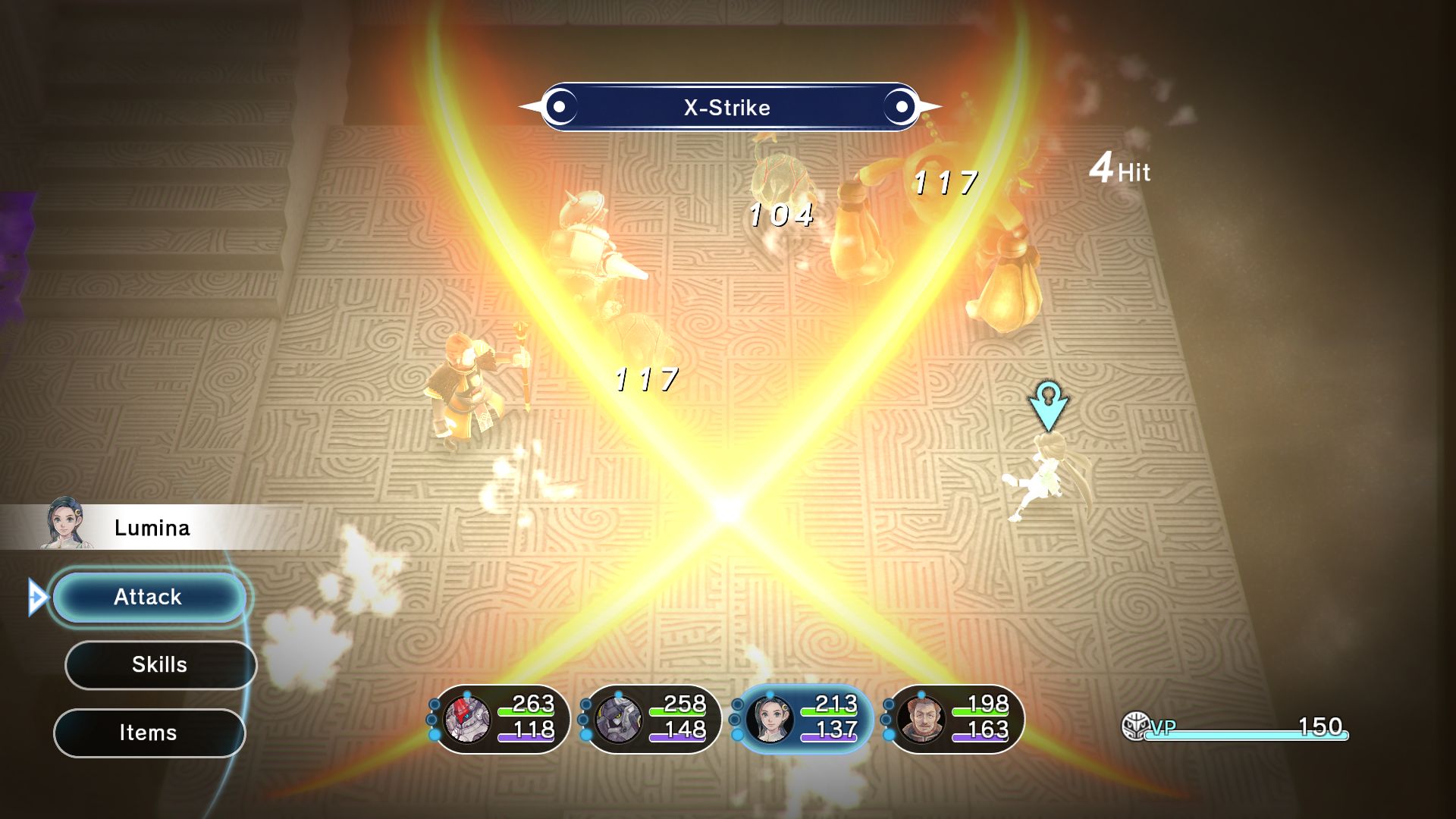 Speaking of battle, Lost Sphear's combat offered much more enjoyment than I expected. When Kanata and his party of four touch an enemy, the battle begins. Lost Sphear used a variant of the Active Time Battle system. During a character's turn, they could attack, use skills, or use an item. A neat touch was that they could actually move around during their turn before their action. So, if you wanted to try to hit two enemies instead of one with a standard attack, you could attempt to position a character in a way that he or she could do that. It's a nice feature. Upon a victory, you'll be given enemy drops called memories. These were used to create new skills, but the real fun with memories came with creating artifacts throughout the world. Creating an artifact granted boons and advantages in battle. With the right combination of artifacts, I was able to slaughter any enemy party or boss that looked at me sideways. It was satisfying. Finally, after a few hours of game time, an option opened up that allowed Kanata and his friends to ride giant robots called Vulcosuits. These provided more options in combat. Lost Sphear offered all sorts of toys to play with in combat. It made the process of building the right party both flexible and enjoyable. If not for the clunky customization system, it could have been close to perfect.
Lost Sphear is a lengthy campaign that can span up to 50 hours. Some parts of the story tended to drag, but I ultimately found myself having fun throughout the journey. Interestingly, the further I got into Lost Sphear, the more I saw bits of inspiration from other games. There were hints from Xenogears, Breath of Fire, Radiant Historia, Tales of Zestiria, Final Fantasy IV, and other games. Kind of like the memories Kanata gathers and combines to remake his world, the snippets from other games merged together into Lost Sphear. But, my biggest takeaway was that some of the mistakes from I Am Setsuna were long gone. As a result, I have an easy time recommending Lost Sphear to any RPG fan.
Overall, 7.5/10 – Lost Sphear shows that Tokyo RPG Factory is getting closer to finding their niche. No matter how you feel about I Am Setsuna, chances are you'll enjoy Lost Sphear.