If I were to describe Lost Odyssey in one word, it would be: slow. Everything in Lost Odyssey is a big, over the top, extravagant, and bombastic production. From opening a treasure chest to watching a story event, Lost Odyssey is like a one-man play that takes for-freaking-ever to end. Due to this level of slowness, Lost Odyssey goes through many ups and downs during its 50 to 60-hour campaign. If you're looking for something with tons of dramatics, then Lost Odyssey is the perfect game for you. Those that want something on the shorter side will need to look elsewhere.
That's not to say the game is terrible. In fact, the game begins with a huge bang. When we start the journey, we meet Kaim Argonar, an immortal that spends his eternal life on the battlefield. We watch as Kaim wrecks soldier after soldier in an army clash. It's awesome. Things get better when a continent-sized meteor slams into the battlefield. Nearly everyone is killed. But, seeing as Kaim is immortal, he pulls out of the wreckage and returns to the town of Uhra for his next mission. But, there's more to Kaim and that meteor than we realize. Surely, someone who has lived for over 1,000 years has his own secrets. We get to learn all about said secrets while the fate of the world hangs in the balance. Sadly, the game's strong start doesn't keep the momentum. While Kaim does meet a fantastic group of characters, the reason for their journeying takes too long to get revealed. Once players reach disc three, the story takes a severe nosedive. Toughing it out until disc four sort of makes up for the slowness.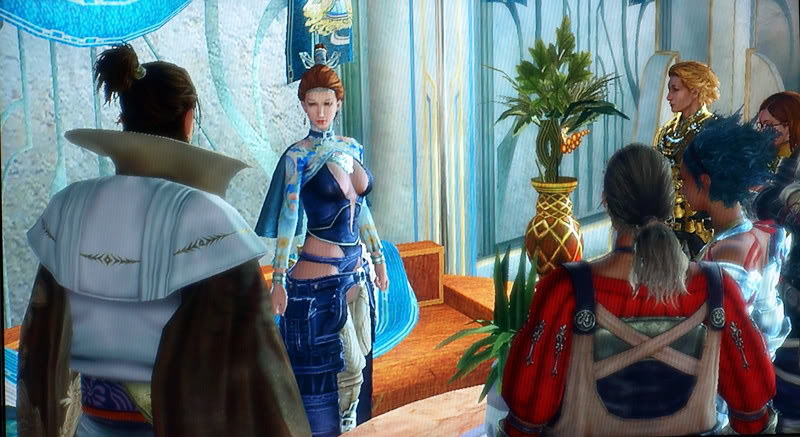 The story's slow pacing is tantamount to the game play. Everything that Lost Odyssey has you do is slow. Moving around is slow; even with the run button pushed. Climbing ladders is slow. Opening a treasure chest is slow. Resting at an inn is slow. The RPG genre is, usually, slow by nature. Lost Odyssey takes it to an extreme. One interesting aspect of Lost Odyssey is that Kaim will slowly uncover memories from his long life. The memories will be triggered by watching townsfolk go about their business. Then, players can view his memories. Kind of. The memories play out like a visual novel without the ability to make a choice. If you like to read or a are a fan of visual novels, then these will be a treat. Otherwise, they're nothing but fancy PowerPoint presentations.
Speaking of presentation, Lost Odyssey's visuals and music are lovely. The game has a solid score from Nobuo Uematsu that sounds equal parts familiar and fresh. The voice acting is of equal quality; the entire cast was voiced by a notable group of actors and actresses. If I had to get nitpicky, it would be the way one of the characters (Jansen) was voiced. He tended to mumble and/or talk too fast. The graphics are gorgeous. There's not much to say about them. Beautiful landscapes. Detailed architecture. Lots of hidden areas filled with secrets. And, of course, some uniquely designed characters and monsters. It took me a while to warm up to the character art, but it works well for Lost Odyssey's setting.
As great as the monster designs are, players are going to have to get used to seeing them for two reasons. One reason is that battles are random and frequent. It's not a major issue if you've been playing RPGs for as long as someone like me, but it's worth noting. The other reason is because most enemies are HP sponges. "Slowness" rears its ugly head yet again in combat. Now, to be fair, the beasts and baddies in the initial areas are fine; they do a good job of orienting you to the combat system. Battles use a classic turn-based formula with some extra features. Your party members in the front row combine their energy to create a wall that protects your party members in the back. Enemies do the same. Characters can attack, use items, cast spells, or use special skills. Attacking normally implements the Aim Ring System. By timing a button press when two circles meet, extra damage gets dealt. Rings are created with raw materials outside of battle to provide melee attacks with elemental boosts, status ailments and more. The vast variety of ring possibilities is fun because you can always find a ring for your play style.
After Kaim's party finishes the first few areas of the game, things start to take a steady decline. Every encounter is filled with at least one type of enemy that takes too long to kill. To add insult to injury (and, ultimately, more slowness) almost every encounter puts you against a group of five enemies. One saving grace in most games with turn-based combat is magic. But, in Lost Odyssey, the more powerful spells in the four schools of magic (Black, White, Composite and Spirit) require a casting time. In other words, your spell casters will spend entire turns charging a spell. Again – slowness. In many cases, you're better off having your melee fighters defend while your magicians take their sweet time to eventually nuke the enemy party. Another strategy is to have one of the characters use a skill that reduces spell casting time. Battles are long affairs, but either of the two mentioned options can reduce their length. Most enemies aren't even difficult; they just take too long to kill. Boss encounters take a while to finish, but they're far more entertaining.
When a battle finally ends, you're rewarded with money, items, experience, and skill points. Skill points are for your immortal party members. SP will let them permanently learn skills, spells, and passive abilities from both accessories and their mortal comrades. Mortals learn new abilities via leveling up. This means that mortal party members tend to become obsolete because your immortal party members become capable of doing everything. It's an interesting concept, but it strongly urges that players favor immortals in their final party.
Lost Odyssey's main campaign is hefty. There are plenty of extra dungeons and events that add to its length. It's a tough game to recommend unless you're a diehard RPG fan and have the patience for it. There is some good stuff to be found in Lost Odyssey. But, chances are you'll find yourself getting bored around the second or third disc. I'm glad I played Lost Odyssey, but I hoped that such a modern looking game would have implemented some modern pacing to match.
Overall, 5/10: Slow and steady sometimes win the race. In Lost Odyssey's case, there's too much slow and not enough steady.