I love 2D action games – when they're done right. Over the years, indie developers have been trying to capitalize on the nostalgia of a bygone era where 2D platforming and shooting was at its peak. Nine times out of ten, they rely too much on the nostalgia and the game ends up being bad. On the other hand, there are more prominent companies like Inti Creates that know what they're doing. I feel like they've been on top of things ever since Mega Man Zero entered the scene. One of their sleekest characters, Copen, has returned once again in his own game called Gunvolt Chronicles: Luminous Avenger iX 2. Inti Creates did it again. I would have been happy if this game was similar was to the first Luminous Avenger. I got something better. Beyond the new story and characters, there are a bunch of new features that make this (as of this writing) my favorite game from the developer.
The story begins with Copen, Lola, and Kohaku enjoying another ordinary day in Copen's lab. Copen is tinkering with machines while Lola and Kohaku chat him up about this and that. As Copen begins experimenting with another machine, he manages to trigger something that creates a wormhole. The three friends are transported to a parallel world that is made up of a massive tower. They're greeted by a robot named Null. With her help, they learn that they can leave by finding Key Cards that eventually unlock the tower's apex and central computer. Naturally, the Key Cards are guarded by Gate Keepers and their cronies. Copen and Lola have themselves another mission. And once again, there's more to the story than what's on the surface level. As more areas get unlocked, more about the true nature of the tower and its central computer get revealed. It's never anything super wow-inducing, but it's still an overall interesting story that allows players to get more insight about Copen and his friends.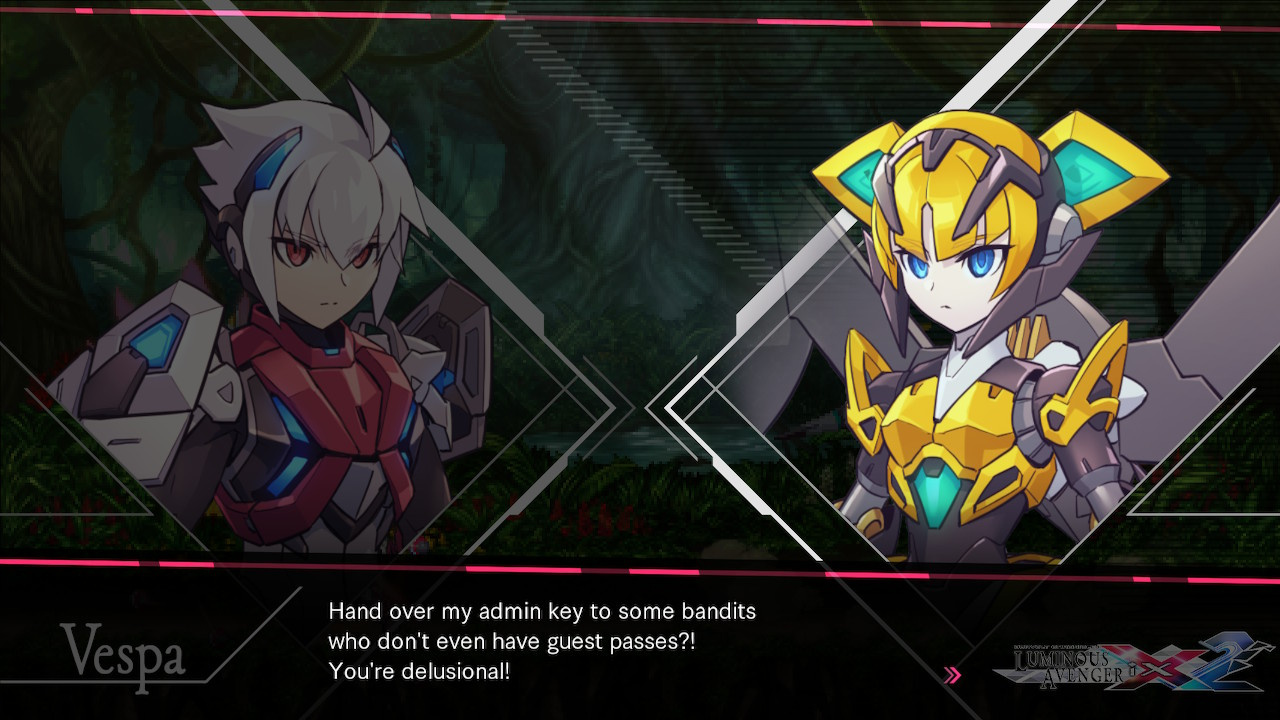 Copen and Lola will go through a variety of stages filled with enemies and hazards that hope to stop them from reaching a boss at the end. Said boss at the end will do everything he or she can to hold onto their keycard. You might be wondering if Copen's ability to dash into a target and send homing bullets is still available. It is, and it's just as fun to learn and master. His tackle can also be used to stun enemies. His new ability is the Quick Razor. This melee weapon utilizes a three-hit combo that ends with a massive circular sawblade that cuts anything and everything in half. Finally, he begins with the Anchor Nexus ability that grants his dash-tackle homing capabilities.
As you take down enemies and collect items, you'll add to your score multiplier. Lola will transform and sing when the score reaches at least 1000. This also grants Copen extra ability. Getting the highest score/rank will take a lot of practice but those that are up to the challenge will likely find it enjoyable. For those that want something a bit simpler, you'll take comfort knowing that there are a lot of upgrades that you can buy for Copen. Also, Lola can heal Copen at nearly anytime. If things get extra dicey, then Copen can activate a powerful attack that takes up the entire screen. This is especially useful for the boss fights. The Gate Keepers are tough, but as always, practice makes perfect. With enough patience I was able to clear some stages without getting damaged by enemies, hazards, or the bosses. This includes the boss's special, cinematic attacks that they use when their health gets too low.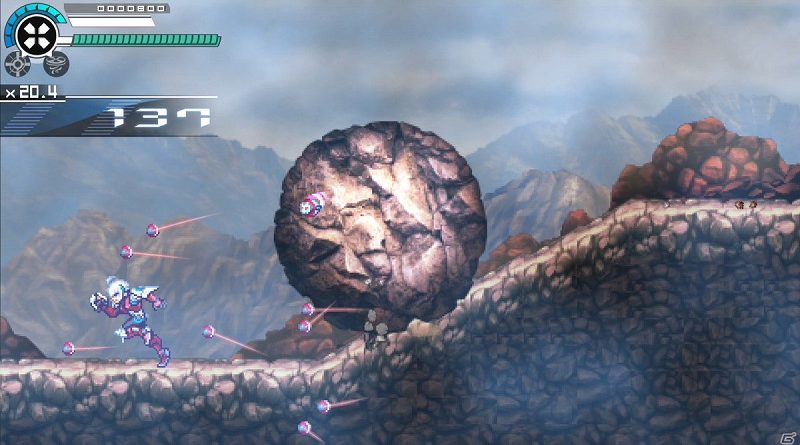 Said special attacks are just a delight to behold. The overdramatic, anime inspired cut-ins combined with screen filling explosions of varying shapes and colors are both intimidating and adrenaline fueling. When you're not dodging for your life, you'll enjoy exploring a bunch of fun locations while taking down different types of enemies with Copen's vast arsenal. Seeing his weaponry put to use adds to the 2D eye-gasm. Listen: Inti Creates knows what they're doing. The game is fun, yes, but seeing so much 2D beauty excites the heck out of me. The music is great, too. There's a tune for every occasion. Your heart and ears will melt when Lola begins to sing. While her songs are in Japanese, the voice acting can be either Japanese or English. Both options work. However, both options can be distracting. The last thing you want to do when you're trying to dodge enemy fire is try to keep up with Copen's and Lola's discussion.
Another minor issue is the amount of "farming" you'd have to do to get all of the Copen's abilities. The currency from dropped enemies feels pretty limited. And, some of the boss patterns can be almost too random. But, I'm honestly grasping at straws here because the game does so much right. Finishing the game will open up new levels of difficulty and the chance to uncover a new ending. Even if you don't participate in that, there's a lot of replay potential as you try to get the best score in each stage. In fact, I was thinking about future replays not long after the credits rolled. That's rare. There aren't many games that get me excited for replays as soon as one playthrough ends. They're the type of games that I try to replay at least once a year. For a while, they've been games that are on consoles from previous generations. Thanks to Gunvolt Chronicles: Luminous Avenger iX 2, I have something modern. Just like watching your score multiplier increase as Copen zips and zaps enemies, it feels great.
Overall, 9/10: How do they do it? Inti Creates continues to impress and inspire in Gunvolt Chronicles: Luminous Avenger iX 2.