I can't tell you the number of attempts I made at getting through Final Fantasy III. Thinking hard on it, I'd say the grand total is six: two times on the regular NES and four times with the 3D version on PSP. One thing or a combination of things lead me to throwing my hands up in frustration and giving up. Now, I can finally say I've finished it thanks to the Pixel Remaster version on the Switch. My overall opinion on the game still stands in that this is a lower tier Final Fantasy. It feels like it's engineered to purposely piss off the player. However. When things go well, things go well. These moments of fun, and the hope that more of them existed, were enough to see me through to the end. Of course, having muchly needed quality of life features made my journey more manageable.
Final Fantasy III begins when four youths from the tiny village of Ur falling through a hole in the ground. They land in an underground cavern teeming with monsters and treasures. As they fight their way through the cavern, they discover the Wind Crystal, one of the legendary elemental crystals that provides light and bounty to their world. The crystal warns the youths that their world is under the threat of darkness. They've been chosen to prevent that and are given the crystal's blessing. With their new powers, they need to find the remaining crystals before darkness takes over. It's a tried-and-true synopsis. Understanding that the game was first released (only in Japan) in 1990, the story has a fair amount of originality. Nowadays, we've seen stuff like this before. There is a neat twist at the end that I appreciated. Sadly, your team of youths don't have much to say. Most of the story is driven by NPCs and villains. Note that in the 3D version, the team is composed of a cast with their own quirks and personalities instead of the blank slates in the pixel version. There aren't any drastic changes but it's worth pointing out.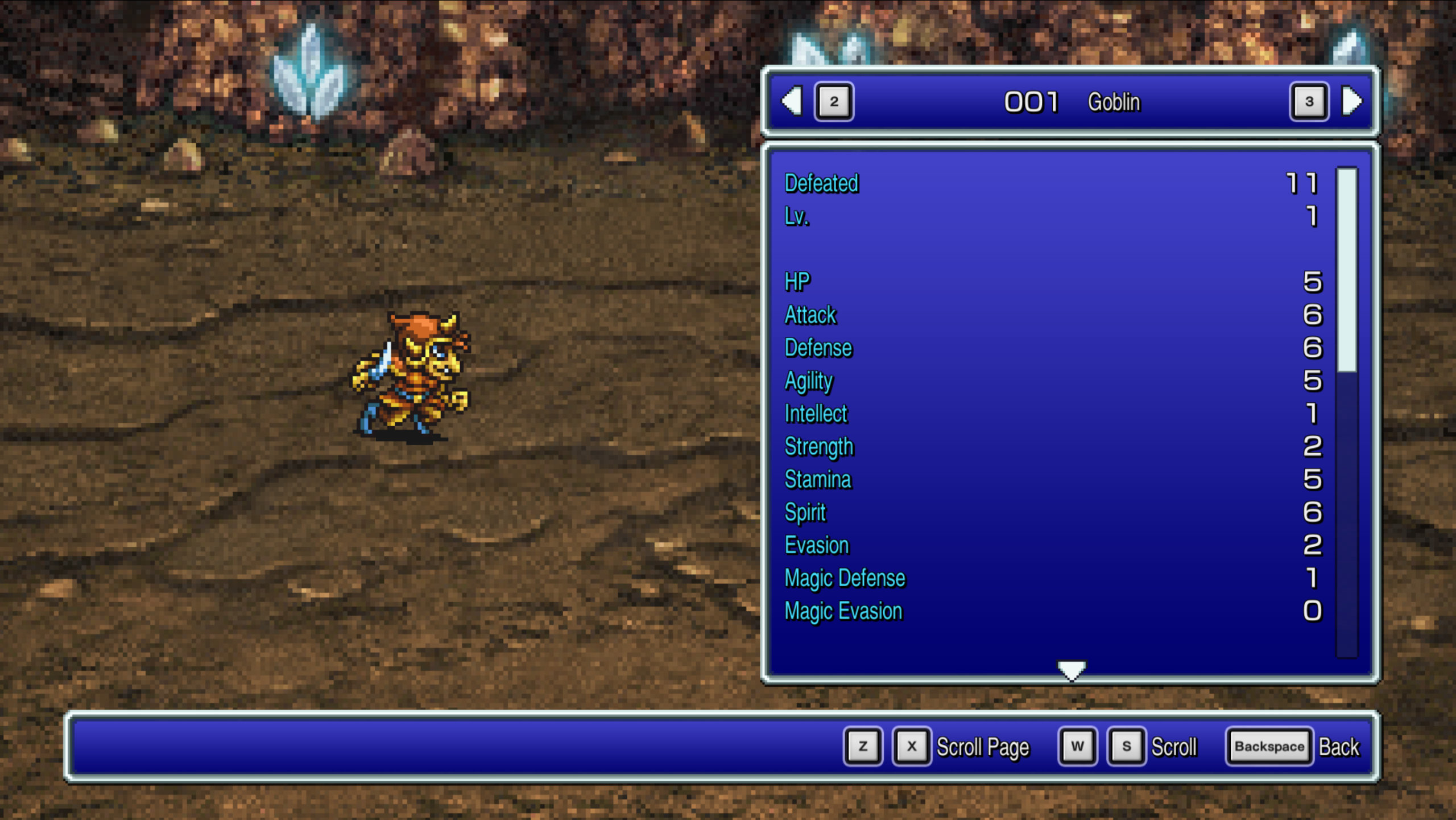 Final Fantasy III doesn't take long laying all its cards on the table. Within the first few seconds, you'll be in your first battle. Battles are turn-based and don't use the Active Time Battle set-up that installments after it use. You can take your time selecting your commands and watch what happens. Attack and Item are available for everyone. Within the first ten minutes, you'll unlock your first jobs, which will add different battle commands depending on the job. Final Fantasy III serves as a blueprint for what other games, both in and out of the Final Fantasy series, would use as a Job System. You'll start the game with the Warrior, Black Belt, Black Mage, White Mage, and Red Mage. You're able to switch around jobs as you please. It's fun to build your party with your favorite jobs, test them out in a few battles to see if their composition works or not, and regroup if you need to. Your team gains experience points that will earn them levels, as well as job experience that will boost their job levels. Obviously, the better they are at their job, the more effective they are in battle. The downside to this is that you'll have to start at ground zero when you switching to a new job for the first time. This is most apparent when it comes to jobs that use magic. Mages don't have magic points. Instead, they have spell levels one through eight. The number of times they can use a spell in each level will increase as their job level rises. So, a character's effectiveness will be slightly lessened upon an initial job switch.
There are pros and cons to Final Fantasy III's Job System. I'll start with the pros. Final Fantasy III has A LOT of job choices. Experimenting with each of them for a few battles is fun. When you find a party of four that has good synergy; capable of taking out regular or boss enemies with little difficulty, then you'll get what I'm referring to by things going well. Now, the cons. While FFIII grants you a lot of job choices, many of them are useless. Or, they're only useful for one incident. By now, no matter anyone's familiarity with the game, most gamers know of the infamous Garuda fight which requires you to change your entire party into Dragoons. That's just one example. Another example happens late in the game when your party fights enemies that multiply themselves. To counter this, you need to use the Dark Knight and their exclusive weapons. The problem with this is that Dark Knights don't get any of these weapons up until that dungeon. Any reasonable player wouldn't bother making one of their characters a Dark Knight prior to this point because there's no equipment available to them. But when you get to the point you actually need one, you're left with one or two gimped characters. Then there are jobs I never had any use for: Vikings, Thieves, Bards, Summoners…the list goes on.
So, what does this mean? Ultimately, it means that there isn't as much flexibility as you might believe. Nine times out of ten, people will say that the best party consists of two Ninja and two Magus'. For me, this was fine since it was my first time making it to the end. Actually, I ended the game with a Ninja, a Dark Knight, a Magus and a Devout. Still, I can't help but to wonder what could have been with other jobs. There are other issues, too. The final dungeon is infamous for being insanely long. I can confirm that it is. If not for the QoL features unique to the Pixel Remaster, then getting through it would have been an impossibility. Traveling via airship takes extra time since none of the airships acquired can fly over mountains. Money isn't a problem but there's often a lack of good equipment/spells to spend said money on.
As frustrating as all this is, I can't stress enough that the shining moments really shine so it's worth pressing on until the end. Doing so also means getting to experience the crispness of the presentation unique to the Pixel Remaster. The classic 8-bit sprites have been elevated for modern consoles. Spell effects and background scenery were given extra modern polish and sheen. Mini maps and full screen maps have been (mercifully) added to assist in navigating the game's labyrinths. Players can select between the original soundtrack or a remixed one. As ever, both are worth a listen.
The quality-of-life add-ons to this game are what gave me the ability to finish the game in about 10 hours. I was able to double my experience points and turn off random encounters as needed. Those that want even more of an advantage can quadruple the amount of experience points and earn double the money. For those that have a sadistic side, you can earn half as much experience points. There's also a handy auto-battle option that speeds things up when fighting regular foes. All of these options make Final Fantasy III much more accessible than ever. And quite frankly, it finally makes the game playable. It took decades, but it happened. I was able to see the game's credits roll. I absolutely took advantage of all the Pixel Remaster's perks. It was either do that, or fail to get through the game a seventh time. If there was ever a version of this to play, then it's this one.
Overall, 6/10: Final Fantasy III is a low tier game in Square's legendary franchise. However, it's still worth a look if you play this version.