In 2019, I played an Idea Factory title called Death end re;Quest. I went into the game with some trepidation given the company's track record but it ended up becoming my favorite new release from the year. The combination of visual novel and RPG with a grim story, likable cast, and turn-based battles were enough for me to overlook the game's rough edges. Now, a sequel simply titled Death end re;Quest 2 is available. The roughness is gone, but so is the level of intrigue from before. Still, I highly recommend it to those that enjoyed the first game.
Death end re;Quest 2 looks the same as its predecessor but with new locations, characters and monsters. The talking heads are back, and while the artwork is beautiful, it's not engaging. Character models and effects shine in battle. The motions are smooth and there's lots of pizazz with over the top attacks. A solid soundtrack backs up the presentation. The game can have either English or Japanese voice acting. If you go with the Japanese option, then you'll hear more voiced content. Really, if you've played anything from Idea Factory then all of this shouldn't be anything new.
What is new, however, is the story. Mai Toyama has had a rough life. After her parent's divorced, she lived with her abusive father while her sister stayed with their mother. Mai and her sister's communications via email were the only thing that kept Mai sane through her adolescent years. During what seemed like a regular evening in the Toyama household, Mai reached her breaking point. The results of her actions caused child and family protective services to step in. Now, Mai has her sights on an orphanage in the European town of Le Choara. She heard that her sister was living there. After pulling the right strings, Mai gets enrolled in the orphanage of Wordsworth. But, Le Choara is filled with buried secrets and devilish creatures that stalk the city streets at night. Mai has gone from one unpleasant situation to another, but it'll be worth it if she can reunite with her sister.
Mai's story starts with an exciting premise. That level of anticipation for what'll happen next is the same as it was in the first game. However, things move slower during most of the game's ten chapters. The visual novel style of story telling has been replaced with something more traditional. The story goes full throttle near the end when twists and turns happen back to back. You just won't be madly pressing the X button to read the next bit of text until then. Death Ends aren't as abundant, either. The choices you make impact both these and the fate of some of the supporting characters.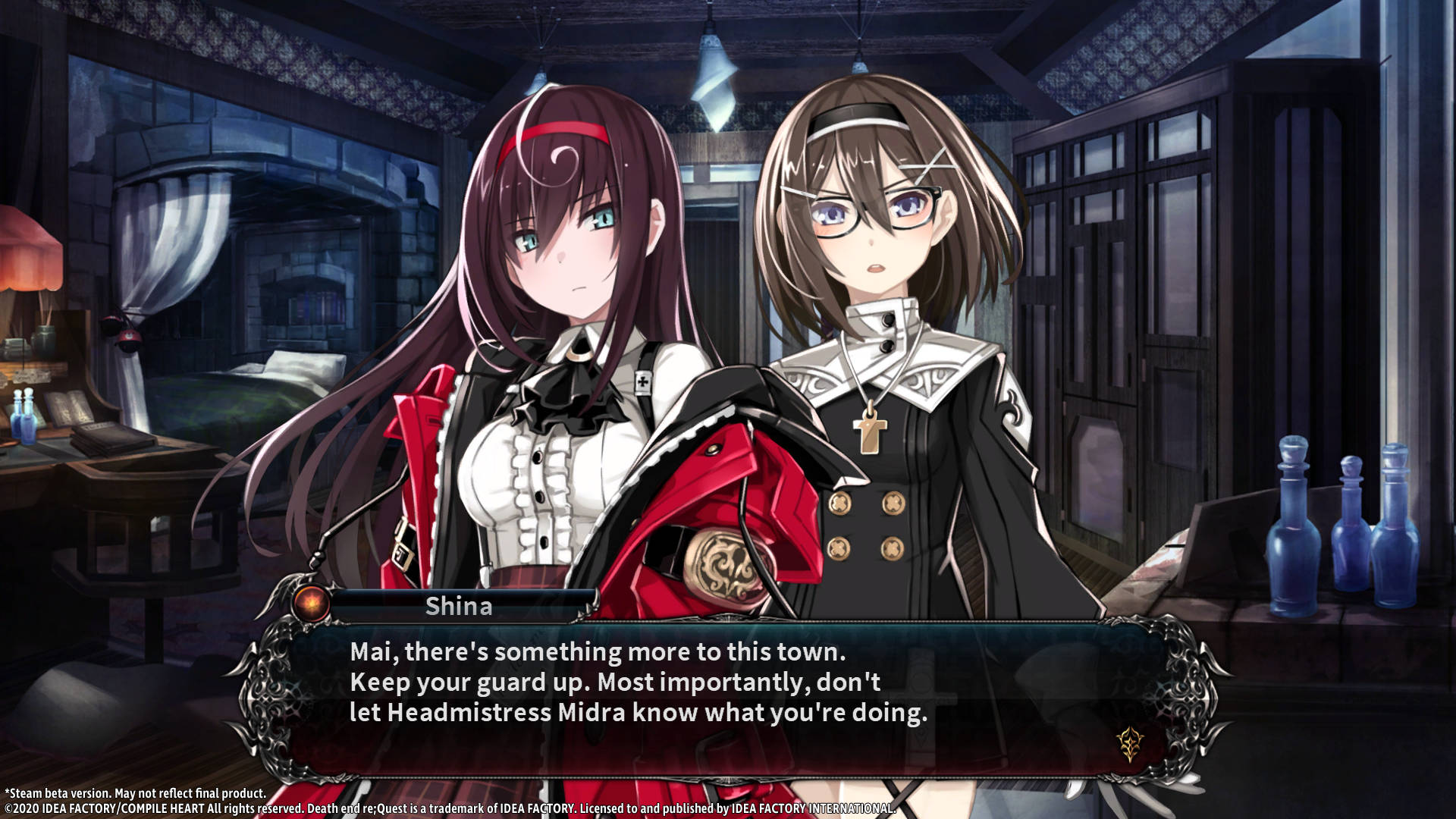 The game is divided into daytime and nighttime sections. During the day, Mai and her friends will chat with other Wordsworth residents and investigate Mai's sister's whereabouts. Mai is joined by fellow students Rottie and Liliana. Also, Shina from the first game will join the team. These daytime events are usually innocuous and allow you to get closer with the other students at Wordsworth. It's rare for them to reveal anything major about the plot. When you finish the last daytime event, the plot advances and day turns to night. Nighttime is where the real fun begins because it means you get to explore Le Choara and all of its hauntings.
Mai and her friends will travel through different areas of Le Choara to get closer to the truth. Naturally, the town becomes infested with monsters when the sun goes down. Combat in Death end re;Quest 2 is mostly unchanged from the first game. You freely move your three characters around a circular battlefield and perform three commands in a row. If your last command is an attack type, your character will perform a batter-up on the enemy. The enemy becomes a pinball that will ricochet across the battlefield giving damage to other enemies and taking damage from the arena's barrier. The Knock Back system is back, along with the new Knock Blows that add additional damage. If you overkill an enemy, you'll earn bonus experience.
Each battlefield is filled with hexagon lights called bugs. Stepping on these, along with taking damage, will rise a character's corruption and provide some sort of bonus. Once corruption reaches 80%, characters enter the powerful Glitch Mode. With plenty of options at your disposal to take down enemies, a classic rock-paper-scissors weakness system, and multiple difficulty options, combat is still a delight. My favorite aspect from before makes a return: learning new skills. If you use the right skills during an attack sequence, you can unlock new ones. Outside of combat, you can equip your characters with different weapon and armor pieces, shop for items, perform simple side-quests and chat with your team in camp. Finally, a handy flowchart keeps tabs on the events going on. Witnessing events and Death Ends grants you bonus items and cash.
Unfortunately, there's one annoying feature that occurs during dungeon exploration and battle. At random times, a faceless figure called the Berserker will appear. Outside of battle, touching the Berserker means game over. In battle, standing within the creature's range means instant death. The first couple of times it appears it causes a fright, which adds to the game's atmosphere. After a while, it becomes an annoyance tantamount to the stalkers in Haunting Ground. I get what they were going for, but it could have been executed better.
Even with the Berserker periodically stalling progress, the game can be finished in about 20 hours. However, to see all of the game's endings and extra content, a second file is required. The good news is that there's a very generous New Game Plus feature that makes doing so a breeze. Death end re;Quest 2 is a great game. At times, I found myself wishing for the grit from the predecessor but I never stopped having fun. If you enjoyed Shina's campaign, then there's no reason why you wouldn't enjoy Mai's. Perhaps one day there will be a third entry that combines the polish of this game with the storytelling of the first. If Death end re;Quest 2 was made, then anything is possible.
Overall, 8.5/10: Embrace, fight, and tolerate the darkness in Death end re;Quest 2. Idea Factory is slowly but surely becoming a seasoned game development company.