"Imitation is the sincerest form of flattery" could not be more applicable to kart racers. After Mario Kart 64 took the gaming world by storm, it didn't take long for other game companies to attempt the same. Outside of the shovelware, there have been some surprisingly fun games that helped fill the void after people had their fix of Mario Kart 64. There was Mega Man Battle & Chase. There was Speed Punks. There's also the game currently under review: Chocobo Racing. Released in 1999, Chocobo Racing uses a familiar formula but has just enough extra to make it more than just another carbon copy kart racer.
You might be surprised to learn that there's actually a story in Chocobo Racing. Chocobo, our hero, goes to visit Cid in his lab. Cid's latest invention are a pair of high octane roller blades called the Jet-Blades CR; designed just for Chocobo. The blades work like a charm, and enhance Chocobo's unique ability to dash for a short burst of time. He has this ability thanks to blue crystal shard called Magicite. Cid tells Chocobo that there might be more shards of Magicite around the world. With his best frenemy Mog, Chocobo ventures on a high speed adventure. It's an adorable story is matched appropriately adorable dialogue and characters. It's worth taking the time to go through the story mode at least once so you can get familiar with every racer and their unique ability. Of course, the story being entertaining in and of itself doesn't hurt.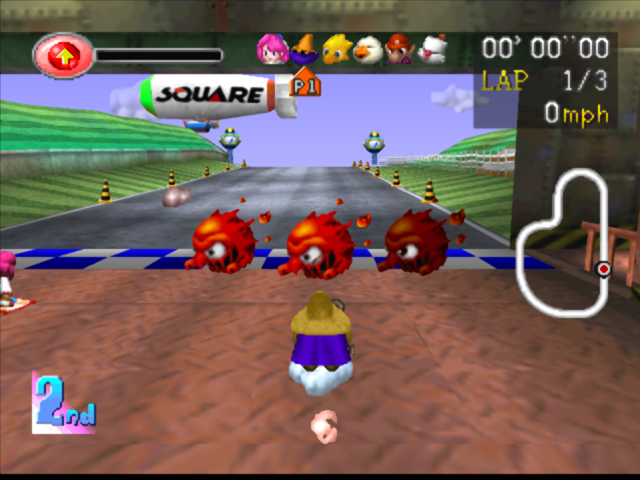 Most of your time playing Chocobo Racing will have you, naturally, racing. After you select one of the game modes, you'll select a character, and then you'll select an ability. These abilities can be used when the Ability Gauge is filled during the race. Following this, you'll be taken to a course inspired by the Final Fantasy universe. Racing will feel familiar the moment things start. Your racer and the opponents will zoom around the course, trying to win first place by knocking each other away with collected Magic Stones. These stones cast spells from Final Fantasy. The neat thing about them is that they can be powered up by collecting the same type. For example, you can send out a Fire spell the moment you get a fire stone. Or, you can wait to gather two fire stones to cast Fira, which is more effective. Better yet, you can collect a third fire stone to send out a homing Firaga. You can carry up to three stones at a time.
Chocobo Racing plays as smooth as silk. Some of the courses are a bit messy with hazards and sharp turns, and a couple of the abilities are useless. But, those are minor nitpicks. I'm not skilled in the slightest at any sort of racing game, but Chocobo Racing is easy for me to pick up, play and put down. The game looks great with a cartoony presentation and remixed Final Fantasy tunes to compliment it. There are even secret courses and characters that you can unlock after fulfilling certain conditions. Finally, you can create your own customized character that you can use for the different game modes.
Chocobo Racing can last as long you want. Finishing the story once will take an hour. Unlocking all of the extras will take much longer. The biggest replay ability comes from popping the game in and racing a few tracks with the computer or a second player. I'll be real: I'm not a fan of racing games – kart or otherwise. But, there's something special about Chocobo Racing. Even if it didn't pay homage to Final Fantasy, Chocobo Racing is such cheerful game that it's hard to get frustrated even when you get zapped off course by a bolt of lightning.
Overall, 8/10: If you've played one kart racer, then you've played them all. Chocobo Racing is no different. But, it's still a solid game worth the time.