Action games with a first-person camera/perspective aren't my jam. I appreciate some of the titles out there using this playstyle but the shaky camera going every which way makes me sick. I legit get motion sickness from playing something like Borderlands or Doom. Call of Cthulhu features this same method of action gameplay, but the good news (for me, at least) is that the moments of action aren't abundant. There's emphasis on taking your time as you explore the dreary environments of Darkwater Island while searching for clues, taking in the atmosphere, questioning suspects, and making choices that alter the fate of the protagonist's sanity. This makes the first-person perspective more appropriate. Sadly, even without a staccato camera, other gameplay dysfunctions make it hard to recommend.
Call of Cthulhu puts you in the shoes of Private Investigator Edward Pierce. Pierce has been suffering from bizarre nightmares ever since returning from the war. He drowns the mental anguish with alcohol and by staying as busy as possible with his demanding job. His newest case takes him to Darkwater Island to investigate the death of the Hawkins family. Upon arriving, it's clear that one too many things are amiss. The locals are acting strange, the stench of dead fish permeates the air, and Pierce's hallucinations feel more than just his mind playing tricks on him. Something sinister is going on and Pierce has gotten himself into the center of it all. Call of Cthulhu's story is an edge of your seat, psychological thrill ride. Pierce, the people he meets, the Lovecraftian lore, and the locales of Darkwater Island weave an unsettling tale. Darkwater Island itself feels like its own character because of its atmosphere. Taking the time to absorb the sights and sounds during Pierce's adventure makes Call of Cthulhu feel more realized.
Every area that Pierce explores is filled with detail and variety. The Hawkins manor has massive rooms filled with antiques, paintings, and books. A psyche ward has old circuitry buzzing while patients groan in pain. When Pierce finds his hallucinations manifesting, he'll be thrown into eerie caverns with haunting ambience. There's always plenty to see. The only area in the graphics that could use work are the character models. They don't look bad; just bizarre. Regarding the voice acting, it gets the job done. You can hear that the actors were trying their hardest to sound natural and not force the situations.
Call of Cthulhu looks and (mostly) sounds great. It has a story that latches on at the start. But, is it fun? The answer is, "Yes and no." Gameplay can be intriguing one second and infuriating the next. The moments of fun and intrigue occur when you're taking your time to explore and investigate. Pierce will gather clues, hear witness statements, and obtain unique pieces of inventory to formulate an idea of what happened to the Hawkins family. Going through these motions at a nice, slow and steady pace is engaging and enjoyable. Unfortunately, the further into the investigation you get the less of this you get to do. Some areas require you to stealthily navigate from one point to the next. Stealth gameplay has always been hit or miss. Here, it's a miss because it's nothing but an exercise in tedium. The repercussions of getting caught are simply a return to the last auto-save. Similarly, there are moments of action in which Pierce has to run as fast as he can from a monstrosity or defend himself from crazed cultists. Again, it's more tedium because there's so much trial and error. I think the biggest letdown in terms of gameplay is that there are some RPG options featured that never get fleshed out. On the one hand, Pierce will get to make decisions that determine how future events unfold and which ending you get. These are fun because it means a solid amount of replay value. On the other hand, Pierce has "stats" that can be upgraded after earning enough points or finding certain items. It's interesting in theory, but it never feels as though you're actually developing Pierce for anything other than continuing the story. In other words, there's no reason to think carefully about upgrading his stats because it doesn't add anything to the campaign.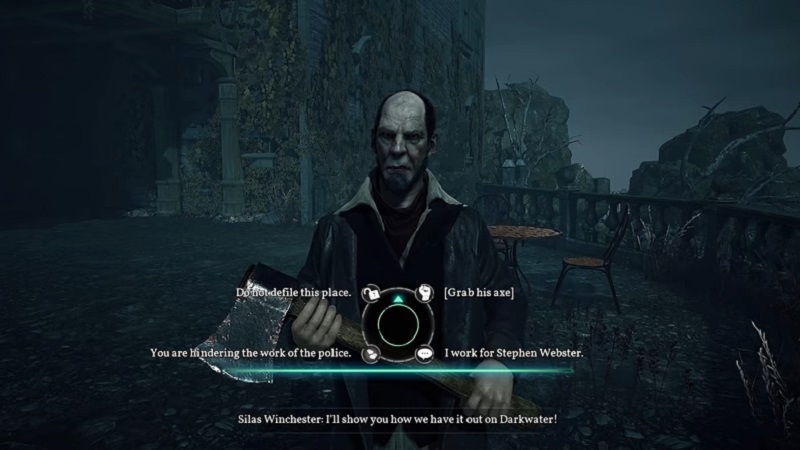 If not for the story, Call of Cthulhu would be a tough sell. It doesn't take long to reach one of the endings – about 10 to 15 hours if you take your time. But, much of that time comes from being forced to restart a stealth or action segment. By the time I reached one of the game's endings I was ready for the journey to be over. It'll be a while before I restart the game and witness the outcome of different choices. But, when I do, I know I'll be in for a good time. The story really is that good. If your sanity can handle the bumpiness towards Pierce's insanity, then Call of Cthulhu is recommended. Otherwise, you'll have to get your Lovecraftian lore elsewhere.
Overall, 6/10: A surreal story with some questionable design choices. Call of Cthulhu's tale is worth seeing to the end if you can overcome all its clunky design choices.